Frankie Boyle on hunger strike for Guantanamo prisoner
Frankie Boyle on hunger strike for Guantanamo prisoner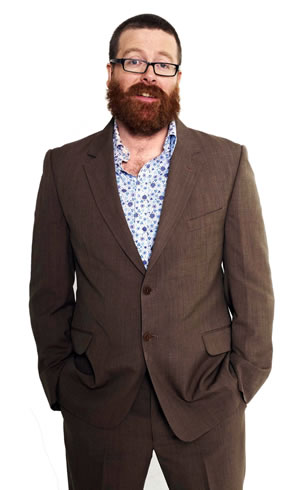 Frankie Boyle (pictured) has gone on hunger strike to help raise awareness of the cause of the prisoners in the Guantanamo Bay detention camp - particularly Shaker Aamer, the last Briton being held at the US military base.
The stand-up comedian started fasting following the actions of human rights lawyer Clive Stafford Smith, who stopped eating over a week ago to show solidarity with his client, Aamer. Boyle plans not to eat for a week.
Several Guantanamo prisoners, including Aamer, are currently on hunger strike to try and highlight their cause, although they are reportedly being force-fed by guards. The Stand Fast For Justice campaign, run by the group Reprieve, is calling for people to fast in solidarity with the "unjustly-treated" detainees.
Shaker Aamer was arrested in Afghanistan in 2001 and has been held without charge since. He has been cleared for release from Guantanamo Bay, but has yet to be set free because the US government requires he is sent to Saudi Arabia as, although he has British residency, he is technically a Saudi national.
Boyle has been a supporter of Reprieve's actions for some time. In December he donated the £54,650 he was awarded in the The Daily Mirror libel case to the campaign group.
He announced on Twitter on Tuesday evening he was joining the Stand Fast For Justice campaign, posting: "Taking up the hunger strike by proxy for Shaker Aamer tomorrow. Congratulations to the bold @CliveSSmith after 7 days. I'll see how it goes."
At 10am yesterday he posted: "There's no feeling on earth like being on hunger strike in a Dutch beach bar while they blast out Abba's Dancing Queen", and in an update at 7pm posted: "Well Day 1 of hunger not too bad. But let's remember who's really suffering. My local pizza shop. I jest. Have a read saveshaker.org"
Boyle is still quite active on the micro blogging website. Via @frankieboyle in the last 24 hours he has also commented on the cricket, and posted a remark about the death of Glee actor Cory Monteith that has upset some Twitter users.
Story update, 7pm: Boyle has tweeted: "Day 2 of hunger strike feels a bit like being drunk. Feel pretty good, but no doubt I'll wake up to find myself in bathroom eating soap."
Story update, 2pm on 22nd July. Boyle tweeted: "My week of hunger strike is up tomorrow at midnight, and hats off to Julie Christie who's taking over, and has already started! I know you're supposed to get back on solids gently, but I'm going to have a massive fucking curry!"
Story update, 12:01am, 24th July. Boyle tweeted: "Well you'll be pleased to hear that my hunger strike's over and I just broke my tooth on a chicken wing. Happy days." Adding at 12:19am: "And fuck Guantanamo, an immoral and illegal torture camp, they should level it to the ground and give it back to Cuba. Fuck it to hell."
Share this page