Blackadder stars honoured for Queen's Birthday
Blackadder stars honoured for Queen's Birthday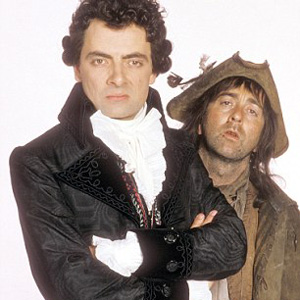 Thirty years to the day since BBC sitcom hit Blackadder was first broadcast, two of its stars have been recognised in the Queen's Birthday Honours list.
Rowan Atkinson, who played the title character of Edmund Blackadder, has been awarded the CBE - Commander of the Most Excellent Order of the British Empire - for services to drama and charity. He today described the award as "a genuine surprise and a great honour".
Atkinson has a long-standing involvement with charities including Comic Relief, and is best known internationally for film work including spy spoof Johnny English, and near-mute, physical comedy character Mr Bean.
However, Atkinson's co-star Tony Robinson, who played the dim-witted and put-upon servant Baldrick, has been raised further, being awarded a knighthood for public and political service.
Sir Robinson said today: "I'm thrilled, flattered and a little gobsmacked to have received this recognition from my country. I'll use my new title with abandon to highlight the causes I believe in, particularly the importance of culture, the arts and heritage in our society, and the plight of the infirm, elderly and their carers.
"I also pledge that from this day on I'll slaughter all unruly dragons, and rescue any damsels in distress who request my help."
The award recognises Robinson's career in numerous fields. Aside from acting on both stage and screen from a young age, he is a successful childrens' author, has directed stage productions, written childrens' sitcom Maid Marian And Her Merry Men, and promoted history and archaeology through successful TV series including Channel 4's Time Team.
Robinson is also a long-term left-wing political activist and Labour Party member. He served on the party's National Executive Committee between 2000 and 2004, having spent the previous four years as Vice President of actors union Equity, during which time he played a key role in a restructuring programme that saved the organisation from bankruptcy.
Meanwhile, Welsh comedian and actor Rob Brydon (pictured) has been made a Member of the Most Excellent Order of the British Empire.
His MBE recognises services to comedy, broadcasting and charitable services. Brydon said: "This is a great honour and an even greater surprise. I accept it not just for me but for short Welshmen everywhere."
Two BBC comedy producers also appear in the list. Jon Plowman has been awarded an OBE - Order Of The British Empire - for his services to British comedy. Plowman has worked as Producer, and later Executive Producer, on many of the BBC's hit shows. His CV includes programmes including Absolutely Fabulous, The Vicar Of Dibley, The Thick Of It and Twenty Twelve.
BBC comedy producer and director Gareth Gwenlan has also been appointed OBE, for services to broadcasting. Gwenlan, who was Head of Comedy at the BBC for part of the 1980s, has worked on shows including To The Manor Born, The Fall And Rise Of Reginald Perrin and Only Fools And Horses. His most recent work was on the Yes, Prime Minister re-make.
The first episode of The Black Adder was broadcast at 9:25pm on Wednesday 15th June 1983, on BBC1. Here is the first part of Blackadder Rides Again, a 2008 documentary about the series, produced to mark its 25th anniversary.
Share this page