Stephen Fry reveals attempted suicide
Stephen Fry reveals attempted suicide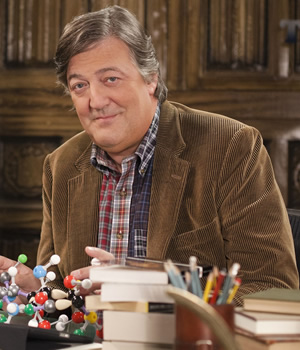 Stephen Fry has revealed that he attempted suicide in 2012, but was saved by his producer.
Speaking to Richard Herring on Monday night for Richard Herring's Leicester Square Theatre Podcast, Fry revealed to a shocked audience at the central London venue that he made a suicide bid whilst filming overseas last year.
Fry has long been open about his suffering from the at-times debilitating mental condition, bipolar disorder (manic depression), and is President of mental health charity Mind.
Amongst numerous symptoms, bipolar disorder primarily manifests as inflicting upon Fry, and others with the condition, drastic mood swings, between hyperactive positivity and deep depression.
Stephen Fry said: "I am the victim of my own moods, more than most people are perhaps, in as much as I have a condition which requires me to take medication so that I don't get either too hyper or too depressed to the point of suicide."
Speaking about suicide, he added: "I would go as far as to tell you that I attempted it last year, so I'm not always happy - this is the first time I've said this in public, but I might as well. I'm president of Mind, and the whole point in my role, as I see it, is not to be shy and forthcoming about the morbidity and genuine nature of the likelihood of death amongst people certain mood disorders."
He elaborated: "It was a close run thing. I took a huge number of pills and a huge [amount] of vodka and the mixture of them made my body convulse so much that I broke four ribs, but I was still unconscious. And, fortunately, the producer I was filming with at the time came into the hotel room and I was found in a sort of unconscious state and taken back to England and looked after."
In an attack on the stigma of mental health problems, Fry attempted to convey to non-sufferers the lack of reasoning behind depression.
He explained: "There is no 'why', it's not the right question. There's no reason. If there were a reason for it, you could reason someone out of it, and you could tell them why they shouldn't take their own life.
"All my friends when they heard about this, and my family when they eventually heard about it, came to visit me in the hospital said 'Why didn't you call?'. And I said, it's a very odd thing, but put it this way: It's a cheap and silly way of putting it, but it's just as true...
"Think of your very best friend. Very, very best friend. Suppose you suddenly noticed you had a massive and really disturbing genital wart... would you show it to your very best friend? No, no... you might show it to a stranger, a doctor, a genital urinary specialist, or to Doctor Christian I suppose on Embarrassing Bodies - or in the street in his case. But, the weird thing is, although friendship is what Ralph Waldo Emerson called the 'masterpiece of nature', it is a thing we all celebrate, oddly enough it doesn't solve things like that."
Talking of other symptoms of bipolar disorder, Fry said: "If un-medicated, there are times when I am so exuberant, so hyper, that I can go three or four nights without sleeping and I'm writing and I'm doing stuff and I'm so grandiose and so full of self-belief that it's almost impossible to deal with me. I can't stop speaking, I'm incredible, I go on shopping sprees..."
He jokingly added: "Fortunately one of the common signs of mania, or hyper-mania as it is known, is sexual exhibitionism. I don't have that as one of my brands, but others do."
Fry concluded: "There are times when I'm doing QI and I'm going 'ha ha, yeah, yeah', and inside I'm going 'I want to fucking die. I... want... to... fucking... die.'"
Stephen Fry was appearing as the guest on Richard Herring's Leicester Square Theatre Podcast. The weekly series is in the middle of a six-episode run, recorded each Monday evening in central London, with a fourth, six-part series planned for September. The show picked up the Bronze award at the Sony Radio Academy Awards last month, the first podcast to be recognised in the main comedy category.
A video of the full 90 minute interview can be downloaded now from Go Faster Stripe for £3.50. The free audio podcast version will be released via this website and iTunes at noon on Thursday.
In the following video, published when Fry took over the Mind charity's presidency in September 2011, the comedian explains the work of the organisation:
For more information about the work of mental health charity Mind, visit their official website
---
Story edit, 6th June - additional media added:
The full 90 minute podcast interview (podcast page):

Two video clips from other parts of the interview:
Fry talks about his time in prison:

Fry admits he has never read The Hobbit:

Share this page