Dad's Army star Bill Pertwee dies aged 86
Dad's Army star Bill Pertwee dies aged 86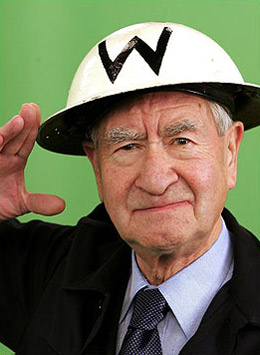 Bill Pertwee has died at the age of 86, his agent has confirmed today.
Best known for his supporting role as the argumentative Chief ARP Warden, Bill Hodges, in legendary sitcom Dad's Army, he was also known for playing P.C. Wilson in You Rang, M'Lord?.
Born in Amersham, Buckinghamshire, on 21st July 1926, the actor came from a theatrical family, with cousins including Doctor Who star Jon Pertwee, writer Michael Pertwee, and actor Sean Pertwee.
He died peacefully today, surrounded by family - exactly 8 years to the day since the death of his wife, Marion.
Agent Meg Poole said "He was a really, really nice man. Very bright, very intelligent. He came from a big theatrical family, a big showbusiness family, and like all of them it was his life and it was very important to him and he was a hugely professional, very clever man."
Although best remembered for his frequent cry of "Put that light out!" in Dad's Army, Pertwee's prolific acting career also includes roles in Beyond Our Ken, Carry On Loving, You Rang, M'Lord?, The Dick Emery Show, Chance In A Million, and Two In Clover, amongst many others.
Pertwee's 1989 book about the making the sitcom hit, Dad's Army - The Making Of A Television Legend, was revised and republished in 2009 for the sitcom's 40th anniversary celebrations.
He was awarded the MBE in 2007 for services to charity. He and wife Marion had one son, occasional actor Jonathan 'James' Pertwee, who survives them both.
Here is a short audio and picture montage clip of Pertwee talking about being a subject of This Is Your Life in 1999:
Here are a couple of Dad's Army clips featuring Hodges:
The actor was previously the subject of death rumours in early December 2012, which proved to be untrue.
Share this page