Hi-De-Hi! star Paul Shane dies, aged 72
Hi-De-Hi! star Paul Shane dies, aged 72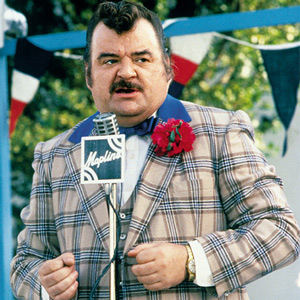 Actor Paul Shane has died at the age of 72.
Shane was best remembered for his role as holiday camp comic Ted Bovis (pictured) in the Jimmy Perry and David Croft sitcom Hi-De-Hi!.
The actor also played lead roles in You Rang, M'Lord?, also by Croft and Perry and Oh Doctor Beeching!, by Croft and Richard Spendlove.
His agent told the BBC that the actor and comic died surrounded by his family at a hospice in Rotherham, South Yorkshire, earlier on Thursday, following a short illness.
Hi-De-Hi! was one of the most popular and successful sitcoms of the 1980s, running for 58 episodes over 9 series, from 1980 to 1988 on BBC One.
Oh Doctor Beeching! saw Shane play Jack Skinner, the Deputy Station Master of a rural railway station facing cuts under the Beeching plans to reform British Railways in the mid 1960s. The period comedy ran for 20 episodes over 2 series, between 1995 and 1997.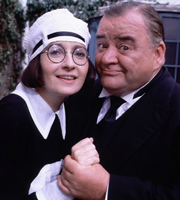 Set in the 1920s, You Rang, M'Lord? totalled four series from 1988 to 1993. Paul Shane played Alf Stokes, butler in the London residence of wealthy businessman and widower Lord George Meldrum.
All three sitcoms saw Shane star alongside Su Pollard (pictured, left, in You Rang, M'Lord?).
Paul Shane had begun his working life as a miner, but turned to showbusiness following an industrial accident. He started entertaining as a singer and comic in pubs and clubs across South Yorkshire before finding TV work from the early 1970s.
Shane was born George Frederick Speight, on Wednesday 19th June 1940 in South Yorkshire. His wife, Dory, died in 2001. He is survived by the couple's three daughters.
Here is the first episode of Hi-De-Hi!:
Share this page