Frank Thornton dies aged 92
Frank Thornton dies aged 92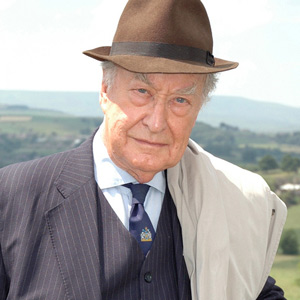 Comic actor Frank Thornton has died aged 92.
Thornton began his acting career in the early 1950s, becoming particularly prolific on both television and film during the following two decades.
During this time a plethora of guest roles saw him appear alongside the likes of Tony Hancock, Dickie Henderson, Benny Hill, Sid James, Frankie Howerd, Morecambe & Wise, and many others.
However, it was his role as pompous, stern floor-walker Captain Peacock in Are You Being Served? for which Thornton was best known. Piloted in 1972 and running for 10 series until 1985, the department store sitcom was an international success, being revived for an early 1990s spin-off, Grace & Favour.
Thornton also became well known for his role as Herbert 'Truly' Truelove (pictured) in the world's longest running sitcom, Last Of The Summer Wine. Beginning in 1973 and only ending in 2010, Thornton joined the starring line-up of the show for its 18th series, broadcast in 1997, remaining in the show until its final 31st series.
Other credits were varied, including films, sitcoms, dramas and sketch shows. Comedy roles included Steptoe And Son, The Goodies, No Sex Please - We're British, Sykes, Thirty Minutes Worth, Carry On Screaming, The Kenny Everett Television Show, The Bed Sitting Room, Katy Brand's Big Ass Show, Dad's Army and HMS Paradise.
His final role was a cameo appearance in Ray Cooney's Run For Your Wife, a small-budget feature film that opened last month in just 6 cinema screens across the UK.
Born in London in January 1921, Thornton died in his sleep on Saturday. He is survived by his wife of 67 years, Beryl, daughter Jane, and three grandchildren.
Thornton's agent, David Daly told the BBC: "I have been Frank's agent since 1986 and he has been the most wonderful client as well as being a great friend. He will be sorely missed."
The following clip shows Captain Peacock exhibiting his typical demeanour toward fellow Grace Bros. staff in Are You Being Served?.
Here's a 1967 TV advert starring Frank Thornton, for a Wall's chocolate bar.
Share this page