Getting It On - Writing and producing television comedy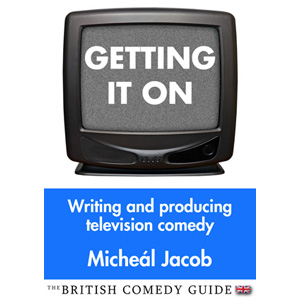 Getting It On - Writing and producing television comedy is a brand new book written by former BBC comedy executive, Micheál Jacob.
"I can think of very few people in the world better qualified to write about the art, craft and sheer hard slog of making comedy than Micheál Jacob. He has done it himself professionally - more than most people who write such books - and got the best out of others who do it on TV and elsewhere. You are in the presence of one of the best." - Jon Plowman
Getting It On is a concise guide to the world of television comedy. Drawing on the author's wealth of experience in script development, production and teaching, the book is intended both for writers, and for people who work with them.
The first part explores the historical foundations of sitcom, advises on how to approach writing, and looks at different ways to create and develop characters and situations. A section on structure is followed by detailed analyses of five comedies in different styles, ranging from farce to mock documentary to audience sitcom, examining the method of each show and how characters work in stories.
A section on sketch comedy is followed by an insider's view of how scripts are produced, from initial idea to series commission. It demystifies the processes that are common across the television industry, illustrated by the writer's experiences of the good, the bad, and the whimsical, covering both single camera and audience sitcom, and working with actors.
A final section offers advice on how to develop a career, as a writer, and in production.
First published: Monday 2nd December 2013
It looks like you're in the US? Fear not! Almost everything can still be ordered.
Amazon UK
deliver internationally,
Amazon.com
carries many items separately, or you can look out for US/Canadian flags on our product listings for direct links.
If ordering from a UK store, please note that you are in Region 1 (DVD)/Region A (Blu-ray), whilst the UK is in Region 2/B, respectively. This means that many - but by no means all - may fail to play. Look for products marked "Region free", "All regions", "Region 0" or "Multi-region". Blu-rays may also be marked "Region A/B/C", or variations thereof. You may also check whether your DVD/Blu-ray player supports multi-region playback (also referred to as "region free"), or whether it can be set to do so. There should, of course, be no problems with books, CDs, or other physical items.
More advice & help on importing