As a new Blu-ray box set collating her films is released, its curator and her biographer, Simon Sheridan, explains all about Mary Millington, a pioneering personality of the 1970s.
---
I've been fascinated by Mary Millington's life and career since I was a child in the 1970s. I always recall seeing her image on cinema posters when I was very young and wondering who this beautiful blonde woman was. Even at a formative age I knew she was an 'adult actress', but couldn't quite understand how TV favourites like Diana Dors and Irene Handl were co-starring with her in naughty big-screen comedies.
Of course, the British movie industry was very different back in the 1970s. If studios weren't making James Bond pictures, or Carry Ons, then the majority of output was exploitation films and they were immensely popular. Big name stars like Dors, or Bernie Winters, or Ronnie Fraser weren't working as much as they wanted to. They were more than happy to appear in a saucy X-rated movie alongside somebody like Mary Millington. And so, the era of the 'sex comedy' - sometimes dubbed 'sexploitation' - was born!
Mary
Mary was actually a former veterinary nurse from Surrey, who stumbled into pornography quite accidentally; initially the hardcore variety and then softcore, which is not the usual career trajectory for actresses in that business. She had few inhibitions about sex and nudity, and after making some immensely successful 8mm films in Germany and The Netherlands, Mary began a relationship with publisher David Sullivan, who promoted her relentlessly in his stable of magazines, the most famous of which was Whitehouse - a cheeky sideswipe at Mary Whitehouse, the infamous pro-censorship campaigner. By the mid-1970s Mary started securing small supporting roles in British comedies like Eskimo Nell (1975) and Keep It Up Downstairs (1976). With Sullivan's help she soon elevated to more significant 'above the title' roles in Come Play With Me (1977) and The Playbirds (1978). That's how she gained a much wider audience.
Unquestionably, British men adored her. Quite a few women too! Mary was the best-loved 'glamour' model in the UK during the 1970s. You just cannot underestimate the phenomenal levels of her fame. At her peak she was getting thousands of fan letters delivered to her offices every week. Mary was the girl-next-door; a 'pocket beauty' standing only 4'11" tall. She was pretty, but very approachable - an 'attainable' sex symbol for the average British man, if you like. For a while Mary owned her own sex shop in Tooting and would serve customers there behind the counter (sometimes in just a bikini). In our current era of celebrities stage-managing their personalities and Photoshopping their bodies for social media, Mary was actually the real deal. Few celebrities allowed as much personal access as she did. Sadly Mary's star shone brightly only for a few years. She died, tragically, aged just 33 in August 1979.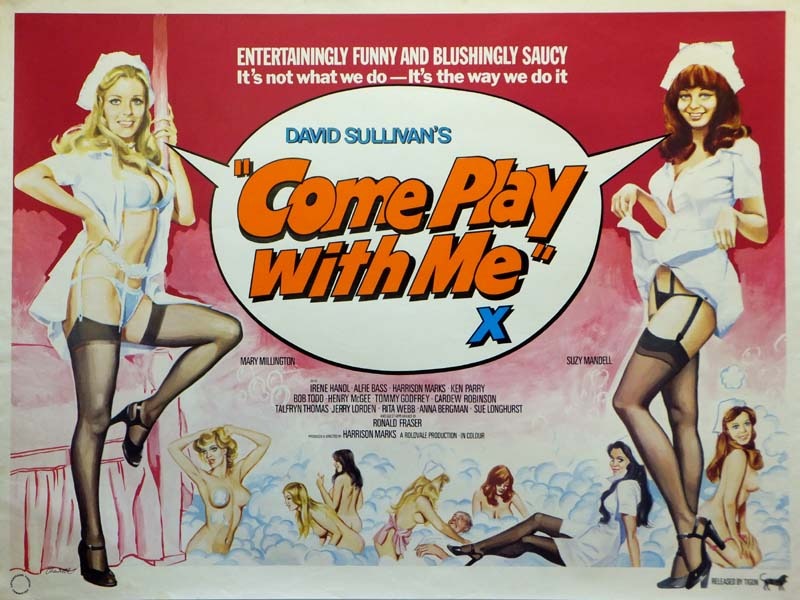 Come Play With Me
Apart from being Britain's most prominent advocate for the legalisation of pornography, Mary was also the star of some blockbuster movies. It's no exaggeration to say that by the late-1970s only two British actors could be guaranteed to successfully open a movie: one was Roger Moore, the other was Mary Millington.
Her most famous film was Come Play With Me - almost a film genre all to itself! In a nutshell, the plot follows a couple of banknote forgers who are on the run. Hiding out at a stately home being run as a health farm, they find it is almost entirely staffed by sexy young women. There's an unexpected song and dance routine in the middle of the film, plus some fairly explicit sex scenes - certainly a world away from the likes of Carry On Camping!
The wonderful Irene Handl plays the matriarch of the establishment and there's a host of other very well-loved comedy names in attendance, such as Tommy Godfrey, Alfie Bass, Bob Todd, Henry McGee and Rita Webb. And the young actresses, like Mary Millington, are all dressed in nurses' outfits (naturally) and cavort with the old-timers. It's quite a spectacle!
You could say it's a film very much of its time, but it's certainly got its funny moments. Come Play With Me was easily Britain's most financially successful sexploitation film too. It cost about £120,000 to make but went on to earn millions. Released in London in April 1977, Mary was marketed as 'the star' and the strategy worked perfectly: it ran continuously at the Moulin Cinema in Great Windmill Street, just off Piccadilly Circus, until 1981 - that's a staggering 201 weeks!
It remains an unbroken record for a film in Britain. No others come near. In April 2016 David Sullivan and I unveiled a plaque celebrating the record-breaking run of Come Play With Me on the front of the old cinema building. As far as we are aware it's the only memorial to a sex film in the whole world. Mary's name is on the plaque too, which is also an achievement in itself. On average only 14% of public memorials in the UK celebrate women.
Sexploitation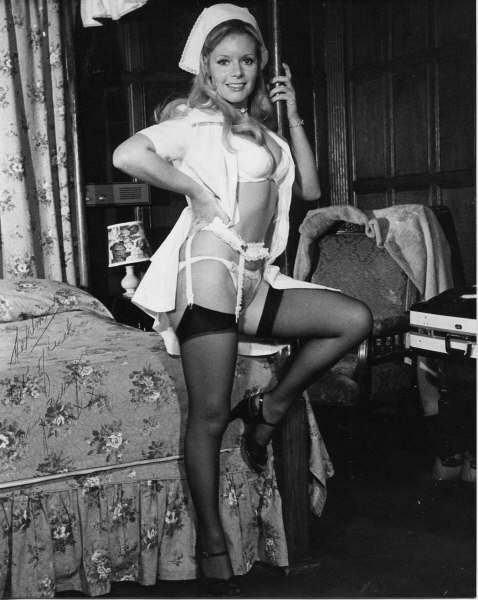 You don't really hear the word much 'sexploitation' anymore, but it's just a by-product of 'exploitation' - films predominantly made in the 1960s and 1970s that exploited a certain element of storytelling to engage the cinemagoers' attention. At the time, British filmmakers needed to offer the public something they couldn't see on TV - and this tended to be material which wasn't allowed on the small screen - namely violence, horror, martial arts and sex. In the 1970s British films were a lot tamer than European fare. Hardcore porn movies played mainstream cinemas on the continent, whereas in the UK it was a slightly different story.
As a result, the comedy element in sexploitation films was always to the forefront. British filmmakers couldn't do erotica like the French or Italians. There is no British equivalent of Emmanuelle or Last Tango In Paris. We just weren't able to come up with that sort of lavish, sensuous production. So we filled our home-grown sex films with chuckles; somehow it made it more comfortable for audiences over here. Bare boobs, bums and lots of slapstick giggles.
"Tits and Titters" is how my friend Stanley Long once described it. He was the man behind Adventures Of A Taxi Driver, which when released in 1976 actually made more money in the UK than Martin Scorsese's own Taxi Driver! I don't think British people are prudish at all, but in order to make the subject matter more palatable to the film censor the sexual scenes were offset with very broad seaside postcard humour. Movies like Confessions Of A Window Cleaner (1974) work so well because they are chock-a-block with familiar faces; plus there's titillation, slapstick and a solid lead performance, in this case by the wonderful Robin Askwith, who was the Comedy King of sexploitation movies, to Mary's Queen.
But as with everything, tastes change in British comedy, and they definitely did in the late-1970s. The fourth and final Confessions film was released in 1977, with the final in the original run of Carry On movies the year after. TV audiences were also huge at this point in time. People were tiring of traipsing out to the local ODEON to watch sex comedies, preferring to stay at home to watch The Benny Hill Show instead.
VHS was the final nail in the coffin. If you wanted to see real porn you didn't need to go to the cinema to watch softcore bouncing breasts - you could now get your hands on hardcore material on video cassettes, which, at the time, weren't regulated. A lot of explicit films were flooding onto the home entertainment market. There was no contest - Come Play With Me at the cinema, or Debbie Does Dallas in your front room!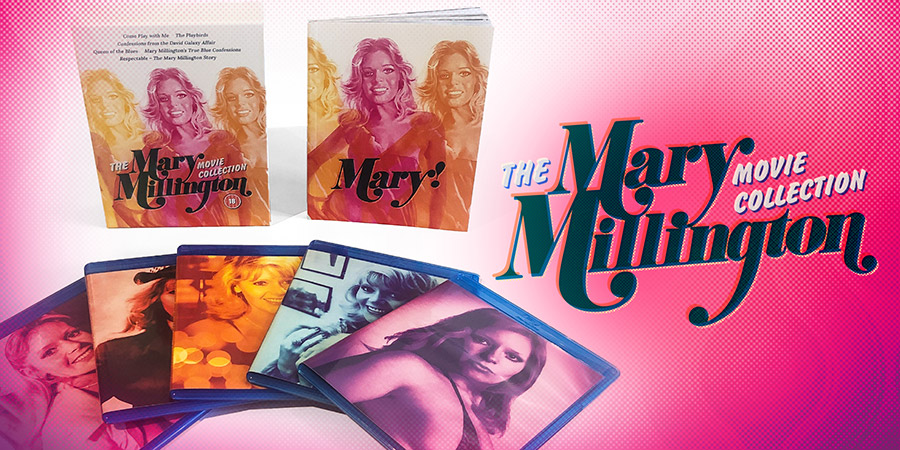 Mary comes to Blu-ray
Firstly, I must tell you, compiling this new Mary Millington collection of films on Blu-ray has been my dream job! I've curated the whole box-set with the fantastic team at Screenbound Pictures. I've been asking them to remaster Mary's movies for years, and now it's happened. I don't care if anybody gets sniffy about Mary's films, because they're actually hugely culturally significant. These movies kept the British movie industry going through some pretty dark times - I absolutely believe they deserve to be restored, so I'm thrilled to bits about it. They look better now than ever.
The box-set contains all the movies produced by Mary's mentor David Sullivan: the peak of her career. Leading the pack we have Come Play With Me (1977) and The Playbirds (1978) - probably Mary's best movie, and the one where she plays a police officer, which is rather ironic! Then there's Confessions From The David Galaxy Affair (1979) where Mary stars opposite Alan Lake and Diana Dors.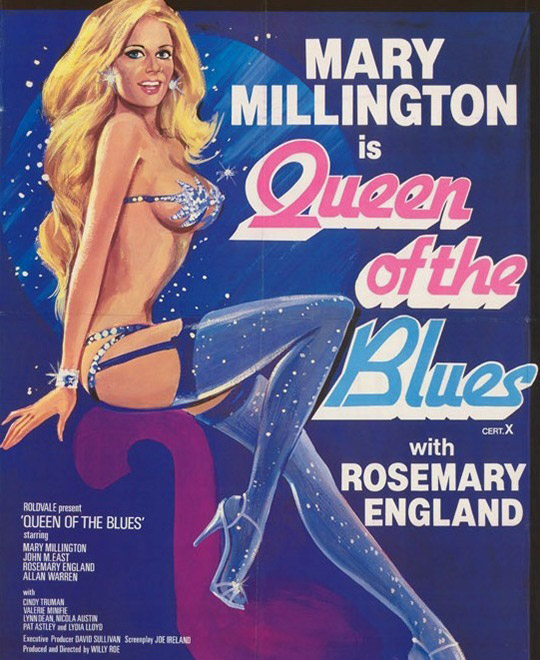 We also have Queen Of The Blues (1979) and posthumous film Mary Millington's True Blue Confessions (1980), which is the most eye-opening of the lot. The set also contains my 2015 movie Respectable: The Mary Millington Story, in which I chronicled her amazing life through interviews with her family, friends, lovers and co-stars. I think it's a nice bookend to Mary's career and I'm very proud that it's part of the set.
The release also gave me an opportunity to make some new documentary shorts, all of which relate to aspects of Mary's life: there are eight new documentaries, including Mary Millington On Location, which looks at the places she made the films; a look at audio recordings she made in 1977, called Aural Sex; plus new interviews with co-star Sally Faulkner, veteran glamour photographer George Richardson, and Josie Harrison Marks, who is the daughter of Come Play With Me's director. There's even a documentary on how I made Respectable. So there's something for everybody, I hope.
I've also written a new 80-page book about the movies, which features previously unpublished artwork and photos. It makes for a bumper package and I couldn't be happier with it. Screenbound have done a marvellous job, and designers Sam Bessant and Abby Parsons have excelled themselves on this project.
Of course, Mary was only one of many involved in the 'sexploitation' sex comedies of the 1970s - perhaps the most culturally important, but still one of many. And there are plenty of other great, or not-so-great but similarly important, films in the genre too, which I'd love to celebrate in future. So many! I have plans for something very, very special next year, but you'll just have to wait for now. It's going to be the project I have always wanted to do. Maybe then I can retire from the world of 1970s' sex comedies forever!
---
Simon Sheridan is a writer, broadcaster and filmmaker, as well as being Mary Millington's biographer. He is the world's leading authority on British sexploitation cinema and has written several books on the subject, including Come Play With Me: The Life And Films Of Mary Millington, X-Rated and Keeping The British End Up.
In the Spring of 2016 his first feature film Respectable: The Mary Millington Story opened in London's West End and subsequently played on Netflix for two years.
Released to commemorate the 40th anniversary of Mary Millington's death, this special edition Blu-ray box set (individually numbered and limited to 3,000 units) features Mary's most glamorous film roles, with new, stunning 2K restorations, including:
Come Play With Me (1977, explicit continental version)
The Playbirds (1978)
Confessions From The David Galaxy Affair (1979)
Queen Of The Blues (1979)
Mary Millington's True Blue Confessions (1980)
Respectable: The Mary Millington Story (2015), an in-depth documentary chronicling her extraordinary life
This collector's edition is a must for any Millington fan. Filled with scintillating new extras, packaged in a collectable case (displaying brand new artwork throughout) and including a huge 80-page book, with an introduction from David Sullivan and notes by biographer Simon Sheridan (author of [st=3468]Keeping The British End Up: Four Decades Of Saucy Cinema[/s]). A tantalising orgy of extras that no self-respecting lover of Mary Millington or 1970s British sex comedies can but fail to be aroused by!
First released: Monday 22nd June 2020
Buy and sell old and new items
Search for this product on eBay
It looks like you're in the US? Fear not! Almost everything can still be ordered.
Amazon UK
deliver internationally,
Amazon.com
carries many items separately, or you can look out for US/Canadian flags on our product listings for direct links.
If ordering from a UK store, please note that you are in Region 1 (DVD)/Region A (Blu-ray), whilst the UK is in Region 2/B, respectively. This means that many - but by no means all - may fail to play. Look for products marked "Region free", "All regions", "Region 0" or "Multi-region". Blu-rays may also be marked "Region A/B/C", "Region free", or variations thereof. You may also check whether your DVD/Blu-ray player supports multi-region playback (also referred to as "region free"), or whether it can be set to do so. There should, of course, be no problems with books, CDs, or other physical items.
More advice & help on importing
Published: Thursday 18th June 2020