Kiell Smith-Bynoe plays Mike in the Christmas episode of BBC One's hit sitcom Ghosts, failing to keep his festive check-list on track as he's descended upon by his family. The in-demand actor also stars in Channel 4's award-winning letting agent comedy Stath Lets Flats and has appeared in Man Like Mobeen, Enterprice and Sky One's upcoming paramedic sitcom, Bloods. Speaking to British Comedy Guide, he dishes the dirt on his Ghosts co-stars Charlotte Ritchie and Lolly Adefope, opens up about channelling an ex-girlfriend to play the easily agitated Mike and shares some of his writing ambitions.
Do you approach filming a Christmas episode differently to a regular episode of Ghosts, is there more latitude to play with sentimentality?
It's really weird to film a Christmas-themed episode in February, especially if you're a Scrooge like me. You're thinking: "Baubles, again? We just did this?!" But it was great fun. It certainly felt different to other episodes as Christmas is usually just a few of us. So it was nice to have the feeling of a big family with the regulars and the guests who play my family in the show. Every episode of Ghosts has sentimental laugh and cry moments, this one certainly does and hopefully people will be sat around watching with their families. But I will be filing an official complaint to Ofcom about the lack of pigs in blankets.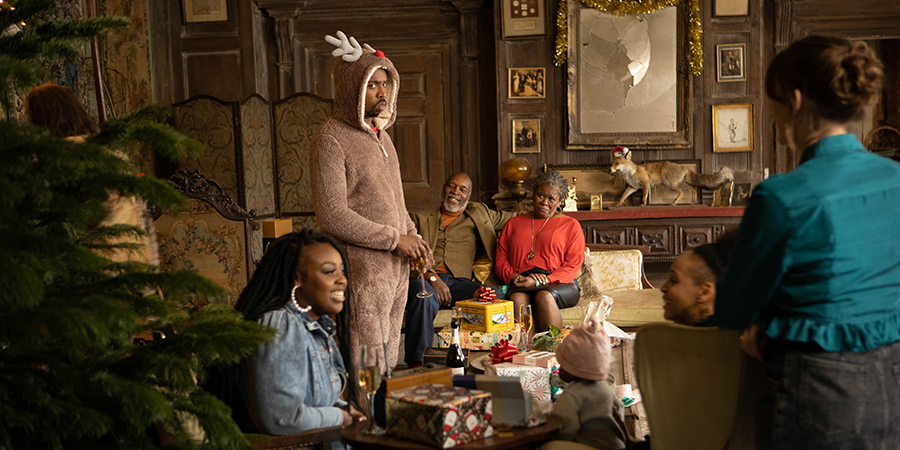 We learn a bit more about Julian's life and indeed, Mike's family background, in this episode. Do the characters have story bibles already mapped out, are you privy to them and are there any big changes that you anticipate for Series 3?
I think the writers have a clear view in their head about the story bibles as they've had a vision across a few series. We gain little bits of info in the script but also in conversation. So I've managed to get snippets of back stories for characters like Kitty and Humphrey which hopefully we'll be seeing in the upcoming series. Spoiler alert: Humphrey gets beheaded.
As Ghosts is an ensemble creative team and you have to give a highly singular performance in not reacting to most of the cast, are you allowed to make suggestions, tweak the script or improvise during shooting?
With the first series, because it was my biggest role to date, I was wary of changing things too much and just wanted to do a good job with what was written. As we moved into the second and Christmas spesh, I have been throwing out suggestions a lot more. I usually spend Christmas with my mum, aunts and female cousins so I had a tiny bit of input in the episode with regards to Mike and his relationship with his sisters. Tom [director Tom Kingsley] also doesn't mind a surprise in the take sometimes. So I will always offer to add something. Working with him so often, I can work out from his facial expression when he's not into it.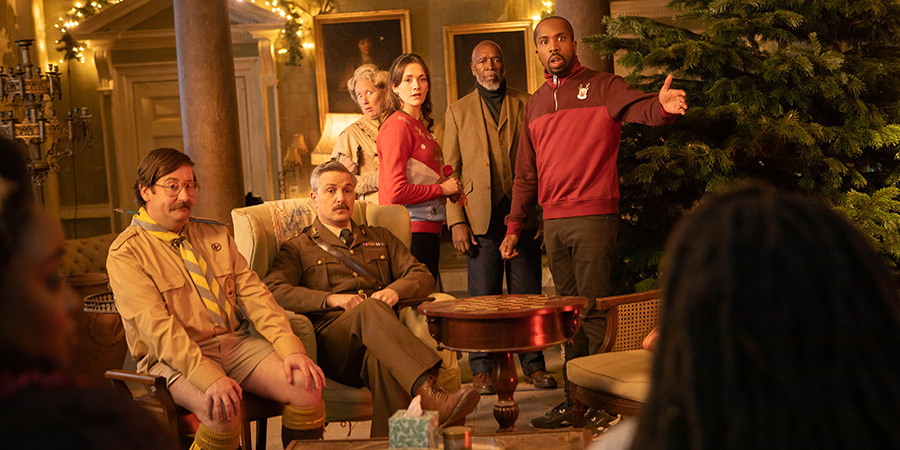 Tom Kingsley won't be returning as director for the next series of Ghosts or Stath. What has he brought to both series and why do you enjoy working with him?
The thing I love about working with Tom the most is that he's funny. Really funny. That makes all the difference, especially when working on a comedy. Some directors are brilliant and technical, get the job done perfectly, which Tom does. But on top of that, he adds to the comedy. TK Maxx, what a guy.
In Ghosts and Stath, you're arguably the most "normal" character, the one that the audience can most easily empathise with. Are you proud of elevating Mike and Dean beyond being mere straight men? A lot of what you do is facilitating madder characters. But you've got some memorable comic scenes yourself.
I don't think of them as the normal ones, which is maybe why people enjoy me playing them. I mean Dean has to be mad to stay at Michael & Eagle. Can you imagine going to work every day and the person at the desk next to you looks like he's been dug up from the cemetery because he woke up at 4.45am to get the Megabus from Birmingham? Every day! On top of that, you've got a tall boy shouting "Oh My Gilly Goodness" at things which aren't even that surprising. Then with Mike, he just loves his wife. If that means that she comes with nine other dead housemates, then okay, cool. You've got to be mad to be that in love.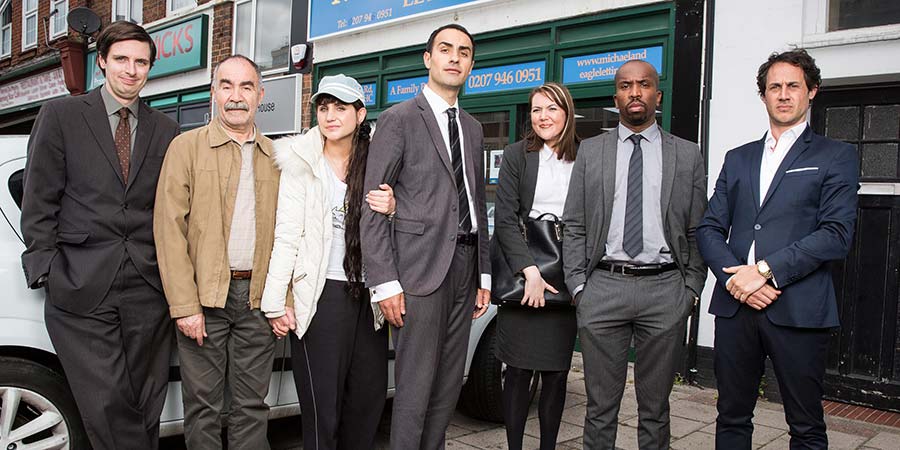 With Ghosts, it wouldn't work if your relationship with Charlotte didn't convince or your scenes with her weren't funny. Did you automatically have that chemistry or were there in-depth discussions on how you were going to portray Mike and Alison?
I've said a lot about how working with Charlotte is great and she's the best person to play my wife, blah, blah. That's all for promo. She's the worst! The actual worst. And I've worked with Barry From Watford. I don't know how she gets away with her behaviour but somehow she does. Fantastic actor though. Incredible.
There's a frustration to Dean, stuck in a job with idiots but too secure to walk away, and Mike, his life dictated by dead people he can't see, that occasionally bursts out, particularly in this Christmas episode. Do you have to imagine incidents in your own life to quietly fume along with and then explode at just the right moment?
I'm always either having the time of my life or the worst day ever. No inbetween. If I'm having a "fine" time then really I hate it because what is the point? My mum and one of my exes are two of the most highly-strung people I've ever met in my life. My dad was so laid-back that you had to check every 10 minutes if he was awake. I think I'm 90% my dad but verrrrry deep down I have the exploding qualities of my mum ... and Bianca. I wonder how she is? Fuming probably.
Ghosts is getting a US remake and Stath has a cult following in the States. Do you see yourself going over there to work?
I'd like to work in America, not crazy about living there. Tricky, because it seems like a great shout for black actors, not so much for black people. Tricky, mainly because I am both and I wouldn't want to do the stereotypical Hollywood thing. I'd want to be in the club, or just hanging out with my mates without feeling threatened by the authorities and that's something that plays on my mind when I think of going over there. Not that I'm bound to London - I think it's fucking mad that you can't get a steak at 3am in the capital city of England. Lolly [Adefope] has done the US well, popping over to work but living here in a massive castle. I hear she has a stand-alone bath.
Guz Khan has suggested that the next series of Man Like Mobeen might partially take place in prison. As your character, Jovell, was last seen getting apprehended by the police, have you been working on your don't-mess-with-me-vibe?
Jovell was a great opportunity for me to show that I can do other stuff and I'm not just jokes. That being said, as long as Guz lends me some of his beard, I don't care what vibe he wants me to portray. I have been using all kinds of oils the whole way through lockdown and the thing still won't connect. Some guy on Twitter said he just kept brushing until hairs appeared and I am two brushes away from scraping my jaw off.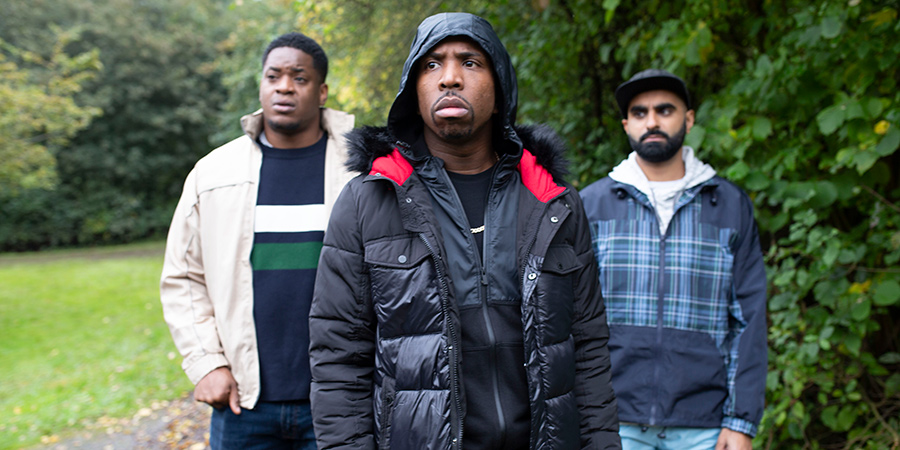 You've also got a guest role in Bloods coming up. What can you tell us about your character?
Ha, yeah, speaking of causing yourself injuries - Bloods is great, very funny and really well put together. Nathan Bryon and Paul Doolan should be proud of their writing. [Producer] Seb Barwell is probably also very proud but he won't show it. I reckon Ash [executive producer Ash Atalla] is gonna have to make space in his awards cabinet. Nice to dress up in uniform as well innit? Those selfies went straight on to my Hinge. Samson Kayo spent all of our scenes trying to make me corpse so that is a warning for anyone who's going to work with him. He also doesn't like to be looked directly in the eyes. There are a few rules that he has, I'll do some tweets about it. Brilliant actor though.
With Enterprice as well, like Charlotte, you're firmly established as a sitcom go-to, someone who can come in and absolutely do the job. What do you attribute your comedic talent as an actor to? Do directors or casting agents ever give you feedback on it? And are you going to have to write your own stuff to break out into grittier or more dramatic roles?
Charlotte does get the job done. But at what cost? No, seriously, she's the worst. I think my eagerness to always make something the funniest it can be is what gets me the job. It's amazing to see so many of my peers making their shows. If it wasn't for Ghosts and Stath Lets Flats I would still have to prove myself. But those two mean that producers and directors can see what I've done and get me in. Not knowing I'm going to steal loooads from costume. I've dipped into a drama or two this year, so maybe I'll be on a horse in a period drama sooner that you'd think. Jokes aside, that is my dream and I'd really like that to happen please.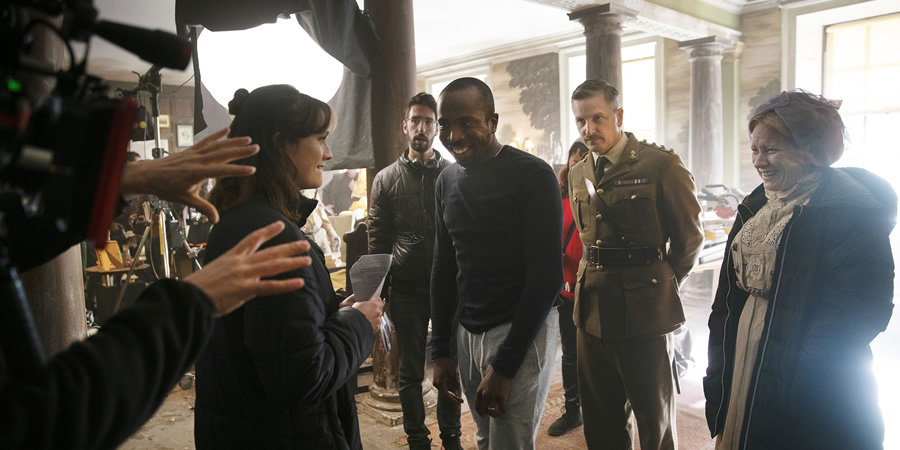 You've mentioned that you're working on a sketch project with Kayode Ewumi. Can you tell us anything about that?
What I can tell you is that it's taken thirteen months for us to write four sketches.
Has working on Ghosts and Stath in particular influenced your own writing? An episode like The Thomas Thorne Affair was so beautifully put together and genuinely quite touching, does it inspire you to be really ambitious?
Yes.
What can you tell us about your pilot with Jamali Maddix and Rosco 5 in which you play witches working in a comic book store? What are writer-directors Gideon Beresford and Behnam Taheri like to work with?
Behnam and Gideon are fucking ridiculous. [Short film] Mondeo, which they also wrote and directed is my favourite thing I've ever done.
Phoebe Bourke produced the pilot and she's in charge of us all so really she deserves all the credit. I haven't seen any of it but I'm sure it's good because of the team behind it. Also, spending two days in a comic book store with Jamali is an experience many people cannot say they have had. Sorry to them.
And can you tell us anything about your own pilot that you've been writing over lockdown?
If someone makes it then I'll tell you everything.