Her Majesty the Queen has honoured Keith Palmer, founder of The Comedy School, with an MBE for services to entertainment and to charity in her 2020 birthday honours list.
Palmer says: "I'm accepting the MBE on behalf of everyone that has been involved with The Comedy School, past and present, which includes the late, great comedian Felix Dexter and original comedy school director Martin Rawstorne: thank you for your involvement."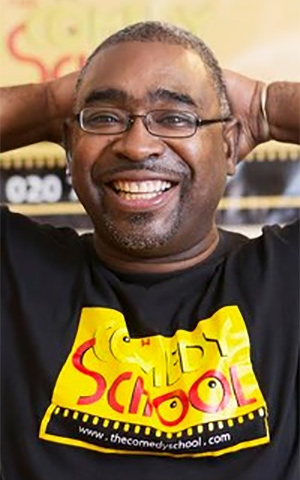 The Comedy School was established by Keith in 1998 to highlight the many uses of comedy, from stimulating personal creativity to encouraging social skills and improving literacy. It is notable for using comedy as a way of teaching and spreading messages, such as why knife crime is a serious problem.
The school says: "Like so many working in the arts sector, the current pandemic has seen much of our work in schools, prisons and elsewhere put on hold. In order to keep our doors open we need financial assistance to help us through these tough times so that we can resurface even stronger and continue to make a difference with our social initiatives. These include our Wellbeing programme and our knife crime initiative for school children called 'It's No Joke!"
A number of the school's patrons have reacted to the news.
Paul Whitehouse says: "Congratulations Sir Keith Palmer! Oh no wait a minute, not quite... well not yet anyway but it's only a matter of time. Hats off to Keith Palmer MBE for recognition of the tireless work he and other members of The Comedy School do, particularly with regard to knife crime. Well done Keith."
Andi Osho comments: "I am beyond thrilled to hear that my dear friend Keith Palmer has been awarded the Most Excellent Order of the British Empire. In other words an MBE!! This is for his tireless work in entertainment and charity. I have known Keith since Ice, Ice Baby was number one! And he has always had a love for comedy. He is frankly a naturally funny man. But that coupled with a huge heart has meant Keith has used his knowledge of the craft to help people learn it but also to support those dealing with their mental health.
"But that's not all. Keith has created anti-knife crime workshops that have been performed thousands of times in schools around the country. For this and so much more, Keith's work has been recognised, and it is so, so deserved. He really is an incredible, selfless and dedicated human being. Please check out his charitable organisation of which I'm proud to be a patron. Under this banner, Keith has been quietly, kindly and brilliantly undertaking his charitable work. You can support the trust by giving a monthly donation. By doing that you will help Keith's amazing work to continue. Keith, congratulations again. You are an O.L. Original Legend!"
Sean Lock adds: "The Comedy School provides education, entertainment and opportunities in communities that are often neglected. Keith Palmer is The Comedy School. Without his drive, passion and charm it would have closed years ago. He's kept it going against all the odds and is admired by all who work with him."
For more information on The Comedy School and how to donate visit thecomedyschool.com
Published: Thursday 15th October 2020