Josh Widdicombe - Watching Neighbours Twice A Day...: How '90s TV (Almost) Prepared Me For Life
"Read any history of the Nineties in Britain and you will read about Britpop, Blair, the birth of the Premier League and the rise of new lads. I played no part in any of these events. Growing up in a tiny rural village on Dartmoor, no bands came within 100 miles, all the local farmers voted Tory, our nearest football team was in the fourth division, and the closest I got to being a new lad was when my older brother let me drink some of his Hooch."
In Watching Neighbours Twice A Day, much-loved comedian Josh Widdicombe tells the story of a strange rural childhood, the kind of childhood he only realised was weird when he left home and started telling people about it. From only having four people in his year at school, to living in a family home where they didn't just not bother locking the front door, they didn't even have a key.
Using a different television show of the time as its starting point for each chapter, Watching Neighbours Twice A Day is part-childhood memoir, part-comic history of 90s television and culture. It will discuss everything from the dangers of recreating Gladiators in your front room, to Josh's belief that Mr Blobby is one of the great comic characters, to being the only vegetarian child west of Bristol.
Together it tells the story of the end of an era, the last time when watching television was a shared experience for the family and the nation, before the internet meant everyone watched different things at different times on different devices, headphones on to make absolutely sure no one could watch it with them.
First published: Thursday 16th September 2021
This was originally announced as Watching The 90s: A Childhood Memoir but changed its name before publication.
Buy and sell old and new items
Search for this product on eBay
Buy and sell old and new items
Search for this product on eBay
It looks like you're in the US? Fear not! Almost everything can still be ordered.
Amazon UK
deliver internationally,
Amazon.com
carries many items separately, or you can look out for US/Canadian flags on our product listings for direct links.
If ordering from a UK store, please note that you are in Region 1 (DVD)/Region A (Blu-ray), whilst the UK is in Region 2/B, respectively. This means that many - but by no means all - may fail to play. Look for products marked "Region free", "All regions", "Region 0" or "Multi-region". Blu-rays may also be marked "Region A/B/C", "Region free", or variations thereof. You may also check whether your DVD/Blu-ray player supports multi-region playback (also referred to as "region free"), or whether it can be set to do so. There should, of course, be no problems with books, CDs, or other physical items.
More advice & help on importing
See also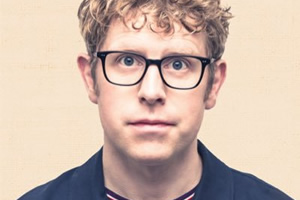 Saturday 10th April 2021
Josh Widdicombe has written his first book. Watching the Nineties is described as "part-childhood memoir, part-comic history of Nineties television and culture".