Jenny Eclair talks about appearing on The Great Celebrity Bake Off for Stand Up To Cancer...
Can you bake? Rate yourself out of 10.
I'm a remedial baker. I have the baking skills of a six-to-seven-year-old. I don't have a sweet tooth, and I don't have a recipe book for things like biscuits and cakes. I'm a savoury girl, I like a pork pie and a lump of cheese. I haven't got a baking tray, I haven't got a rolling pin, I haven't got any of the things that are in that tent. So they sort of took pity on me, and sent me a whole load of kit, and I spent Sunday afternoon practising.
I spent possibly the most miserable Sunday afternoon I have ever had in the kitchen with my daughter, who's equally remedial. She's 30, and she literally can't cut an onion. So the two of us just started bitching at each other, fell out, she went to bed for an hour with a stress headache, and it ended in disaster.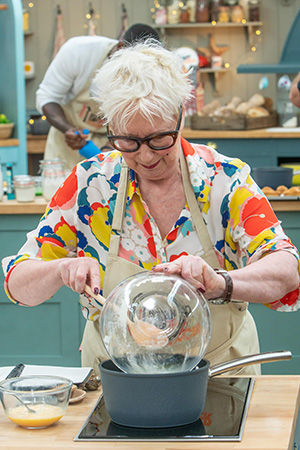 So the next question was going to be "Who taught you how to bake?" but that seems a little redundant.
Yes, nobody taught me. My mother got really bored of me and my sister and used to keep us out of the kitchen because she was just sick of us bickering. The last thing she wanted was us fighting in the kitchen. So she used to go in there and shut the door.
Then I had cookery at school, and I was really, really disinterested. And then I became anorexic when I was at drama school, so I didn't cook or eat for about 10 years.
And then I was a stand-up comic, and I had a house without a cooker in it for many years, because there wasn't much point. I was never home to cook, and most things can be done on a hob. So it was only when I decided to host my entire family for Christmas lunch that I got a cooker, when I realised you couldn't microwave a turkey. That was about 20 years ago. I used it about four times.
How did the Christmas lunch go?
It was edible, it was all right, but my brother is a good cook, and he came around and took over. There's very little point in me having a kitchen. We've got a tiny kitchen, a galley kitchen. If you can't cook, you don't deserve a big kitchen. I've got the kitchen I deserve, which is the size of a sofa.
Are you a Bake Off fan?
I love Bake Off. I sit there, criticising, when I can barely crack an egg. It's very reassuring television.
Does that make it more nerve-wracking, appearing on the show?
No, because that would be silly. There's no point. This is for charity, we're not in a real competition, and this isn't my professional reputation. If this was a stand-up competition, I'd be lying here with cold flannels over my forehead. But it's not.
Who do you want to impress the most? Paul or Prue?
Both. I want to impress Noel and Sandi. I don't think Noel ever eats much of anything, so if he carried anything of mine away with him, I'd be thrilled.
Who do you see as your biggest competition?
All of them!
Have you had any baking disasters?
I have never had the opportunity to have a disaster. Apart from yesterday's dummy run, which was depressing and exhausting. I was in bed at half past nine.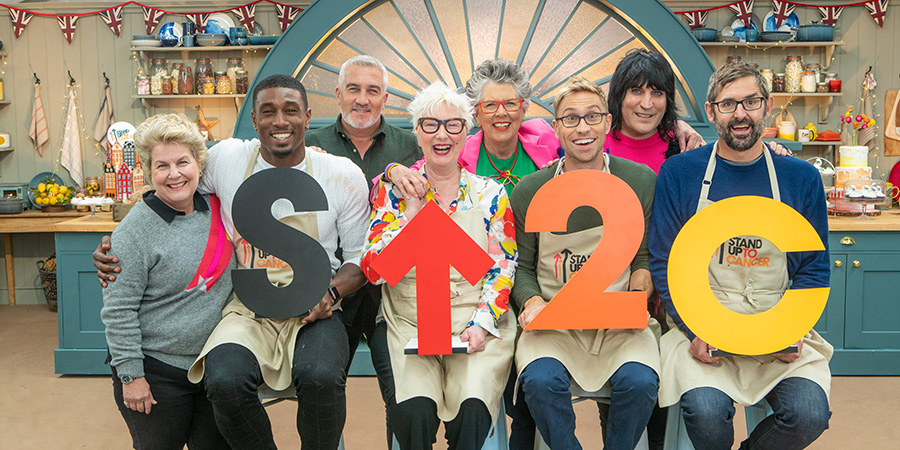 Why are you supporting Stand Up to Cancer?
It's a good opportunity to put your money where your mouth is for a couple of days. It's all about awareness, isn't it? It's all about people talking about it. I'm a big fan of badgering doctors. If in doubt, see your GP. If you're still in doubt, go back and see your GP. You might be a nuisance, but it could save your life.
Did you get any advice when you were preparing for this show?
There wasn't really any time. My partner kindly cut out a template for my biscuit, so that was useful. He's a designer, so my sloppiness and general untidiness, my tendency to be a bull in a china shop, really upsets him. So, I'm trying to be as methodical as possible, but if you don't know what you're doing, it's hard.
Are you competitive? Do you want to be star baker?
I am hugely competitive without any skills, which is the worst thing you can be. It's a very bad combination, because you want to win, even though you know you can't.
How do you feel about the technical challenge?
I'm absolutely dreading it.
What would be the worst thing you could be asked to make?
Anything without detailed instructions, because I have no experience in the kitchen. I'm going to have to do some copying. I think Louis knows a bit.
This seems like an absurd question to ask someone called Eclair, but if you were a baked good, what would you be?
I'd have to be my own namesake, which is possibly one of the most difficult things to bake, with choux pastry. I don't even like them!
You were on Celebrity MasterChef. What was that experience like?
They saw right through me, I was first out. At one stage, I got my vinegar and my wine mixed up, and I made this chicken dish that literally tasted like boiled witch. It was absolutely appalling. I don't think I've ever seen judges nearly spit things out. But yeah, it was bad. And I was quite bad tempered about it as well.
Published: Tuesday 10th March 2020