2020 was set to be the year that Isy Suttie properly returned to stand-up. The comic and actor had taken time off from gigging following the birth of her second child with fiancée and fellow stand-up Elis James. "But I've really missed it.
"I'd only done four or five gigs and then Covid happened" she laments. "I've since done a few on Zoom over lockdown, a few live ones and I've found I really love it again. I've started writing new stuff and really want to get a new set together. Ordinarily, I definitely would have gigged a lot more."
Fortunately, although gigs are now shutting down again, Suttie had already set a sizeable chunk of time aside to finish writing her debut novel, Jane Is Trying. She's also reviving her The Things We Do For Love podcast after almost four years. And she's assembled a collection of her Radio 4 series under the title Isy Suttie's Love Letters And Other Matters Of The Heart, released later this month through Penguin Random House.
Featuring the special Pearl And Dave and both series of the Sony Award-winning Isy Suttie's Love Letters, as well as her Guide To Love And Romance and Guide To The Family, plus the one-off documentaries Brain Tingles, in which the comic essentially anticipated the recent vogue for ASMR (Autonomous Sensory Meridian Response), and While My Guitar Gently Bleeps, in which the musical stand-up explored the world of computer-generated chiptune, revisiting the series to record introductions for them, has "been really nice actually", she recalls. Even if it's been from "inside a wardrobe cupboard, under a duvet".
"I'd listened to some of Love Letters reasonably recently because I was thinking of doing Love Letters Live, where I do my two favourite ones. And I might still do that" she explains. "But maybe that's laziness, I should probably write a new show. Part of the reason for wanting to do them live is that people would tweet me saying they couldn't get hold of a particular episode. But now the Penguin collection means that's not a problem. I usually find it hard to listen back to myself. But my two best friends from home featured in the family one, so that was nice. I didn't find it hard, thankfully."
Just like the smiling geniality she projects in her best known screen roles, say as nerdy Dobby in Peep Show or slow-on-the-uptake Nat in social work sitcom Damned, love and relationships have been a preoccupation throughout Suttie's writing career.
In her 2016 memoir, The Actual One, she recalled going for a smear test but ending up hugging the nurse as the woman unburdened herself of her problems with her son. So why do people open up to her?
"Partly it's because I'm open myself" she suggests. "It's not that I'm trying to open them up. But I will often just naturally say something that makes me vulnerable in some way. But then it almost becomes like a game, 'will you say something?' This isn't just in comedy or on podcasts. This is my life. It's the most interesting way to be and how I naturally am. I couldn't change. Most people, they won't necessarily pour out their heart to me. But it gives them permission to share something.
"I suppose I'm just quite curious and seek out people like that as friends" she clarifies. "When I meet someone who's not like that, it's a real challenge for me. I'm like a woodpecker tapping at different parts of the tree tru ... Actually, I don't know if that's what woodpeckers do. They probably just go for the same spot.
"But I'm trying to find the weak spot. By which I mean the weak, interesting spot!"
And that's partly why she's bringing back The Things We Do For Love. Although the podcast only ran for four episodes across 2016 and 2017, it featured candid discussions with a soul-baring Nick Helm, a sexually frank Danielle Ward talking about shagging Russell Brand and a drunk John Robins. For the new batch, appearing soon, Suttie interviews Jo Brand, Bridget Christie, Richard Herring, Josie Long, Jess Fostekew, Tom Parry and Margaret Cabourn-Smith among others.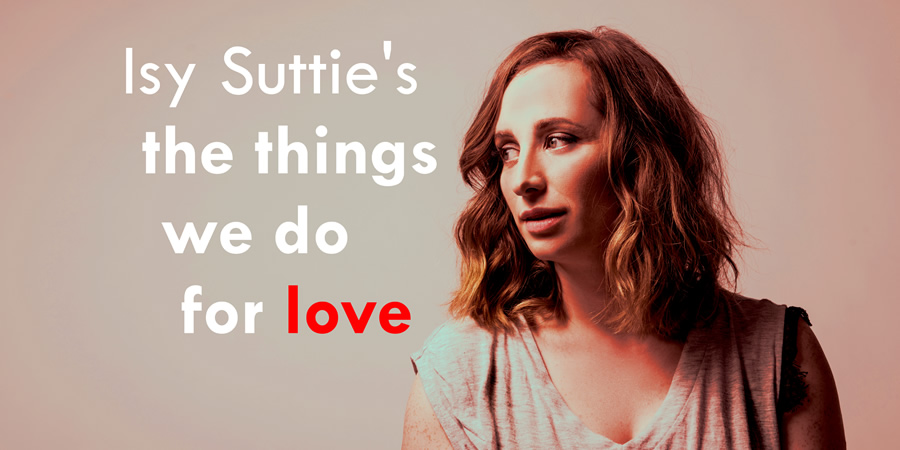 "I've been wondering if there are any other podcasts with longer gaps between them" she laughs. "We've done a few over Zoom now, where people are much more likely to reveal things they wouldn't in front of an audience, they get carried away.
"But we always tell them they can take anything out. Some people just don't worry though. Danielle's one is amazing, she's extremely open about sex. I asked her if she was sure she wanted to be saying it. But she was like 'I absolutely don't care'. Other people stipulate that they don't want to talk about their current partner, which is totally fair enough.
"People like Bridget and Josie are two of my best friends. But there was loads of stuff with Bridget in particular I didn't know that just came out. It always goes down a route I don't expect it to, which is why I like doing it. You think you know what someone would have been like as a teenager and the reality is completely different. So far, I've only done my friends or stand-ups that I know really well. So what'll be interesting is to interview someone I don't know. We'll see if it runs for 2000 episodes. Maybe we'll release loads and then have another long break. I'll be interviewing everyone about their divorces!"
If that seems a tad bleak, well, that's because Suttie isn't Pollyannaish about relationships. Her debut novel, Jane Is Trying, published next summer, finds the bright, funny but anxious title character back living with her parents in her late thirties. She's returned from London to Derbyshire after a traumatic break-up, prompted by struggles to conceive and her boyfriend's infidelity. Working part-time in an eccentric local bookshop, she doesn't know what to do next but is really, really trying hard to find her way.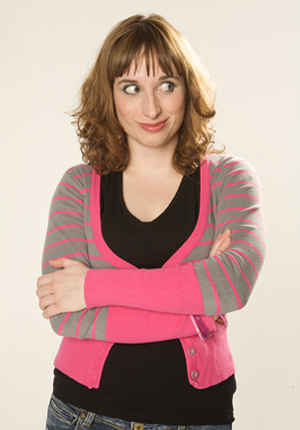 Currently working on the story's third draft, Suttie has "really enjoyed writing something that hasn't been about me. Sometimes, I feel I've used up so much stuff from my life and my friend's lives. So it's been lovely to create other characters."
Lending her protagonist her middle name and once again returning to the area near Matlock, the market town where she grew up, which has featured in so much of her work, there's nevertheless "a lot of differences" to her own life. "It's useful to push yourself away from your comfort zone" she says.
"Still, it's also wise to use those experiences you had growing up. I'm out of my comfort zone anyway because it's a novel and it's been a lot harder to write than my first book. But ultimately, more enjoyable too. There's a village near Matlock called Cromford, which is where I picture the book, with a bookshop called Scarthin Books that I really love. And that's how I picture the bookshop.
"It's tricky. Gavin & Stacey is such a hit isn't it? I'm sure Ruth Jones always thinks about whether to set something in Wales again or elsewhere. Writing what you know is a cliché. But there's some truth to it. I didn't need to write about a 42-year-old woman living in London, modelled on my life. But my characters were inevitably going to be amalgamations of people I know."
The novel has been "dominating my life for years". And she had to lock herself away in a hotel for a weekend, away from her young family, to complete the initial draft. But Suttie is already planning another book, for young adults, is developing a television project with Home star Rebekah Staton and is keen to start on her next stand-up show, her first since The Actual One-promoting tour of 2016.
"I've worked really, really hard on this book and loved doing it" she reflects. "But I was still working with other people on it, waiting for notes. Nothing beats the control you have over stand-up. You can think of some material that day and go and try it out that night. And if you fail, you've failed on your own terms.
"But I'd also like to challenge myself and do a drama. I watch Downton Abbey and think: 'Ooh, I'd love to do something like this.' I'm hoping that as I get older, those doors open a bit more and I get offered some odd, really interesting parts."
---
The Sony Award-winning comedian and Peep Show star talks life and love.
Isy Suttie is our guide to all things love-related in these five fantastic series. Come with her as she shares her relationship stories, talks about the couples she's tried to bring together, evokes bittersweet memories of her childhood and adolescence, and shares a couple of the weird and wonderful things that give her pleasure.
In her award-winning show Isy Suttie's Love Letters, she recounts love stories affecting people she's known, intertwined with anecdotes and songs about her own disastrous romantic life and eventual happiness.
Also includes the 2012 special Isy Suttie: Pearl And Dave.
Isy Suttie's Guide To Love And Romance sees her chatting to friends and partner Elis James, and sourcing extracts from The Listening Project, to paint a picture of love in the 21st Century - from first loves and Valentine's to hook-ups and break-ups.
And in Isy Suttie's Guide To The Family, she returns to her teenage home town, Matlock, for a celebration of family life and growing up. Along the way, she reminisces with old friends in The Shoe Box of Memories, and treats us to some classic BBC comedy from Sarah Millican's Support Group, After Henry, Old Dog And Partridge and Not In Front Of The Children.
The collection also includes two documentaries from the comedian.
Ever since she was little, Isy has experienced something she calls 'head squeezing' - a euphoric, incredibly relaxing version of goosebumps that starts around her scalp and spreads down her arms. Its official name is ASMR (Autonomous Sensory Meridian Response) and in Brain Tingles, she investigates this mysterious phenomenon, chatting to scientists and fellow 'ASMRians' to explore why it happens and whether it can play a role in creativity.
Finally, in While My Guitar Gently Bleeps, Isy takes a nostalgic look at chiptune: the catchy, evocative videogame music of the 1980s and '90s that she loved as a geeky kid. She meets the musicians using joysticks and old computers to create unique electronic tunes - and even tries her hand at writing her own digital classic....
First released: Thursday 26th November 2020
It looks like you're in the US? Fear not! Almost everything can still be ordered.
Amazon UK
deliver internationally,
Amazon.com
carries many items separately, or you can look out for US/Canadian flags on our product listings for direct links.
If ordering from a UK store, please note that you are in Region 1 (DVD)/Region A (Blu-ray), whilst the UK is in Region 2/B, respectively. This means that many - but by no means all - may fail to play. Look for products marked "Region free", "All regions", "Region 0" or "Multi-region". Blu-rays may also be marked "Region A/B/C", "Region free", or variations thereof. You may also check whether your DVD/Blu-ray player supports multi-region playback (also referred to as "region free"), or whether it can be set to do so. There should, of course, be no problems with books, CDs, or other physical items.
More advice & help on importing