London's West End tentatively reopening could be great news for sketch duo The Pin.
Ben Ashenden and Alex Owen have won plaudits for their two-minute Zoom call skits through lockdown. But the pair are now hopeful that their first play is about to hit the theatre.
Adapted from their 2018 Edinburgh Fringe show, Backstage, they tried out a two-hour version late last year. Working with producer Sonia Friedman (The Book Of Mormon), they originally envisioned it being onstage right now, until the pandemic struck.
Still, they haven't been idle in the meantime. Their mockumentary series The Special Relationship, in which they play misguided British sketch comics desperately trying to crack America, has just dropped on Audible.
And the pair have literally just finished shooting on blockbuster Jurassic World: Dominion at Pinewood Studios, thanks to director Colin Trevorrow being "a real comedy nerd".
"He was very good at saying 'I'm going to put a single [camera] on you at the end of the day, just improvise for four minutes, we'll see what we get'" Ashenden enthuses. "Which is unheard of on comedy shows, let alone a Hollywood film!"
Although they only have "real blink and you miss it" bit-parts, Owen gets to play a computer programmer uttering the immortal line "there are dinosaurs everywhere!" Ashenden meanwhile, is a barista, serving the reunited stars of the original Jurassic Park movie, Sam Neill, Laura Dern and Jeff Goldblum.
"My job was to wind up Sam Neill. He's a brilliant comedian it turns out. And so nice.
"When I finished, he came up to me and gave me a bottle of wine that he'd made and asked me to be in one of his lockdown videos. So I turned around and asked him to be in one of mine. We're trying to work out what would be a good sketch for him."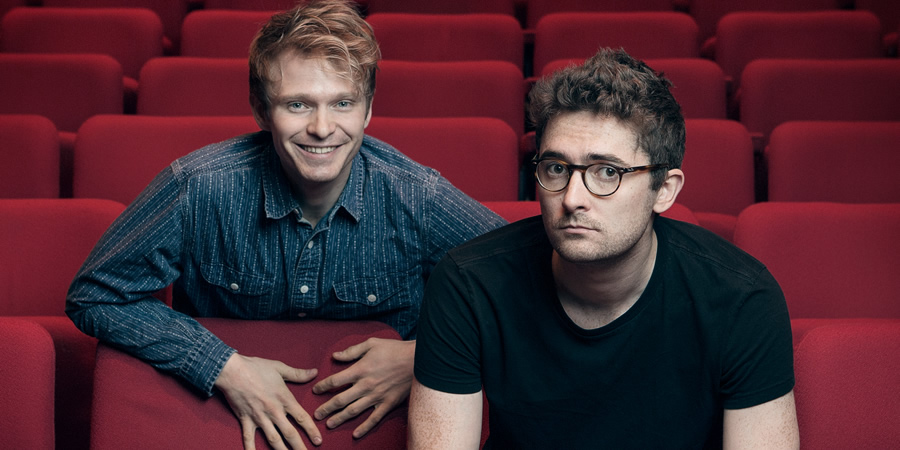 Making the Zoom sketches for Twitter has given them "structure to the day, a little notch of creativity" over lockdown. But it's only ever been a diversion from their West End debut.
"This play was kind of what our year was building towards, the big tentpole for it" Owen reflects. "At the start of lockdown we spent the first four or five weeks doing another draft. So hopefully we're going to be on stage with it soon. Sonia Friedman Productions are very eager to get it up and running."
Although significantly expanded from its 48-minute Fringe incarnation, which prioritised nailing the laughs over storyline, the show was originally conceived as a play. And the meta-theatrical premise remains that Ashenden and Owen play four characters, a comedy double act and their younger warm-ups waiting in their dressing room.
Current guidelines on socially distanced audiences might actually work to their advantage, as with only two cast members they'll be able to crank up production faster than most West End shows.
"If you're feeling brave enough, please do come" Ashenden implores. The play's double acts are touring when they arrive in Diddlington, "where no-one really comes to see these shows and it's a bit of a nowhere space.
"And we realised that with audiences sat in strange positions, it'll be the big elephant in the room. But that works really well for our show. Because basically, the main joke is that this is a weird environment, a strange situation.
"The arc of the story leads to a celebration of those who have, despite everything, stayed around in the audience to support live comedy. And that will be what's happening in real life.
"We hope it'll be a testament to live comedy and theatre carrying on, even in very difficult circumstances. But like anything, I won't believe it's happening until it's actually happening."
At the Edinburgh Fringe, their emphasis was on "funny, funny, funny" Owen says. "But at two hours, in terms of the spectacle and technical ambition, as well as the ambition of the storytelling, we've found ourselves approaching it the other way, writing it to make people come back after the interval. So we're trying to maintain that while further developing the core comedic charm of it."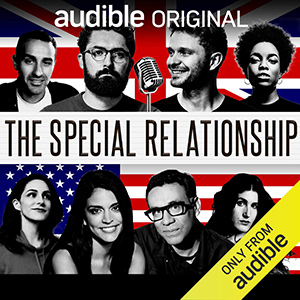 As they await news of the play, The Pin's burgeoning fanbase can binge on The Special Relationship instead. Like their Radio 4 sketch show, which has run for four series, there's some deceptively smart stupidity woven through this tale of them trying to impress nonplussed American audiences, with Ashenden's character driven by his rubber tycoon ancestor's example.
There's also a formidable cast for the eight episodes, with Lolly Adefope, Jamie Demetriou, Sally Phillips, Janine Harouni and Charly Clive appearing alongside some top American talent, including Portlandia's Fred Armisen and Saturday Night Live's Cecily Strong, the latter playing the perpetually disappointed documentarian recording their cack-handed exploits.
In development for several years, they first approached another cast member, Kate Berlant, about appearing at the 2018 Edinburgh Fringe. And because The Special Relationship is an online comedy, they had the luxury of waiting to get exactly who they wanted.
"If Fred Armisen wasn't free for four months, we'd wait four months, in a way that you never could with a Radio 4 show" Ashenden recalls. "We wrote Fred's character 100% with him in mind. Kate's too" Owen explains. "Not necessarily thinking we'd get them. But there was always ambition on Audible's part and they were really keen for us to aim high with the casting.
"With Fred, we knew someone who knew someone who knew someone" Ashenden adds. "I think a script was literally physically handed to him by a cameraman on a show. An old school way of getting someone.
"We went to LA to record with him, but we still hadn't cast the narrator and he suggested Cecily Strong. And he said he'd email her. Even so, it felt earned because we'd recorded with him for a few days, so he clearly felt it wouldn't be embarrassing to ask her. Then we went to New York six months later to record when she was free."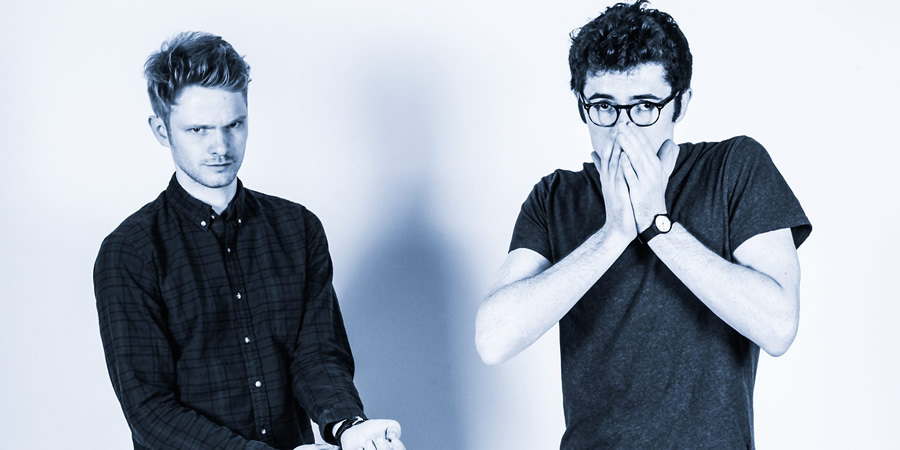 John Reynolds was recruited even less formally. The Los Angeles-based comic was in London shooting the Four Weddings And A Funeral television adaptation, while out performing in clubs at night.
"I was just such a fan of him from Search Party" Ashenden explains. "He was in the toilets, at a urinal. And I just said to him: 'I think you're great, would you be in our Audible show?"
Working with their former Radio 4 producer, Sam Bryant, who has relocated to America to work for Audible, The Special Relationship is also inspired by one of the greatest comedy films of all time.
"It's partly based on the fact that one of our favourite things ever in comedy is Spinal Tap and that will always be at the heart of it all" says Owen. He recalls phoning his double act partner a couple of nights ago in a state of high excitement to share that Tap star Michael McKean was following them on Twitter.
"Spinal Tap has just been in the DNA of one of the best jokes of all time I think, which is idiot Brits going to America" Ashenden concurs. "It feels like a humility, anti-colonialism in a way - going somewhere as the underdog and then trying to make a fortune in a place that has far surpassed you culturally. We at least try to play with a degree of humility about all the privilege that Alex and I have."
The mockumentary's US setting and the culture clash affords their characters the chance to be funny and yet still be met with American indifference, remaining likeable losers.
"That's one of the challenges of writing a show like this, or any show about comedy, because it's the same with our play" says Ashenden. "You want the characters to be successful, in as much as they are funny to listen to and watch and engage with. But not so successful that the pathos is gone."
Which prompts mention of another of their inspirations, Flight Of The Conchords. The Kiwi double act, who were transplanted to New York for their television series, "are a big influence on this show, they nail that so well. They were big role models for getting the balance right.
"Particularly in the American context, you could just so easily get swallowed up by the size of it. There's nothing funnier than bombing or performing inconsequential gigs in the middle of New York City. You're so close to all the excitement."
Equally, their characters', particularly Ashenden's determined but blinkered pursuit of their goals, also evolved naturally from their Radio 4 series.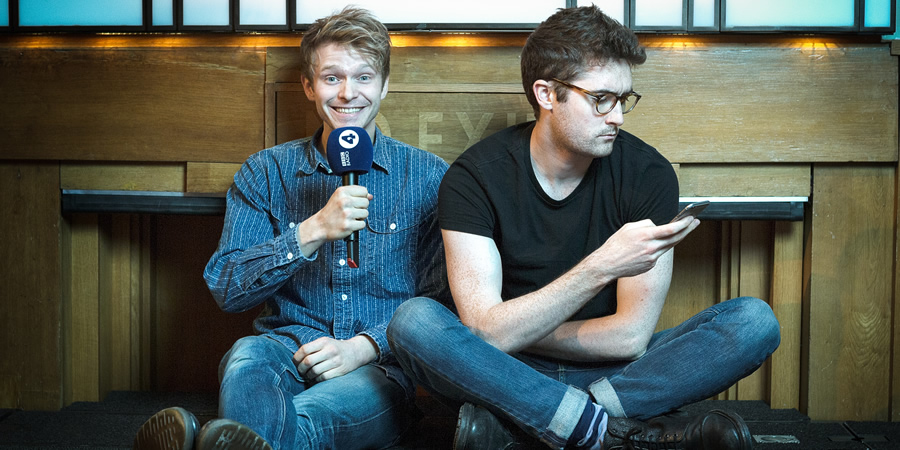 "It was always a nice storyline when Ben's character had a big ambition in a kind of classic sitcom way" Owen reflects. "Obviously that was a sketch show [on Radio 4] but we had narratives in it too. Whenever Ben had a big plan it was always really fun. So we thought why not give this character a massive ambition that he can fall really far short of?
"Then, at the culmination of it, we have the Only Fools And Horses thing where it actually looks like they're going to become millionaires. That really appealed to us as well."
Ashenden smiles: "By the end of the series, I get a part in a big show and it's about what happens then. The point we try to make is that they don't actually want to be successful. They just want to be hanging out with each other. That's something at the core of our play too, companionship and friendship is something we really like to write about. Comedy is an interesting world to put that in and test it under. And it's just more concentrated in double acts.
"In every sense, you really do hitch your life to another person. If they're in a good or bad mood, that affects everything in your life. And while that's true for many human relationships, comedy's a good way to see it in an exaggerated form."
The Pin's comedy has become so knowing, that one immediately presumes the pair, who lived together for six years before they each got married, are deeply steeped in the long, often fractious history of double acts.
Yet their partnership has been "surreally good" suggests Ashenden. "It sounds like a real brag but we've literally never argued or shouted at each other. Hopefully it will keep going that way. What do you think?"
"Big time" Owen agrees. "We've actually been working together for ten years now. Which is just stupid."
Ashenden: "There are so many double acts where clearly, each of them thinks they're the funnier one."
Owen: "Whereas we both know I'm the funnier one."
Ashenden: "I genuinely don't think there's anyone funnier in the world at performing than Alex. If that wasn't true, it would be a very difficult relationship to keep going.
Owen: "Yeah, that's true. It is nice. When we first started working together I was like 'wow', I really looked up to Ben."
Ashenden: "Which was not just a height thing."
Owen: "Far from it. It just always feels like an absolute pleasure, a lot of fun."
Ashenden: "In all seriousness, it's so vital. You see double acts that fall apart after a few years and it's so obvious that they didn't think the other was funny, that they were carrying them."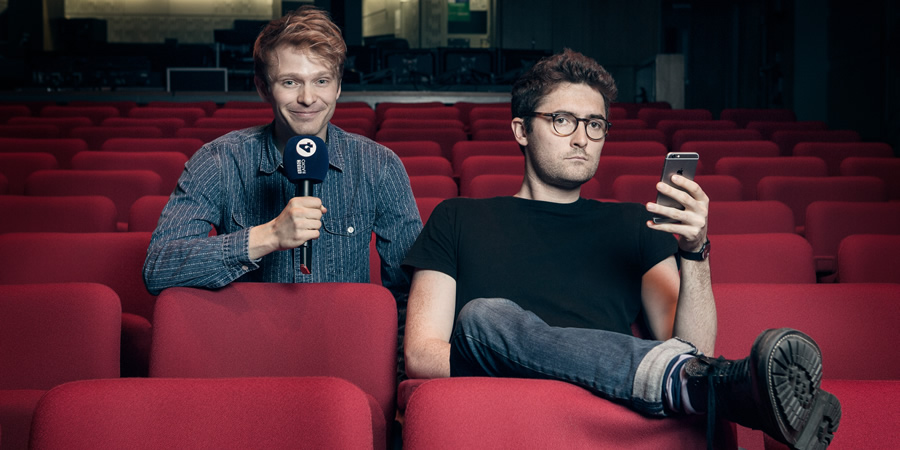 It was after seeing Tim Key in his poet persona at Edinburgh, delivering a funny poem, then getting bigger laughs for the asides immediately afterwards, that convinced them to endlessly pick apart their sketches, sustaining a running commentary on what "worked" and what didn't, directly addressing the audience.
"We'd wanted to do a straight sketch show for Radio 4. But Sam [Bryant] wanted us to really develop the Alex and Ben personas, encouraging us to lean much more into the two of us" Owen explains. "The live act and the radio act developed in tandem from that point."
At the same time, "we love stuff that if it's clever, it wears it very lightly and is clever in a stupid, silly way" he adds. "Five or six years ago we could be guilty of doing a routine that was a bit show-offy, that we liked because it was elaborate or quite hard to write. Whereas now, we just want to be dumb and dumber, do stuff that's stupid."
That said, next up for the pair is a satirical television drama that they're developing with Working Title (Yonderland, Shaun Of The Dead) about cancel culture.
"It's focused on the modern media landscape if that doesn't sound too ridiculously overblown" says Ashenden. "The merging of politics, entertainment and social media, a scandal unravelling in public. A Faustian pact where someone pretends to be a right-wing provocateur when they're absolutely not.
"Imagine if Katie Hopkins was actually a very left-leaning progressive type who just really needed the money."
As with Jurassic World though, expect to see them only in supporting roles.
"If there are any reflective surfaces, look there" says Owen. "You might just see us in the background."
---
The Special Relationship is available to download now from Audible.co.uk