One of the all-time great names of British comedy, Francis Alick Howerd OBE, was born 100 years ago.
Just one of a generation of comics and writers who honed their skills during World War Two, Frankie would become one of the most popular comedians of the post-war years, despite finding his career beset by a constant onslaught of downturns.
Every few years he and his act would be written off by the executives in control of the entertainment industry - whether film, TV or radio - and he would struggle to find work; but audiences never stopped loving Frankie Howerd, and through one route or another he was continually rediscovered and loved again by the public - fans both new and old.
Somewhat oddly, he is now perhaps best remembered of as part of the Carry On team, despite only appearing in two of the 31 films in the series: Carry On Doctor (1967) and Carry On Up The Jungle (1970) - plus one television special, the 1969 edition of Carry On Christmas.
His single most famous role, however, remains that of Roman slave Lurcio in the period sitcom Up Pompeii!, a vehicle created for him after his success in a London stage production of A Funny Thing Happened On The Way To The Forum. The comedy ran for just two series - plus a few specials - but would spawn three feature films and five further TV sitcoms.
There is, frankly (pun intended), no reappraisal of Frankie Howerd's career to make: he was, quite simply, a comedy genius.
Spanning at least six separate decades, we are unable to list more than a selection of Frankie's starring roles: he had at least 22 self-titled comedy series on television alone. Here, instead, is a collection of some of his most notable work. He died, famed and beloved once again, early in 1992 at the age of 75.
Up Pompeii!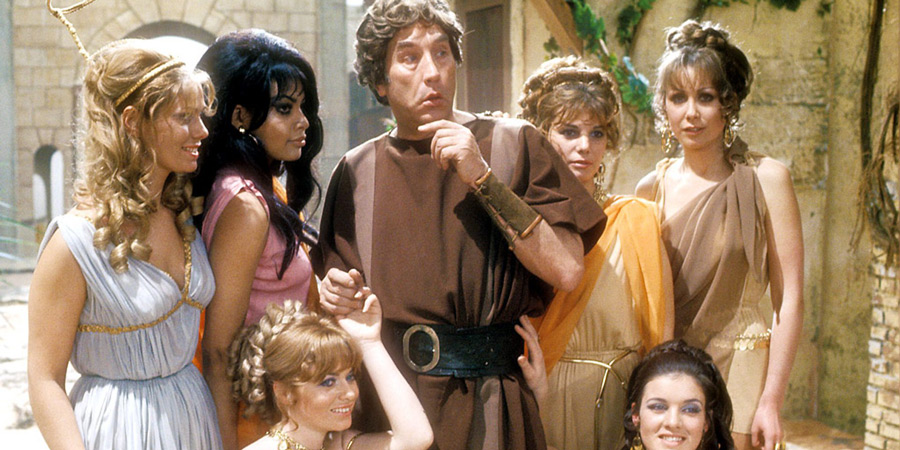 Originating as a BBC One Comedy Playhouse pilot in 1969, two series of Up Pompeii! would be broadcast the following year. A special revisited Lurcio in 1975, whilst in the last resurgence of his career, ITV broadcast another update at Christmas 1991. Had Howerd not fallen ill and died just a few months later, it's entirely possible there could have been another series of the innuendo-laden comedy. Guide
Frankie Howerd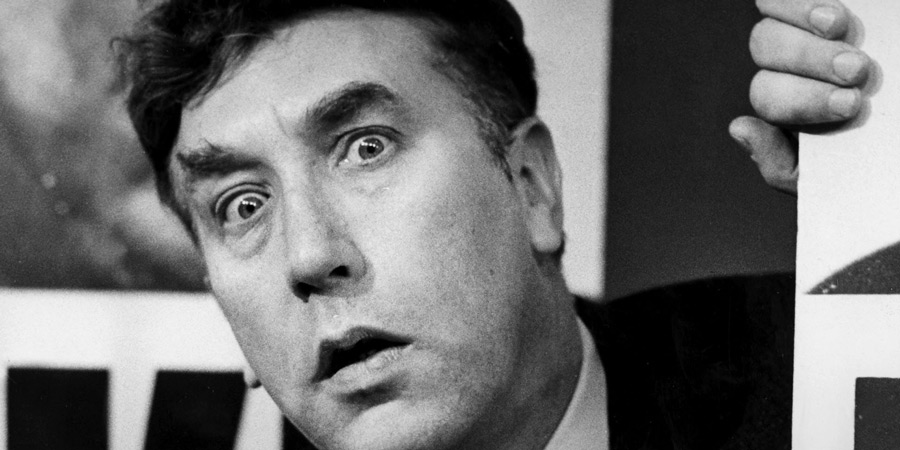 Sadly yet to become commercially available in any format, Frankie Howerd - aka The Frankie Howerd Show - mixed sketch and stand-up, running for two series in the mid-1960s. Written by Ray Galton and Alan Simpson, the twelve episodes (at least seven of which are known to survive) see Howerd supported by the likes of June Whitfield, Hugh Paddick, Yootha Joyce, Beryl Reid and John Le Mesurier. Guide
Carry On Doctor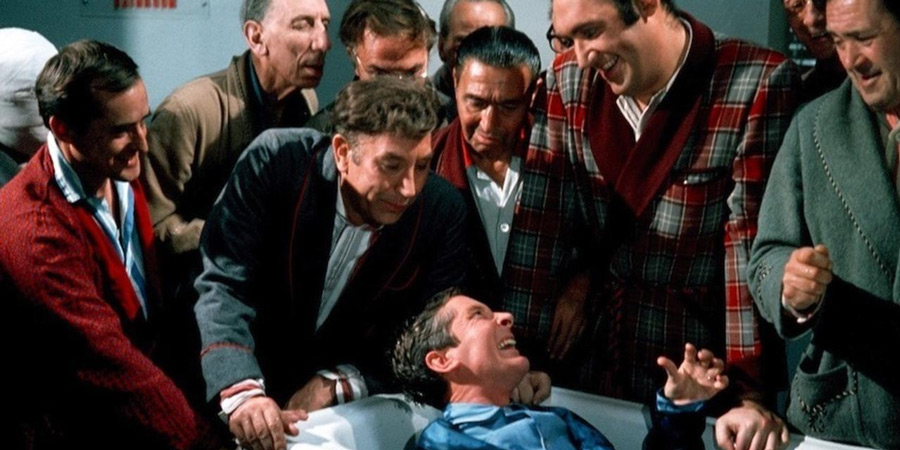 The first of just two Carry On films in which Frankie appeared, Doctor (1967) saw him cast as a motivational speaker and "mind over matter" anti-modern-medicine campaigner, Francis Bigger, who finds himself hospitalised with a bruised bum. He and a large group of other patients rise up against the stern doctor and matron under whose charge they find themselves, and subject them to a bit of their own medicine. Guide
The Runaway Bus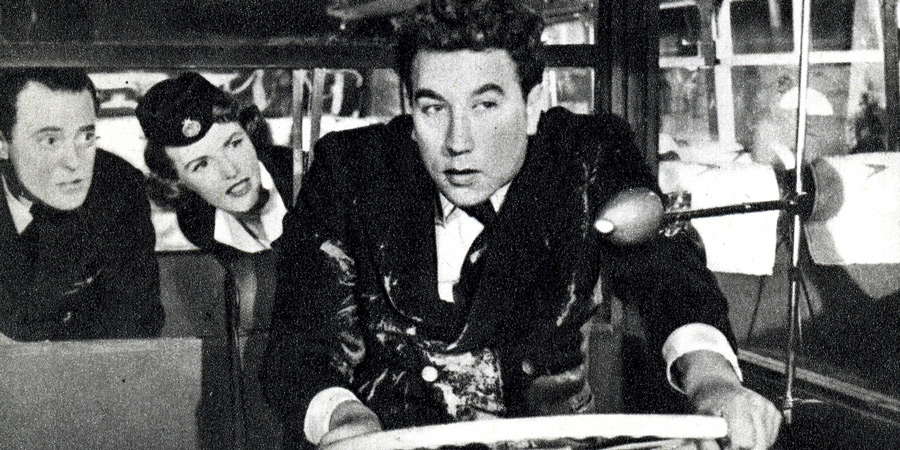 This comic crime caper was Frankie Howerd's first film. Released in 1951, he stars as the unfortunate driver of the titular Runaway Bus, packed with frustrated passengers crossing England by land after some of the worst fog in memory grounds all flights at Heathrow airport. Guide
Frankie Howerd On Campus

The last resurgence in Frankie's career catapulted him back to fame at the height of the alternative comedy boom in the late 1980s. A perhaps particularly surprising turn given his traditional, gag-packed and innuendo-filled comedy style, he was embraced by new generations of fans to such an extent that, in 1990, he was invited to perform in the University of Oxford student union's prestigious debating chamber. The celebrated performance was recorded and later broadcast by ITV. Guide
The Great St. Trinian's Train Robbery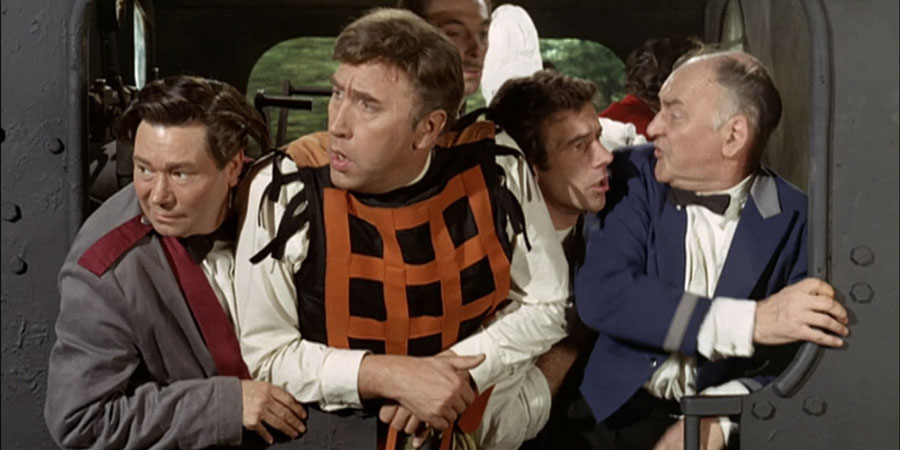 In the fourth film about the delinquent schoolgirls, The Great St. Trinian's Train Robbery sees Frankie star as the leader of a gang of robbers who've stashed a large haul in an abandoned house. When they return to collect their takings, the group is alarmed to find the building has become home to a girls' school. Guide
The House In Nightmare Park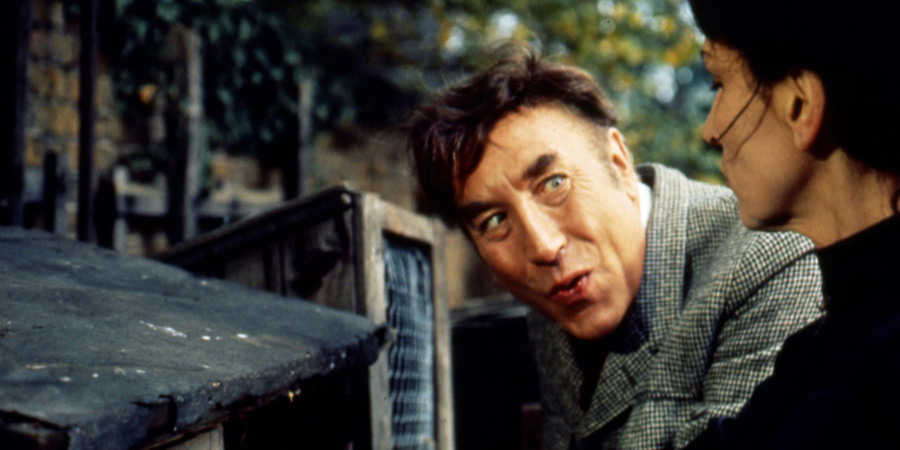 This 1973 comedy-horror film by Doctor Who writers Clive Exton and Terry Nation has Howerd playing a rather rubbish actor who is hired to provide entertainment at a country house. Expecting an easy few days, he quickly finds that not all is as it seems with the home's residents, and his own life may in fact be in danger. Guide
Up The Chastity Belt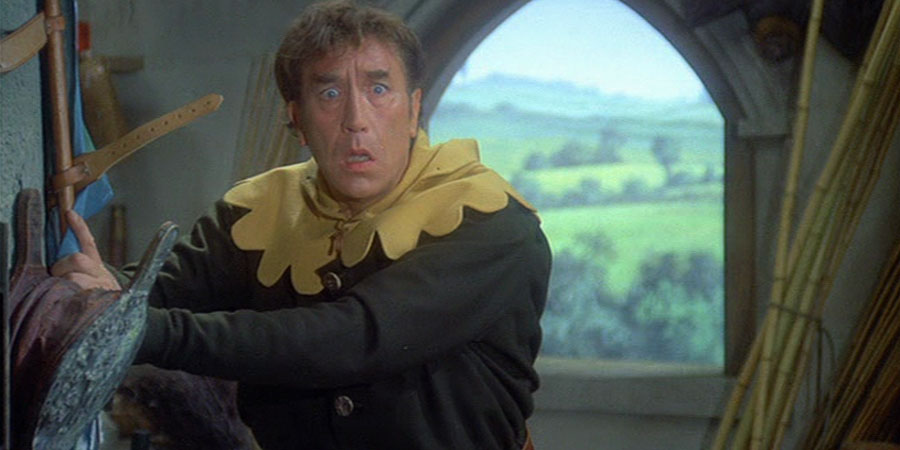 The second of three films spinning off from Up Pompeii!, in Up The Chastity Belt Frankie plays a lowly mediaeval serf named Lurkalot. When his master ventures to join King Richard on crusade, his lands are attacked - only Lurkalot stands in the way of the dastardly Sir Braggart de Bombast. Guide
---
Published: Monday 6th March 2017