David Renwick - One Foot In The Grave And Counting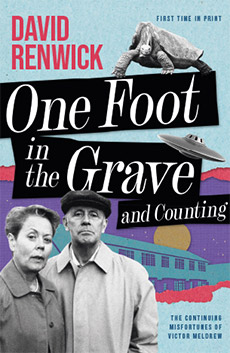 In One Foot In The Grave And Counting Victor Meldrew, anti-hero of the nineties, continues his war against the world in a 21st Century where social and technological change have done little to make life more bearable.
Not for the first time, his attempts to claw back some self-respect with a new job are met with a string of disasters, while a mission to untangle the affairs of a deceased relative takes him to a spooky old house in the wilds of Yorkshire, pursued by a knife-wielding maniac. Mercifully he survives the ordeal, only to become embroiled in a macabre train of events that see him wind up in the bed of a married woman.
For Margaret Meldrew, living with the nation's grumbler-in-chief is all part of the daily routine, until a face from the past brings her to the edge of an emotional crisis that could threaten their marriage.
And in an age where communication between continents is no big deal how noble is Mrs Warboys' decision to befriend a convicted axe murderer in Arkansas? Guaranteed, as ever, to make the worst of a bad situation, she manages not only to draw Margaret into the mind of a killer, but to test her very sanity as the affair reaches a strange and grisly conclusion.
As Victor falls prey to the constant banana skins fate throws in his path - inadvertently sexting his neighbours and kidnapping a millionaire's mother - the soddishness of circumstance is ever there to thwart him. Whether he's being thumped in the face by Buddha or arrested for gross indecency in a car park; demolishing a priceless summer house or triggering a delivery of frozen urine to an old people's home, life is certainly never dull...
First published: Monday 18th October 2021
It looks like you're in the US? Fear not! Almost everything can still be ordered.
Amazon UK
deliver internationally,
Amazon.com
carries many items separately, or you can look out for US/Canadian flags on our product listings for direct links.
If ordering from a UK store, please note that you are in Region 1 (DVD)/Region A (Blu-ray), whilst the UK is in Region 2/B, respectively. This means that many - but by no means all - may fail to play. Look for products marked "Region free", "All regions", "Region 0" or "Multi-region". Blu-rays may also be marked "Region A/B/C", "Region free", or variations thereof. You may also check whether your DVD/Blu-ray player supports multi-region playback (also referred to as "region free"), or whether it can be set to do so. There should, of course, be no problems with books, CDs, or other physical items.
More advice & help on importing
See also