David Baddiel - #JewsDontCount
David Baddiel examines the -ism that woke culture and identity politics leave behind: antisemitism.
Jews don't count. Even among those on 'the right side of history', those who take a stand against all -isms - racism, sexism, ableism, Islamophobia, transphobia, etc., it is still somehow acceptable to make jokes about Jews, blame them, appropriate their culture and call them Yids in the football stadium. Throughout history Jews have been seen as rich oppressors, as well as 'vermin'. Today they are the subjects of considerable racially motivated hate-crime, and yet antisemetism is not decried by progressives.
David Baddiel follows the antisemetism he finds in his Twitter feed to the stage, through the media and into politics, with rigour and humour. And as he does so, he challenges us to examine our complex and unconscious racism.
First published: Thursday 4th February 2021
It looks like you're in the US? Fear not! Almost everything can still be ordered.
Amazon UK
deliver internationally,
Amazon.com
carries many items separately, or you can look out for US/Canadian flags on our product listings for direct links.
If ordering from a UK store, please note that you are in Region 1 (DVD)/Region A (Blu-ray), whilst the UK is in Region 2/B, respectively. This means that many - but by no means all - may fail to play. Look for products marked "Region free", "All regions", "Region 0" or "Multi-region". Blu-rays may also be marked "Region A/B/C", "Region free", or variations thereof. You may also check whether your DVD/Blu-ray player supports multi-region playback (also referred to as "region free"), or whether it can be set to do so. There should, of course, be no problems with books, CDs, or other physical items.
More advice & help on importing
See also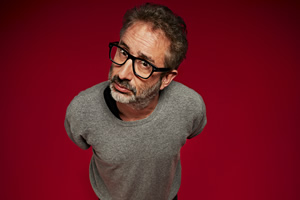 Tuesday 11th August 2020
David Baddiel is to publish a new book on the social-media-led wave of antisemitism sweeping modern society, challenging the implicit notion that it is a "lesser" form of racism.