Billy Connolly acted as the Grand Marshal of the New York City Tartan Day Parade on Saturday (6th April 2019).
The Glasgow-born comedian led this year's procession along Manhattan's Sixth Avenue, with 1,500 participants including solo pipers, drummers, full pipe bands, highland dancers, Scottish clans and the ever-popular Scottish dogs, in tow.
The comic, who has lived in the US since 2011, accepted the esteemed Grand Marshal position of the renowned festival earlier in the year. The festival celebrates the special, historical bond between Scotland and America and celebrates the role Scots have played in creating the USA.
Speaking before the event, Billy Connolly said: "I'm thrilled to be this year's Grand Marshal of the New York City Tartan Day Parade. I can't wait to hear all those bagpipes echoing off the skyscrapers and to see Sixth Avenue awash with thousands of swaying kilts. It's going to be brilliant."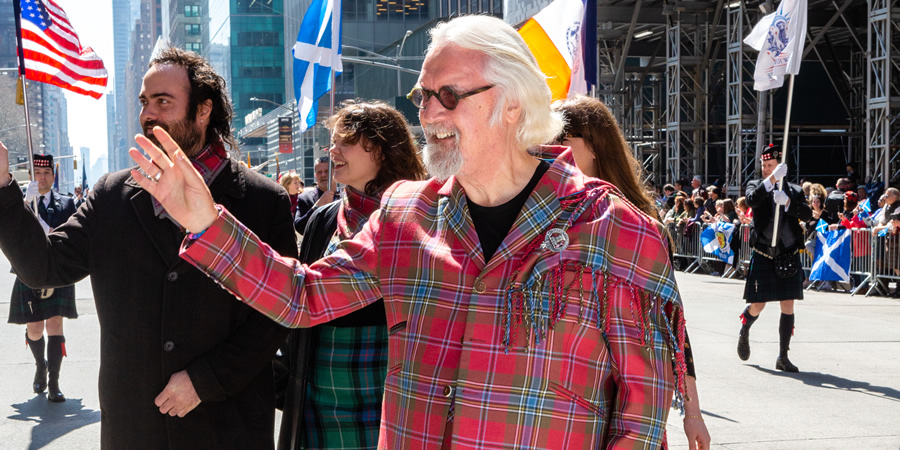 The NYC Tartan Day Parade is the highlight of the New York City Tartan Week, which runs from 3 - 8 April. The organisers explain of the week: "It truly is a tartan takeover, with traditional Scottish dance workshops, kilt fittings, band performances and ceilidhs popping up in venues such as Bryant Park, The Tailor Pub and Carnegie Hall."
The parade attracts around 30,000 spectators to the Big Apple to enjoy 1,500 participants march from 45th Street to 55th Street up Sixth Avenue.
The coveted position of Grand Marshal has previously been filled by Scottish icons including Sean Connery, Alan Cumming, Sam Heughan, Brian Cox and KT Tunstall.
Kyle Dawson, President of the New York Tartan Day Committee, said in advance of the event: "We're beyond delighted to announce that Billy Connolly will join us as Grand Marshal of this year's New York City Tartan Day Parade this April. For over half a century, he has entertained us all through his work and, because of this, he is beloved on both sides of the pond. We look forward to enjoying a big year with the Big Yin."
Here's a video of Billy speaking at the procession:
Speaking after the event, Connolly said: "I've absolutely loved being Grand Marshal of this year's New York City Tartan Day Parade. The crowds were brilliant and hearing the skirl of the pipes echoing along Sixth Avenue made me dance a wee jig in my heart. What a day."
Organiser Kyle Dawson comments: "What an incredible 21st year this has been for New York City Tartan Week. We've enjoyed a phenomenal week of celebrations - from ceilidhs to workshops and pipe bands performances to parties. We had the great honour of welcoming Sir Billy Connolly as Grand Marshal of this year's NYC Tartan Day Parade and saw tens of thousands of people line the sidewalks of Sixth Avenue to cheer on our participants. I'd like to thank everyone for their outstanding work - from our wonderful sponsors, to volunteers and marchers. Because of you, New York has enjoyed a tremendous tartan takeover. Here's to year 22!"
Graeme Dey, Scotland's Veterans Minister says: "The annual Tartan Day celebrations are always a spectacular showcase of Scotland. I am delighted that Sir Billy Connolly, who has made such a significant contribution to Scottish culture, led this year's parade."
---
Published: Friday 5th April 2019
Updated: Sunday 7th April 2019