Christopher Bliss: Handcuffs for Poltergeists
Christopher Bliss: Handcuffs for Poltergeists
Shropshire's worst novelist has made a spooky film.
Handcuffs For Poltergeists is a short comedy horror film written by and starring award-winning comedian Rob Carter as his alter ego Christopher Bliss - the worst novelist in Shropshire.
With back-to-back sell-out shows at the Edinburgh Festival, Christopher Bliss has ruined novels and butchered theatre and now his first foray into filmmaking is bound to cement his reputation as the most deluded boy west of Telford.
Made possible by an unlikely victory in a Shropshire Council film competition, this film weaves in and out of Christopher's spooky story and the chaos involved in its making: behind the scenes footage of Christopher and his best friend Karen rubbing up against a producer from the Council, as Christopher's unconventional ideas begin to drive everyone up the wall.
This short was filmed on location at Braziers Park in Oxfordshire.
See also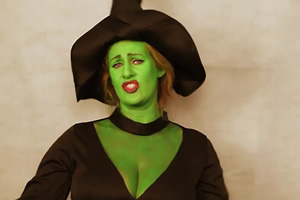 Here's some halloween-themed videos mixing scares with a touch of comedy.