Love Song For Jeremy Corbyn
Love Song For Jeremy Corbyn
In this video, Ariane Sherine seduces a Corbyn lookalike, ties the knot with the hapless Labour leader, and has his baby.
While Sherine married the video's editor Graham Nunn last month in real life, she confesses that she still harbours a secret desire to tie the knot with the Labour leader. "But if I can't have him, a Labour win next Thursday would come a close second" she says. "If it were an election for the most lovable politician, he'd win hands down. After all, can anyone imagine a Love Song for Theresa May?"
Comedy blogger John Fleming plays Corbyn in this video. He told BCG how they worked on making him look like the politician. "Ariane has great attention to detail. She downloaded four photos of Corbyn from the internet (different angles) and had them blown up and combined onto what I guess was an A2 photograph. She then booked me into a hair stylist and they cut my beard to the correct shape with those photos as reference. My eyebrows are bushier than his, so they lessened the depth (front to back) of my eyebrows and re-shaped them. He has a pointier chin than me and the shaping of the beard helped change my apparent jaw shape.
"We were going to add hair on top (Corbyn is not bald on top; I am) but this didn't work properly, so she bought a Lenin hat and a Panama hat - both of the exact type and colour Corbyn has worn - (the Panama hat band is of a colour type he has worn) so the top of my head is covered at all times. The suit colours are as per Corbyn and the spectacles were replicas of the type Corbyn has appeared in (The bastard now seems to not wear specs!!!)"
John has also written a blog about filming the sketch in which he and Ariane reveal further details about how the video was made. Read
See also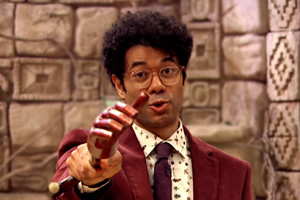 Some videos related to the 2017 General Election - it's May versus Corbyn.