With hit BBC sitcom This Country about to be released as a DVD box set, we caught up with Paul Chahidi. He talks about playing the "nicest man alive", Reverend Francis Seaton.
Hi Paul. How did you become involved in This Country? You're one of the only key cast members who isn't 'family'?
It was a straightforward audition in the Summer of 2016. I almost didn't make it though, as I was filming The Death Of Stalin and had to do a mad dash across London in rush-hour traffic. It makes me feel slightly sick now at the thought it might never have happened!
Reading the first script, was it hard to grasp quite what the show would be like when it appeared on screen?
Even though I only saw an early draft of a few scenes I could tell Daisy & Charlie could really write. I had a sense that it was going to be naturalistic and involve some kind of improvisation, but no, I don't think I grasped the full joy of what lay ahead.
Would it be fair to say the super positive reaction when it made its debut in public took everyone involved slightly by surprise?
Absolutely. We all believed in it but had no idea how an audience would view it. We filmed the first series over about 4 weeks in Autumn 2016 and I had such a lovely time making it that I wondered whether I was viewing the series through rose-tinted specs. But when it became clear that our audience were embracing it with what can only be described as love, I think we were all bowled over.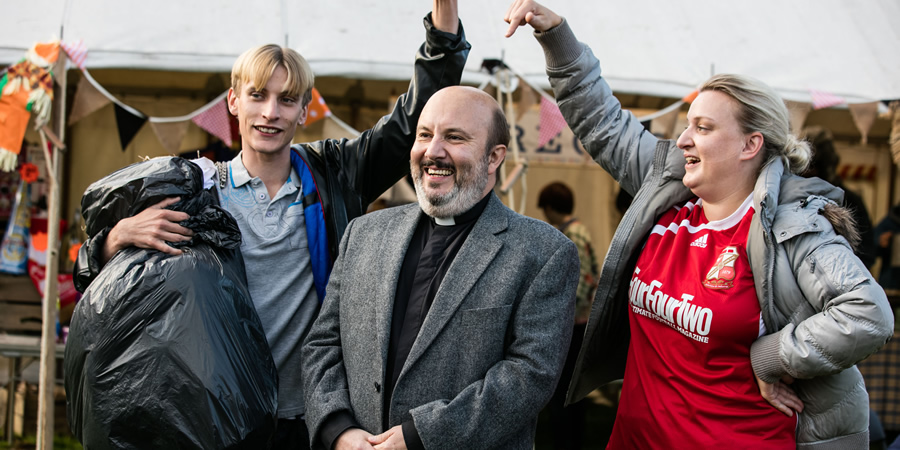 Have you been recognised in the street by any fans of the show?
In the most low key of low key ways! All very gentle. The tube. My corner shop. To be honest it's slightly disappointing - I was hoping someone might have had Rev Seaton's profile tattooed on a bicep by now (Big Mandy style).
When you're filming the show, do the locals from Northleach leave you to it, or do they try and nosily see what's going on?
They're a very welcoming bunch. And extremely tolerant considering we're the interlopers. It's always great to have a chat with the locals. Every day is Tea Talk Day with the Rev.
Rev Seaton seems like the nicest man alive! Is there a darkness under there somewhere, or do you think he's just a lovely person...
The Rev IS the nicest man alive. Twitter backs me up on this! I like to think I'm just playing a version of myself. I am however the only person who thinks this. Actually, it's great that Daisy and Charlie have provided the Rev with some depth and a back story that occasionally reveals itself unexpectedly. He really is a joyful character to portray.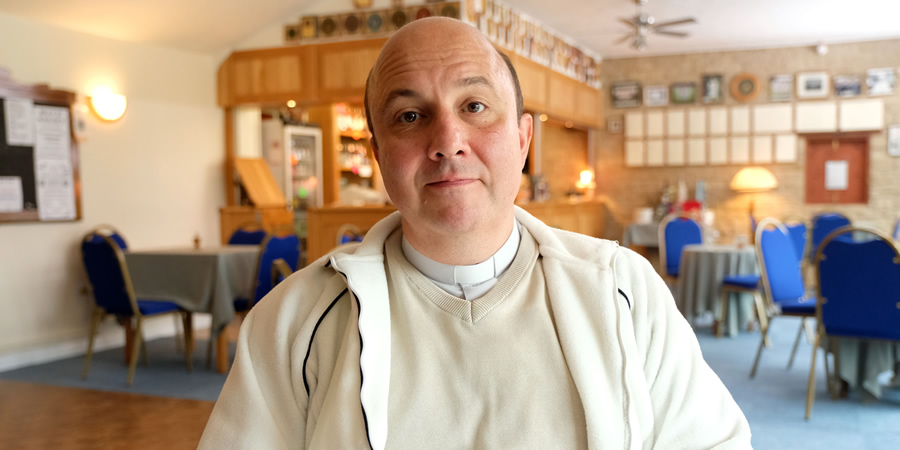 It's quite rare for a comedy show to portray someone from the church in a positive light?
Oh I don't know - there's The Vicar of Dibley of course, but also Rev - both have huge warmth, albeit in different ways. I like to think that Rev Francis has had a fair few Tea Talks with Rev Geraldine in his time. It was actually our producer Simon's father, Paul Mayhew-Archer who co-created The Vicar of Dibley - I love that sense of connectedness!
I've also read comments from members of the Clergy, who feel that we've realistically reflected a rural parish. I'm very proud of that.
We're now looking forward to Series 3. Can you give us any clues as what to expect?
Absolutely not. They always keep me tied up in the vestry until the cameras roll.
What's next for you Paul? We'll see you in Good Omens?
Yes, you will, as the thuggish enforcer angel Sandolphon, sidekick to the delectable Jon Hamm. Although very different from Rev Francis he works for the same Big Boss!
I've also just finished filming on the second series of Sky Atlantic's Britannia, where I'll be putting my best sandaled foot forward as the aristocratic Roman, Domitius, opposite David Morrissey.
---
This Country - Series One & Two is out on DVD now. Order