Comedy duo Max & Ivan have created The Reunion, a Comedy Blaps series set around a school reunion. We find out more below...
You've been working together for a notable number of years now...
Max: Hello, British Comedy Guide.
Ivan: The Notorious BCG.
M: We're delighted to have reached 'notable' years as a double-act! Although I should point out that I'm still a youthful, fresh-faced 29.
I: He sure is.
M: And, although Ivan is 31, he does have the mind of a child.
I: If you know what I mean.
M: What?
So, what's your new Comedy Blaps series about?
I: It's about 24 minutes long! Am I right, gang?
M: Sorry, Ivan's been drinking.
I: Is this thing on?
M: That's a shoe.
I: Is this thing on?
M: Our series is set at a school reunion from hell - it's a flashback-filled tale of romance, bromance, and lax CRB-checking.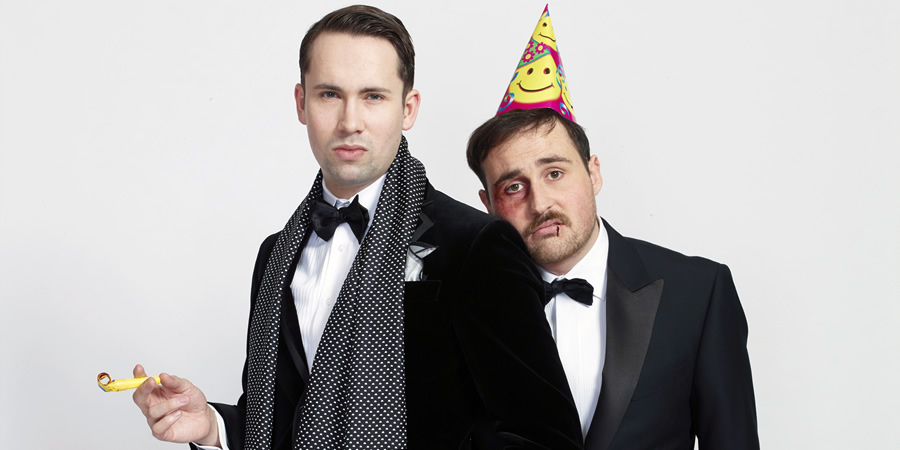 It's partly based on one of your hit live shows. Can you talk us through the development process?
M: Well, 'you've got to murder your babies', to quote my evil uncle.
I: I basically took the Edinburgh script and chucked it into Final Draft.
M: Meanwhile, I wrote the entire new script.
I: God bless.
M: But yeah, whilst our original live show was the jumping-off point, we worked a lot with Pozzitive, who produced and directed, on adapting the narrative for the screen.
I: We knew wanted to preserve the heart.
M: Again, another upsetting technique of my uncle.
Have you been to a school reunion in real life?
M: I grew up in Portsmouth, and Christmas Eve has become an unofficial school reunion each year - we descend on the student pubs of our youth, and I have the same drunken conversation with Addison Goble.
I: My school has never had a reunion. Weird, because every five years the rest of my year seem to assemble back in our school hall and catch up with one another. But I'm assured that's for some other, unconnected, reason.
Comedy fans will recognise lots of familiar faces in the show... did you have a say in the casting?
M: We made lots of suggestions - it was a lovely collaborative process with Pozzitive.
I: And I only had to audition six or seven times before I got the part!
M: Yep. Unfortunately, Jamie Demetriou was unavailable.
There's some fun scenes in the show where we are transported back to the characters' schooldays. What was it like to get the hair gel out and try and look like teenagers again?
M: Oh god, essentially this entire show is an elaborate excuse for me to once again wear frosted blonde highlights on a daily basis. It was a joy.
I: What people don't know is that my day-to-day 'balding' look is a carefully curated hairstyle. For the flashback scenes, I simply let my full natural mane grow back - and it only took 25 minutes!
Presumably you'd be interested to turn the Blaps into a full TV show? Do you have ideas on where the series would go?
M: Oh, you'd better believe it! There's an entire rich future for the characters of The Reunion mapped out - but obviously if I told you, I'd have to kill you.
I: I'm sorry, Max. I'll stop asking.
What's next for you?
I: A nap.
M: We're currently filming series 3 of W1A.
I: Although I might in fact go 'bath' then 'nap'. It's up for grabs.
M: And our sitcom, The Casebook of Max & Ivan, returns to BBC Radio 4 later this year!
I: Or I could just nap in an empty bath. Best of both?
M: Buuut first and foremost, we're at the Soho Theatre for a two-week run of our live show, Max & Ivan: Our Story!
I: YES! It's from 20th Feb to March 4th, at 7pm. Full info and tickets can be purchased from this hyperlink I'm about to say: HERE
---
Here's Episode 1 of The Reunion: