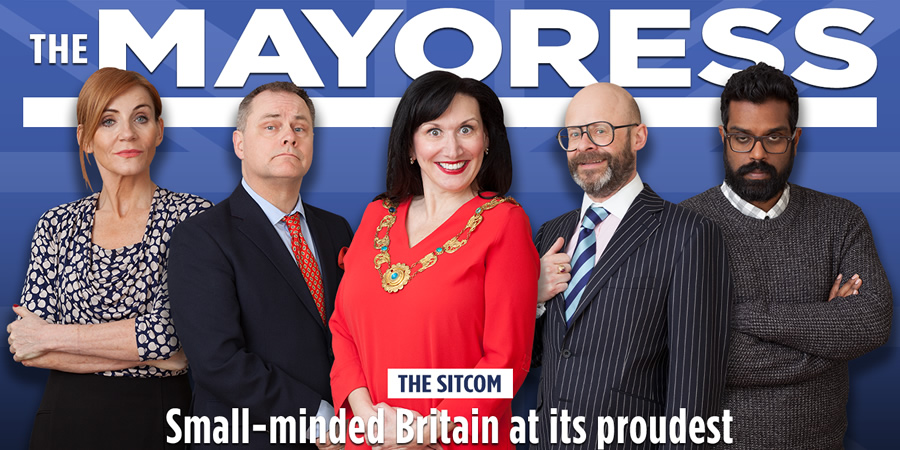 Genre

Sitcom

Added to BCG

Platform

Episodes

1 Pilot

Starring

Brenda Gilhooly, Jack Dee, Harry Hill, Michelle Collins, Romesh Ranganathan, Ella Kenion and James Holmes

Writer

Director

Producer
Set in the fictional town of Mansford, The Mayoress merrily satirises middle England, local politics, daft bureaucracy and the deluded nature of small time power. The councillors are always getting hot under the collar about something - new EU regulations, a pole dancing club going up next to a nursery, or the latest wheelie bin disaster.
In this opening episode, Susan is elected Mayoress, much to the annoyance of rivals Tim and Denise - they think she's far too common. However all is not lost: when Susan vows to attend that week's Citizenship Ceremony against Councillor Ravi's advice... thinking on her feet - not one of her strong points... this might just be the chance Tim and Denise are looking for, to scupper her before she starts. And with the silly, incompetent registrar Roger also in tow, the ceremony looks set to be a disaster...
Money to film the pilot episode is being raised via crowdfunding. To find out more and pledge visit Kickstarter
To find out more about the project in general visit themayoressthesitcom.com
This project was cancelled. Nothing was ever broadcast or released.