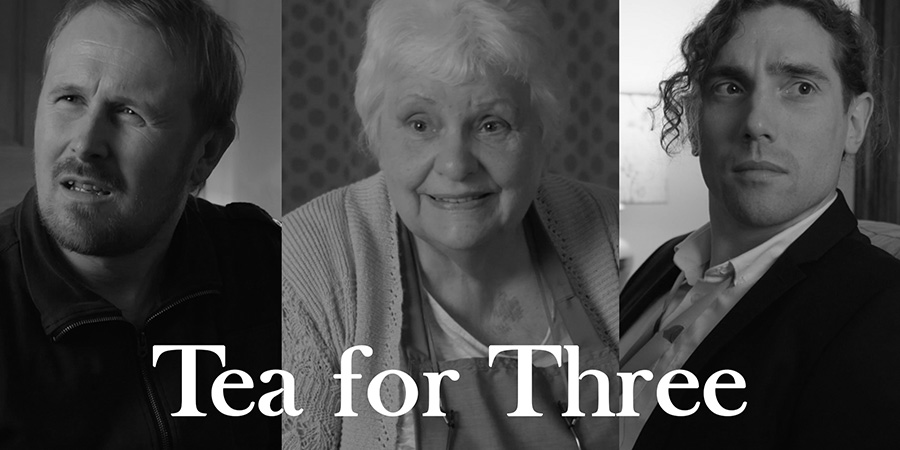 Genre

Sitcom

Published

Platform

Episodes

1 Pilot

Starring

Writers

Director

Producers
Tea For Three offers viewers a glimpse at the dysfunctional Butler family dynamic, through its matriarch Gran.
At 85, she embodies the very best of her generation, humble, honest and kind to a fault. She has cared for her two grandsons all their life and cooked them dinner every Thursday since their teens. In return, they have let her. Charming, funny and relatable, Tea For Three touches on themes such as the misunderstandings born of generational and social change. A man's battle for independence when he is still seen as someone's child and an old woman's struggle to understand the rapidly changing world around her, as well as finding that bloody TV remote!
The project is currently a pilot. The plan is that, in each episode, life's big questions are posed, mulled over, often misheard and quickly forgotten in favour of discussing that BBC news presenter's poor choice of tie or why a first date in Scunthorpe never ends well. Mixing dry humour with insights into human nature, the series hopes to show that despite all our perceived differences of opinion, family will always be family.
In the pilot, Russ has an exciting new role coming up playing a gangster who has a 'pet monkey on his shoulder'. Unfortunately, he has not read the script fully. Pontus tries to explain why Russ is not a genius but Russ struggles to grasp it. Gran tries to explain to her Grandsons that life is not all about genius and fame and that they should instead focus on buying cars for £520 and taking nice girls to Scunthorpe for some fish and chips.
Production company

Laugh track

None
Broadcast details
First broadcast

Saturday 25th April 2020 on YouTube

Episode length

29 minutes