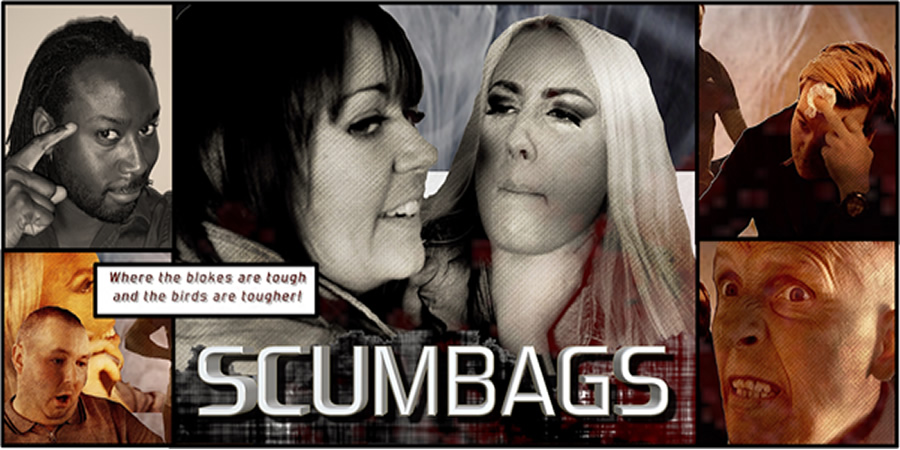 Genre

Comedy Drama

Published

Platform

Episodes

Starring

Chris J Windle, Katie Monforte, Nathanial Jacobs, Alex Harris, Rhiannon Elizabeth Major and Del Strain

Writer

Director

Producers
If Bottom, Shameless and Lock Stock produced a love child, then you'd get Scumbags. Set in a rough part of Basildon, in deepest darkest Essex, this promises to be the complete anti-christ to TOWIE. For the show's four main characters; the only way is in and out of trouble!
The show centres around Deano, Wibble, Frosty and JJ who have known each other since school. All four get involved in petty crime and do favours for the town's 'criminal big wigs'. With Candice, Macca, Marius and Gnat Bite as recurring characters.
Character Breakdowns
Dean Tucker (Deano): A car thief from the south of Basildon. Danny left school with no qualifications and has since been in and out of prison plenty of times. Danny dreams of being a major player in the Essex criminal underworld, but sadly never quite makes it. He also has a gambling problem, regularly signs on down the Job Centre and has a preference for plus-sized women!
Dean Witham (aka Wibble): Danny's best mate and, sadly, the butt of many jokes. Has a bad taste in fashion, doesn't make much effort to clean up himself and isn't good at standing up for himself in front of JayJay. Deano owns a van and works for his dad's removal firm, which does come in handy when it comes to stealing people's valuables
Jacqueline Johnstone (aka JJ): The only woman of the group and arguably the smartest, a bit of a 'tomboy' and part time mother figure of the group. JayJay joined the gang during year 8 of secondary school as she didn't fit in with many of the more 'feminine' girls in her year. Unlike Danny, she is very good at not being caught by the police. She now works as a female security guard and has a few tricks up her sleeve to sedate her attackers. Despite sounding 'common as muck' JayJay is actually very smart and very good at general knowledge, she has also had to develop a toughness as her mum was a drug addict and didn't really take much care of her as a child. Though it must be noted that she is a terrible drunk and when she is intoxicated, she goes through three stages. She starts out by being reminiscent, followed by fits of laughter then anger.
Kane Frost (aka Frostie): Grew up as the only black child in their year. Back in the early 90s he suffered some minor racism from a minority of the pupils in his year at school. Danny stuck up for him in front of a pupil who was racially abusing him, and welcomed him into the group. Soon as the gang took him on board he grew in confidence and he quickly gained acceptance in his year group by being a bit of a debonair with the girls. The best way to describe Frostie is as the black Charlie Sheen. Sooner or later though, the 'player' is going to want to settle down. In the last series, Frostie finds a woman to settle down with, but will he be tempted to go back to his old ways?
Laugh track

None
Broadcast details
First broadcast

Saturday 9th August 2014 on YouTube

Last new broadcast

Sunday 22nd July 2018 on YouTube
Website links