Roger, a new short comedy film about a man who arrives home after six months away to discover his best friend has replaced him with a ventriloquist doll, is due to be shown at film festivals later this year. The self-funded project, which is currently crowdfunding to raise money to help with the post production costs, stars John Bradley from Game of Thrones and stand-up Seann Walsh
Roger may be a ventriloquist doll, but that didn't stop BCG from managing to get an interview with him...
Hi Roger. It's not every day we get to interview a ventriloquist doll...
What's that suppose to mean?
Oh nothing, it's just we usually interview real... er, anyway, it's great to have you here.
Absolutely my pleasure. The Bourbon definitely sweetened the deal.
Roy is your performing partner. How did you guys meet?
I was sitting in a magic shop window minding my own business and watching the world go by. In walks Roy and he takes an instant liking to me. The rest is history.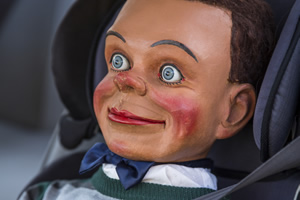 Do you consider Roy a friend or is it purely professional?
The best of friends. We are a couple of likely lads; thick as thieves. It is almost like we are one mind. We do that thing when you finish each other's sentences. Well, he does all my sentences for me. That's the type of friend he is.
How has the return of Roy's best friend Stephen affected your friendship?
Stephen? What's he got to do with it? Granted, Roy and he were friends before he went away, but I've stepped into the position since then.
Now he is back he has to accept that I am top dog. I get to sit shotgun in Roy's car while he has to make do with the back. If that isn't a clear indication of where Roy's affections lie, I don't know what is.
Anyway, I'm not here to talk about Stephen. This interview is supposed to be about me.
Sorry, you are absolutely right. Tell us a little bit about your...
Who does Stephen think he is? Why would Roy want to be best friends with someone who has hair like Worzel Gummidge? Don't get me started on his clothes. He only wears black. Like he thinks wearing black makes him seem mysterious or something. Oi Stephen! There are other colours than just black. A whole f**king rainbow full of them!
Right. Sure. On a more personal level, what does the future...
That's it! I told you not to talk about Stephen and you keep bringing him up. This interview is over.
Help fund the post-production costs for 'Roger' by heading to Kickstarter. Rewards include an on-screen associate producer credit, signed scripts and VIP tickets to the London screening.