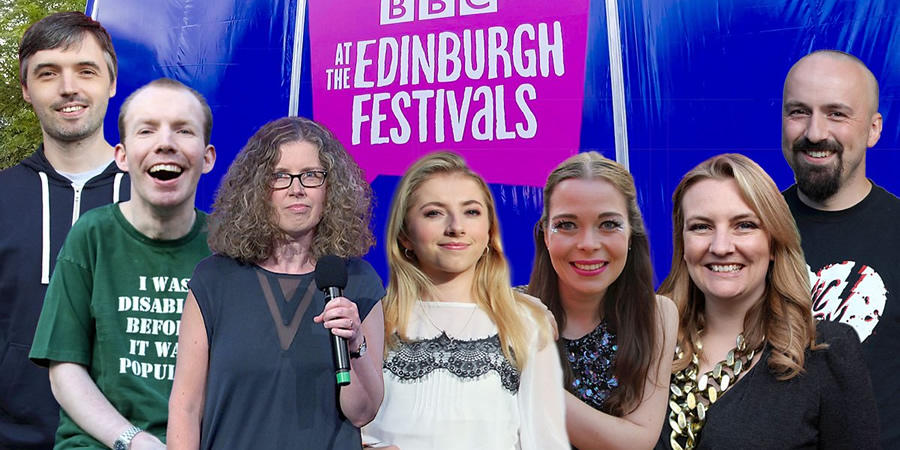 Genre

Stand-Up

Published

Platform

Episodes

1

Starring

Sofie Hagen, Juliette Burton, Angela Clarke, Mark Granger, Abigail Brown, Maura Campbell, Frank Burton and Lee Ridley

Director

Producers
In a first for the Edinburgh Fringe Festival, BBC Ouch! brought together seven performers with disabilities or mental health difficulties to share their most awkward moments with a live Festival audience.
BBC Ouch! provided a platform for the performers to share stories about the moments that have made them laugh and cringe. Featuring a mix of professionals and non-professionals - some of whom had never performed before - the show gives a frank and sometimes darkly comic glimpse into the day-to-day reality of living with a disability or mental health difficulty.
Ouch! Storytelling Live: Awkward Moments was compered by London-based Danish comedian Sofie Hagen and headlined by Lost Voice Guy, Lee Ridley, who has cerebral palsy and speaks through a computer.
Among the acts performing personal monologues were: Frank Burton, who uses Al Pacino film titles to stop his seizures; Angela Clarke, whose easily-popping bones made for a less-than-relaxing spa experience; Abbi Brown, a wheelchair user, who enjoys shocking nuns with a rather unusual party trick!
The Ouch! team were inundated with auditions from aspiring raconteurs with a disability and a funny story to tell after they sent out an open call on social media for people to be part of the show. The team struggled to narrow the line-up down to the final six who joined headliner Lee Ridley, and say they've got lots of good stories left over that could find their way into future shows.
This event was BBC Ouch!'s first Edinburgh Fringe comedy outing and followed a successful forerunner, in which another group of performers took over a London comedy club to talk hilariously about sex and relationships.
Sofie Hagen hosted both nights and says: "This show features real people talking honestly about their lives, allowing us all to hear stories from people who are so rarely represented - it's an incredible show to be a part of. If this show existed when I was a teenager who experienced severe depression, it would have made me feel less alone and more understood and that is priceless."
Damon Rose, Editor of Ouch, says: "Storytelling nights have become quite popular and I've always thought that having disabled people or people with mental health difficulties at the front, under the spotlight, engaging with the crowd, and telling their own unfiltered stories puts everybody on a level. I find it very engaging and authentic. What we found is that our contributors don't tend to use the regular clichés of braveness, inspiration and 'see the person not the disability'. They avoid the spin and worthiness and like to represent themselves in many different ways. We see the people, we hear their stories and it all seems more three dimensional."
The version on BBC iPlayer is an hour long. A 30 minute version, featuring four of the acts, was shown on the BBC News Channel at 21:30pm on 6th October 2017.
Production company

Also known as

BBC Ouch Storytelling Live (Other official name)
Ouch! Storytelling Live: Awkward Moments

Laugh track

Live audience