Man Like Mobeen Series 4
Guz Khan reveals Man Like Mobeen Series 4 will end the show
BBC Three sitcom Man Like Mobeen is to finish after its next series
Creator and star Guz Khan confirmed in an interview that Series 4 will "definitely" be the end
"The story will reach a natural conclusion for Mobeen and his beloved friends"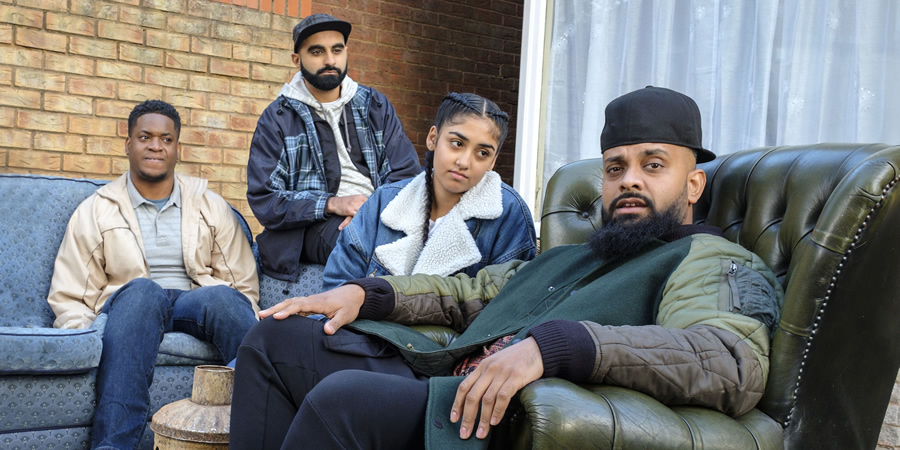 Guz Khan has revealed the next series of his BBC Three sitcom, Man Like Mobeen, will be the last.
Speaking to CoventryLive he confirmed that that there will be a fourth set of episodes, however the show's story will conclude in this run.
The publication says: "Khan confirmed that this will definitely be the last series, and that the story will reach a natural conclusion for Mobeen and his beloved friends."
Talking about the plot for the next series, the website added: "Khan hopes to take all of the familiar faces from the show to Pakistan, even Uncle Shady."
British Comedy Guide revealed in September that the award-winning sitcom was set to return for a fourth series.
The third series of the BBC Three sitcom finished in January 2020 on a cliffhanger, with creator and star Khan's titular protagonist languishing in prison with Nate (Tolulope Ogunmefun); Eight (Tez Ilyas) apparently murdered; younger sister Aks (Duaa Karim) training to be a doctor; and the villainous Uncle Khan (Art Malik) said to have fled to Pakistan.
The actor and stand-up has suggested that Mobeen and Nate will indeed seek out Khan on their release. But he warned that coronavirus has thrown filming schedules into disarray and viewers might not get to see the storyline for a while.
He told NME: "I definitely feel that part of the story would have to be told in Pakistan this time - but the problem is, the backlog of scheduling goes back to 2022, so I've got to make a real choice based on timelines and people's interest."
Khan was speaking to CoventryLive following the BAFTA nominations revealed this week. The sitcom is in the running in the Scripted Comedy category alongside Ghosts, Inside No. 9 and This Country. And Khan appears in the Male Performance In A Comedy Programme shortlist too.
He spoke to the paper about the importance of the Coventry area to him, saying "[It] keeps you grounded, do your thing, make brilliant content and then get home.
"I'm vocal about not having to rush off to London or LA or follow the big lights, if you follow what's important to you, make sure you take the craft seriously you can do it from anywhere."
Elsewhere in the interview, he said: "I'm still in Cov [Coventry], especially towards last year, I completed my role on Netflix's Army Of The Dead, that's gonna be a huge release on Netflix. I finished doing car and stunt training, filming all the incredible stuff, then flew back to Cov.
"I finished my second movie of 2021 - a Judd Apatow movie, somebody whose material I love, a belly laugh situation. He offered me a role in his film, so I've been back and forth from Cov to London, still doing that and coming back here and grabbing my munch from Hillfields."
BBC Three is set to reveal further details about Series 4 of Man Like Mobeen at a later date.
---
For updates, click the button below.
Share this page