Ladhood Series 2
Ladhood Series 2 now filming
The episodes see the characters getting GCSE results, taking driving tests and having their first big night out
Writer and star Liam Williams says he's "very excited" to be making more episodes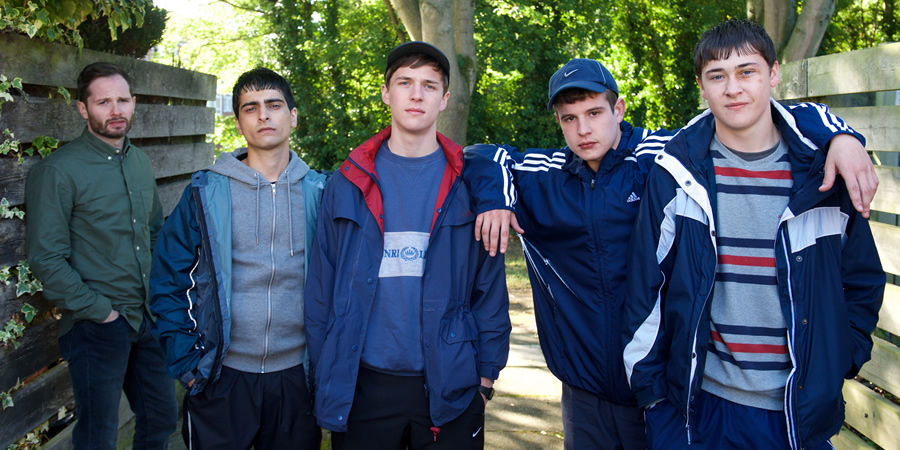 Filming has started on six more episodes of Ladhood, the BBC Three comedy written by and starring Liam Williams based on his own experiences growing up as a teenager.
Picking up where the first series left off, the new series follows young Liam and his best mates Ralph, Addy and Craggy as they experience GCSE results, driving tests, break ups and their first big night out in town, making their way through all the highs and lows of teenage life in the Leeds suburb of Garforth in the early noughties.
As in the first series, the lads' adventures run parallel to scenes from the life of present-day Liam as he reflects on his teenage years and tries hard not to make the same mistakes again.
Oscar Kennedy, Samuel Bottomley, Aqib Khan, Shaun Thomas all reprise their roles for the new episodes.
Liam Williams says: "The BBC have asked me to tell you how excited I am to be filming Series 2 of Ladhood so it's lucky that I am, in fact, very excited. They've also asked me to say a bit about what we can expect from Series 2, to which I'd say it'll be like Series 1 but all the characters are a bit older."
Commissioning editor Gregor Sharp adds: "Liam is an exceptional talent and in Ladhood he's crafted a series that's an ingenious combination of both personal reflection on his own Yorkshire youth and an exploration of those universal rites of passage that everyone has to navigate. With the brilliant cast from the first series returning we can't wait to see how the next chapter of the story unfolds."
Fiona Campbell from BBC Three comments: "I am so excited to see Ladhood back on our screens. Liam executes the trials and tribulations that come with adolescence brilliantly, which is something the BBC Three audience resonates with so well. It's a perfect fit, and we can't wait for more."
Josh Cole from producers BBC Studios says: "We're so proud of this show and delighted to be making more. Liam's cracking writing combined with a dream cast and an early noughties soundtrack really is as good as it gets."
Production will be following strict Covid-19 protocols, including keeping the cast in a cohort and by completing regular testing and following social distancing whenever possible.
Series 2 will be published on BBC Three later this year. Series 1 is still available on BBC iPlayer.
---
For updates, click the button below.
Share this page