Alleyway Chefs pilot
Alleyway Chefs pilot published online
The 8 minute pilot for new sitcom format Alleyway Chefs has been published online to watch for free
The format focuses on the cigarette break of two chefs, played by Alistair Green and Arnab Chanda
Creator Craig Ainsley says the plan is that "each episode lasts the length of a cigarette break and plays out in real time"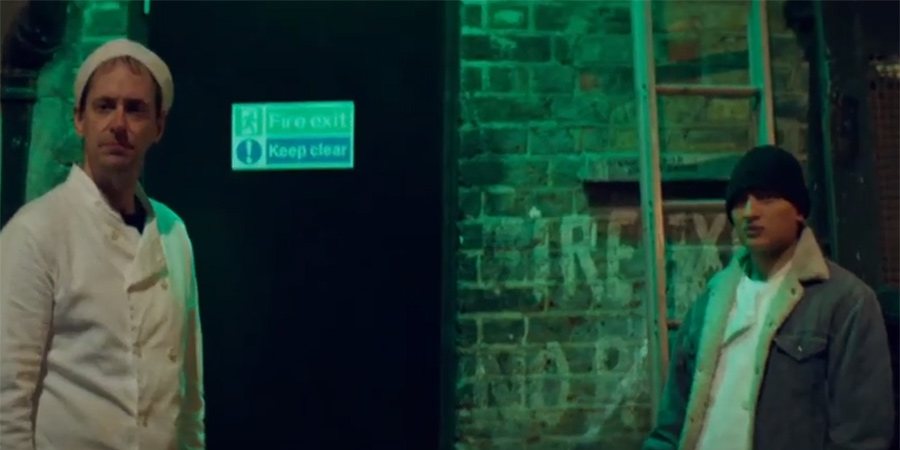 The pilot for Alleyway Chefs, a sitcom about two restaurant chefs, has been published online.
The show is currently in development with Baby Cow Productions, the company behind formats such as Pls Like and Gavin & Stacey, plus forthcoming TV shows Chivalry, The Witchfinder and Alan Carr's new sitcom.
Alleyway Chefs is written and directed by Craig Ainsley, who previously has worked on animated shorts such as A Tale of Avian Misery, Dear Satan and O Human Being.
The new project stars Alistair Green and Arnab Chanda as restaurant chefs Al and Avi.
The show's premise explains: "Al and Avi are the Alleyway Chefs - those guys you see round the back of restaurants, chef's whites on, enjoying their cigarette break. It's a precious moment of pause in a hectic day. These particular guys are stuck in a rut and yearning for something, anything, to happen, chewing the fat and reflecting on the death of their potential. Wide-eyed Al is the dreamer, yearning for love and still waiting for his big break, and Avi is the cynical realist, there to remind him that his dreams may not become reality. When a woman shows up in the alleyway ready to escape her unhappy relationship, the guys sense an opportunity - but will they take the plunge?"
The 8 minute 40 second short also stars Liz Kingsman as a restaurant customer who stumbles across the alley, with Steve Whiteley as her boyfriend, and Toby Williams as the gold-painted man who appears at the start.
Speaking to British Comedy Guide, Craig Ainsley says: "Alleyway Chefs was my excuse to get two of my favourite comedy performers talking. Al and Arnab are great, I think they should be on TV all the time. It's a pilot for a series where each episode lasts the length of a cigarette break and plays out in real time. Five minutes or so when the busyness is paused and you have a moment to consider what the hell you are doing, and you're in Soho where you could bump into any kind of character or creature."
Here is the pilot episode:
---
For updates, click the button below.
Share this page