BBC's Dreaming Whilst Black
BBC snaps up acclaimed comedy about racism in British film industry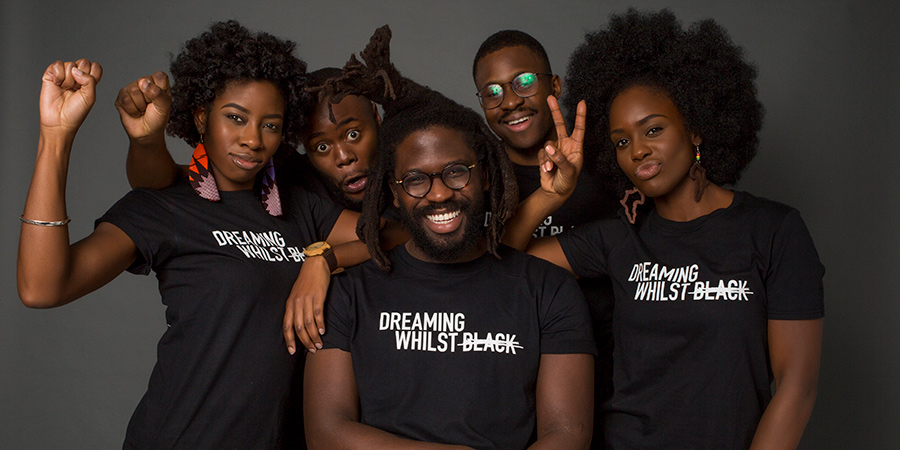 The BBC is adapting a cult web comedy about racism in the film industry, British Comedy Guide can reveal.
A pilot of Dreaming Whilst Black has been commissioned for BBC Three following a successful readthrough in the autumn, and will later air on BBC One.
The loosely autobiographical, London-set YouTube series stars Adjani Salmon as Kwabena, a black film-maker struggling to overcome racial prejudice in the screen trade, disapproval of his career from his family and juggling his personal life with his creative ambitions. The nine-part series has won multiple international awards since it was released in 2018.
Co-written by UK-based Adjani Salmon and Ali Hughes, originally for 4 Quarter Films, the adaptation is being made by Big Deal Films (Craig & Danny: Funny, Black & On TV). It was created by Adjani Salmon, Max Evans, Laura de Sousa Seixas and Natasha Jatania.
The original series co-starred Vanessa Vanderpuye, Dani Moseley, Anyebe Godwin and Tomisin Adepeju. Gina Lyons is producing the pilot with Sebastian Thiel directing.
For writer-producer-director Salmon, who shared helming credits with Hughes and others on the web series, adapting to the demands of a television director and commissioners has necessitated a change in mindset.
"Man, the rules are different bro" he told The Untitled Podcast. "And to be honest, the scale's different. Now we're writing half hour, now we're writing shows that will sit beside the shows that I look up to. So the levels are different." Accustomed to ignoring production notes from others, now "it just has to be done".
For the television version, Dreaming Whilst Black's white characters will be more rounded.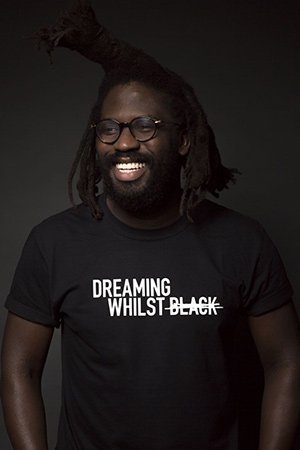 "Obviously we're making a comedy. And obviously we ended up making a comedy about race" explained Salmon, who offered Untitled hosts Ricky BoLee and Junior EV examples of the racial prejudice he had encountered while working at Pinewood Studios and throughout the UK screen industry. "With comedy sometimes, things can get exaggerated. [And] that's what happened.
"One of the critiques I got from the show, and this was from a brethren of mine, a black man, he was like, 'bro, don't exaggerate white people. Because it allows them to feel comfortable by distancing themselves. So they can watch it and be like, "ha, ha, ha, look at that dumb white guy! I would never do that!"' So they can distance themselves from the racism.
"Now that we're doing it again we're actually, very intentionally, being like, white characters will remain grounded. It will remain funny but it will remain in a remit where they cannot remove themselves from it and say: 'I would never do that' ... we're going to make sure we portray it flat out, so that you see yourself in it. And ask yourself: 'why is this funny?'"
Salmon also emphasised his desire not to make his protagonist "a stereotypical black character ... no black man in Dreaming Whilst Black will cheat [on his partner], it can't happen.
"But then we still need to have flaws ... [with] emotional intelligence, let's give him those issues. [The] man has commitment issues, man has these other issues. And I'm reading books and thinking 'rah, that's me bro!'"
And despite the adaptation only being at the pilot stage, he predicted that the show will win further awards.
"I'm putting it out there, Dreaming Whilst Black will win BAFTAs! Three! I'm putting a number on it" he declared. "I said Dreaming Whilst Black was going to get picked up before it got picked up!"
BCG understands that conversations have also been held with Netflix, suggesting that the sitcom could transfer to the streaming giant in the future.
A BBC spokesperson declined to comment on this story.
Here is the YouTube series trailer:
---
For updates, click the buttons below.
Share this page