Content online sitcom
New online sitcom with BCG Pro writers announced
New online sitcom Content will be published weekly from Tuesday 12th November
The office sitcom follows workers in a digital content agency, Content Content
18 spin-off episodes, podcasts and vlog shorts have also been produced to go alongside the main series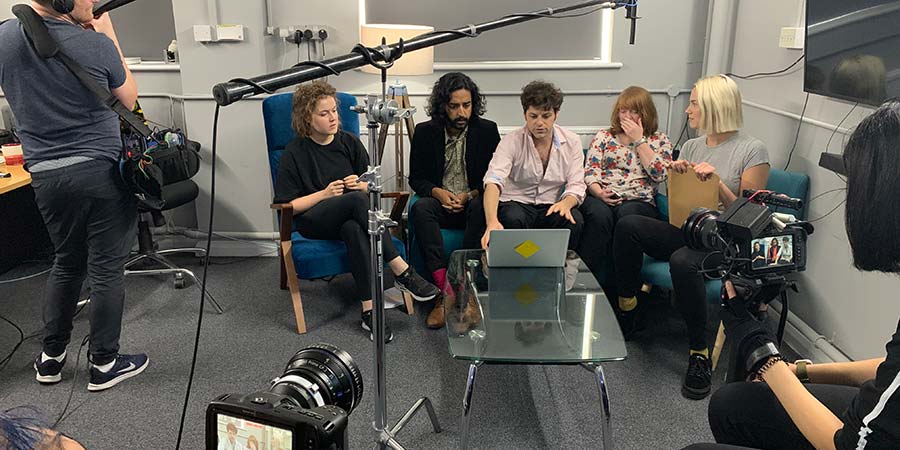 Independent production company Turtle Canyon has today confirmed details of its new online sitcom, Content.
Set at a digital content agency called Content Content, the workplace comedy follows the new media company's constantly confused staff.
Created, lead-written by and starring Yiannis Vassilakis, the production's writing team was complemented by two individuals identified through an exclusive talent-search in BCG Pro, British Comedy Guide's platform for comedy professionals and creatives.
The six-part series will be published weekly on YouTube on Tuesdays from 12th November. It is directed, produced and co-written by Turtle Canyon founder Stuart Laws.
Extra content will also follow through each of the six weeks: on Wednesdays, episodes of the fictional Girly Boss podcast will be published; on Thursdays, there will be spin-off sketches exploring characters' home lives and sub-plots in greater detail; and on Fridays, there will be reaction vlogs from characters seen in the series.
Starring alongside Vassilakis are Molly McNerney, Belle Fage, Rajiv Karia and Kath Hughes.
Guest stars include co-writer Sadia Azmat - one of those identified through BCG Pro - and James Acaster, who appears as himself. Lorna Woolfson was the other BCG Pro-selected writing talent.
Other cameos come from Harriet Kemsley, Joel Dommett, Mark Silcox, Kieran Hodgson and Evelyn Mok.
Yiannis explains: "I initially conceived of Content as a way to put my experiences in the industry to some creative use, and have a little fun with it; hardly expecting it would turn into the extraordinary feat of creativity it has. Under Stuart's steadfast guidance and Turtle Canyon's unparalleled ability to so effortlessly assemble such an incredible cast, experienced crew, and innovative creative team, I couldn't be more excited about the end result."
Stuart Laws says: "By giving the sitcom spin-off episodes, podcasts and vlogs, we managed to create characters who live and breathe away from the principal episodes. It was a great way to add running jokes that work in the main episodes but have extra pay-offs. Yiannis is a brilliant comedy writer and it's been an exciting project and a pleasure to work with such a talented cast."
Further information and full credits are available through the BCG Guide to the programme.
---
For updates, click the button below.
Share this page