Mr Bean YouTube award
Mr Bean now has over 10 million YouTube subscribers
The Mr Bean YouTube channel now has more than 10 million subscribers
Rowan Atkinson collected YouTube's Diamond Play Button award to celebrate the milestone
The character's sketches were viewed over 4.5 billion times last year alone on the video platform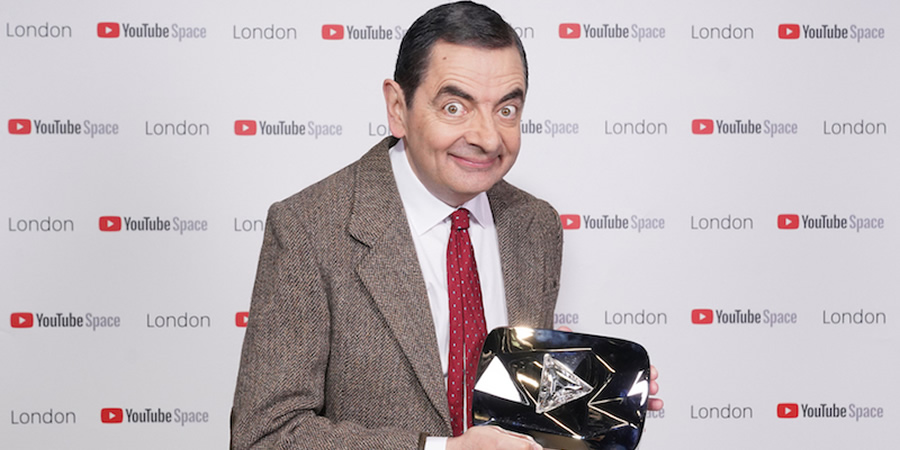 Rowan Atkinson's comedy character Mr Bean has been awarded YouTube's Diamond Play Button for surpassing 10 million subscribers on the video platform.
The official Mr Bean YouTube channel is amongst the most-watched channels in the world, with more than 4.5 billion views last year alone, across more than 200 countries.
The character, whose original live action TV series long predates the invention of the platform, is the oldest British recipient to join the elite Diamond Play Button club. In total the coveted award has been bestowed to fewer than than 100 YouTube channels worldwide. Previous UK recipients include Ed Sheeran, Zoella and Adele.
Atkinson, appearing as Bean to collect the trophy, commented: "This is amazing! I can't believe it, for me! Thank you, thank you, thank you."
To commemorate milestone, Mr Bean has joined forces with creator, inventor, and YouTube phenomenon Colin Furze for the Mr Bean channel's first ever original collaboration, which will be published tomorrow (30th October). Colin also presented Rowan Atkinson with the award.
Ben McOwen Wilson from YouTube says: "Mr Bean is a cultural phenomenon and a great example of a British TV icon adapting and expanding for the digital age to reach new audiences through technologies like YouTube. We are so pleased to be celebrating this milestone and look forward to seeing what comes next."
Wim Ponnet from rights holders Endemol Shine Group comments: "Stemming from just 14 original live action episodes, this milestone achievement on YouTube is testament to the enduring popularity of Mr Bean. By working closely with our platform partners, we will continue to grow our global community and entertain new audiences from all around the world with our timeless content."
A third series of the animated version of Mr Bean is now in production.
Here are the most watched videos on the Mr Bean YouTube channel:
At The Hospital
At The Dentist
The Hairdresser!
---
For updates, click the buttons below.
Share this page