Jack Whitehall football series
Jack Whitehall YouTube football series books top stars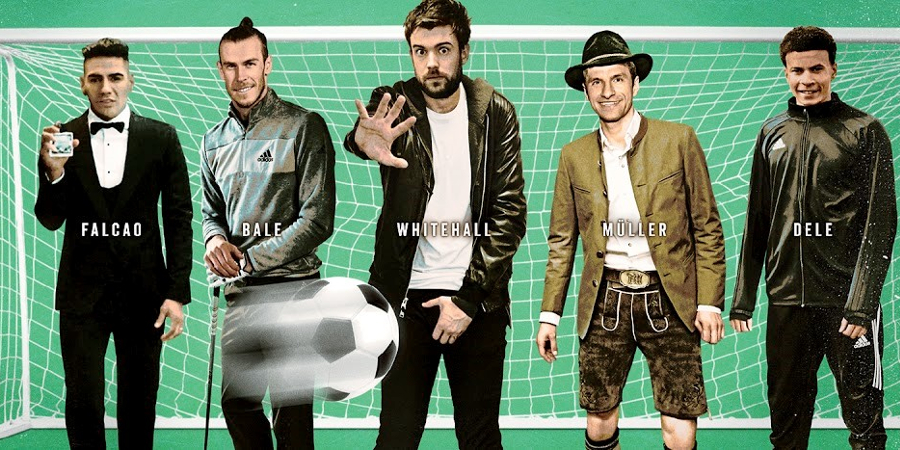 Jack Whitehall's new football-themed YouTube series will feature many top stars from the sport, it has been revealed.
Jack Whitehall: Training Days, which launches on 9th May as a warm-up to the World Cup, will feature guests including Raheem Sterling, Kyle Walker, Dele Alli, Cesc Fàbregas, Mario Götze, Thomas Muller, Radamel Falcao, Son Heung-min and Gareth Bale.
The series, which has been funded by YouTube and is the streaming platform's first-ever European-centric YouTube Original Series, will see "Whitehall taking some of football's biggest names way out their comfort zone."
YouTube says: "To give you a snapshot of some highlights from the show, Jack will undertake disastrous driving lessons with José Mourinho, visit a haunted house with Dele Alli, play Bavarian bar games with Thomas Müller, shoot a perfume ad with Radamel Falcao, turn Gareth Bale into a waxwork, go undercover on Britain's Got Talent auditions with Kyle Walker as well as embark on an extreme hot wing challenge with Raheem Sterling and Big Narstie."
Jack Whitehall says: "One of the great things about comedy is getting out of your comfort zone, so I certainly made it my job to get these football stars out of theirs. It's been great working with them on Training Days and showing fans a different side to them. Filming this series has been a great warm-up to the World Cup and I hope you enjoy watching as much as I did making it."
Luke Hyams, Head of YouTube Originals in Europe Middle East and Africa, comments: "YouTube Original series Jack Whitehall: Training Days has an incredible all-star cast featuring world-renowned footballers that people everywhere will enjoy. As our first European YouTube Original programme, we started in the UK because we see that it's a dynamic and incredible creative hub and has the second highest consumption of football-related content on YouTube anywhere in the world, after the US."
The series has been filmed by Fulwell73, the production company that also makes James Corden's shows in America. Gabe Turner from the company says: "It's a real privilege to be working with YouTube on Jack Whitehall: Training Days. The concept for the show lends itself well to bringing out a different side to our superstars and feels like a perfect fit with YouTube's audience. It's an opportunity to spend time with some of the biggest names in world football and create some truly memorable moments."
Jack Whitehall: Training Days launches on Jack Whitehall's YouTube channel at 6pm on Wednesday 9th May.
Football-related content has already started to be uploaded to Whitehall's channel, for example the comedian hangs out with F2Freestylers in this new video:
---
For updates, click the button below.
Share this page