WiFi Wars streaming
Comedy fans invited to play WiFi Wars online before Go 8 Bit
WiFi Wars, the interactive computer game comedy show, will be streamed online each Monday
Hosted by Dara O Briain's Go 8 Bit team captain Steve McNeil, the streams will start before the TV show
Comedy fans can play along with the games by visiting wifiwars.co.uk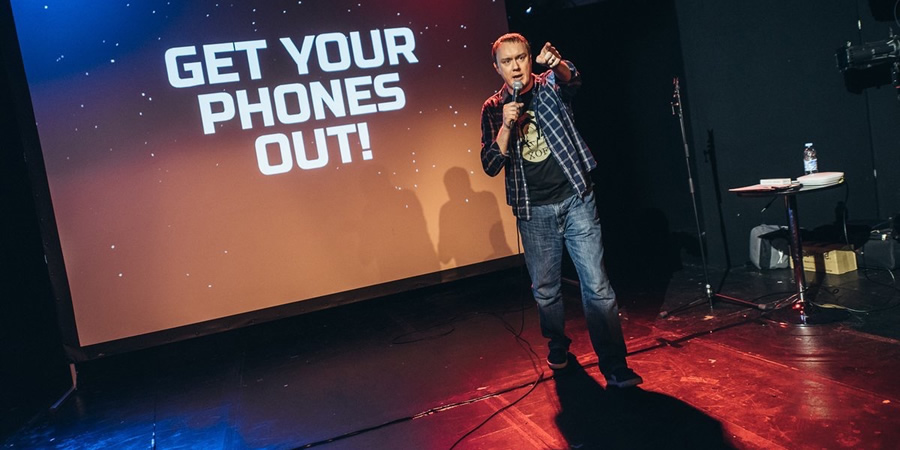 WiFi Wars, the interactive computer game comedy show, is to stream live on the internet an hour before new episodes of Dara O Briain's Go 8 Bit are shown on television.
Hosted by Go 8 Bit team captain Steve McNeil and supported by the TV show's technical manager, Rob Sedgebeer, WiFi Wars allows the audience to play video games as a big group. All someone needs to join the game is a smartphone.
The format has been performed at clubs and festivals around the country, but will now be streamed live online from the Royal Institution in London on Mondays, the venue where WiFI Wars also holds its bi-monthly gig residency.
Across March and April, the show will take place at 9pm on Mondays, an hour before Go 8 Bit premieres on channel Dave.
Additionally, The Video Game Game Show Show - a version involving retro games - will be streamed on Thursdays at 9pm, starting just after the Go 8 Bit repeat slot.
Comedians including Jayde Adams, Marcus Brigstocke, Ed Gamble, Bec Hill and Suzi Ruffell have been signed up to appear in the shows. Sam Pamphilon, the other Go 8 Bit team captain, will also appear at one of the nights.
The producers explain: "In WiFi Wars, the viewers will ALL play games against each other using the show's Guinness World Record-breaking tech. Meanwhile in The Video Game Game Show Show, the guests will compete on retro games, but the audience will also be involved by voting on who they think will win, playing games (like in WiFi Wars) and they'll get to take part in bonus quiz rounds too."
Steve McNeil says: "We're really excited to be doing these online shows, as we're able to play a far wider range of games than is possible on the TV show, can open things up to online stars as well as 'traditional' celebrities, and can also allow the entire viewing audience to engage with us, not only in the live online chat, but also in the games themselves, thanks to the genius of Rob Sedgebeer."
Speaking to British Comedy Guide, McNeil admitted that they're not sure how many people will be able to simultaneously play the games, but the technology is expected to be able to handle the demand. He said: "We don't know the maximum, it's a new thing Rob invented! We learn by experimenting, hence the Royal Institution letting us do it there. We've had over 500 play at Leeds/Reading festivals, and broke a world record with Pong (286 people).
"The games will be different each show, but everything from Pong to virtual reality - all beamed to people's phones, worldwide, for free, without installing anything. It's amazing."
The guest line-ups are below. To find out more, and for the links to the streaming players visit wifiwars.co.uk
WiFi Wars (Mondays, 9pm)
5th March: Jamali Maddix
12th March: Henry Dalton v Reb Day ("the guy behind the sofa" and "the runner" from spin-off show Go 8 Bit DLC)
19th March: Jessica Knappett
26th March: Garrett Millerick v Frankie Ward (Twitch streamer)
2nd April: Brett Goldstein v Ed Gamble
9th April: Marcus Brigstocke
16th April: Bec Hill
Access the stream at 9pm via wifiwars.co.uk
The Video Game Game Show Show (Thursdays, 9pm)
8th March: John Robertson (Videogame Nation) v LT Zonda (famous streamer)
15th March: Chris Slight (Ginx Live) v Sam Pamphilon
22nd March: Jayde Adams v Lucy James (Gamespot Video Producer/Host)
29th March: Suzi Ruffell v Bec Hill
Access stream at 9pm via vggss.com
Share this page