NextUp on Amazon
NextUp stand-up streaming site joins Amazon Channels
Stand-up streaming service NextUp has launched on Amazon Channels
Priced at £3.50 a month, a subscription allows access to over 40 exclusive stand-up shows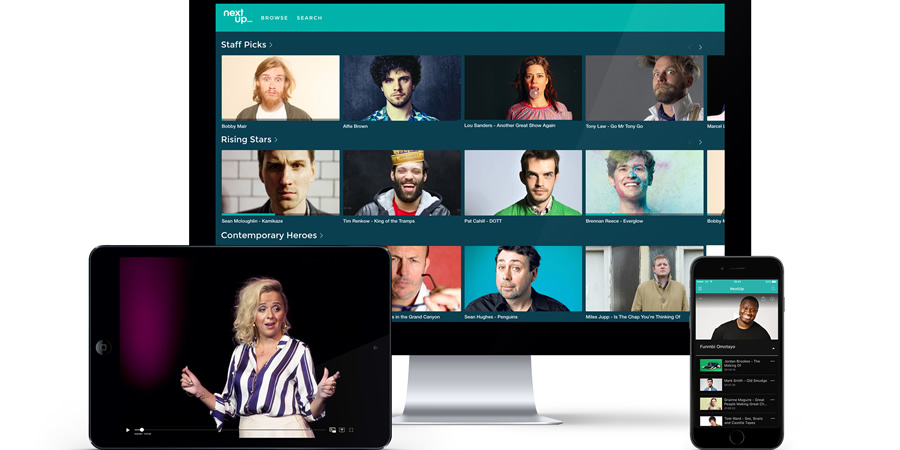 NextUp, the video-on-demand service that allows comedy fans to stream full stand-up shows, is now available on Amazon Channels.
Launched at the end of 2016, NextUp offers stand-up fans a number of full-length shows. The company's library is comprised of a mix of acquired content and more than 40 shows exclusively filmed for the platform. Offerings include Ed Byrne, Hal Cruttenden, Tiff Stevenson and Tony Law.
Amazon Channels, which launched in May, allows Amazon Prime members to add a range of TV channels to their Prime Video viewing as individual subscriptions, with no need to buy a bundle and with an anytime cancellation option. NextUp costs £3.50 per month through the service.
NextUp was founded by the team behind the ComComedy YouTube channel and now has ex-BBC Worldwide executive Stuart Snaith and Bil Bungay from venture capitalist firm Velocity on its board. Following its most recent round of investment, the company now values itself at £1,588,375.
As a result of the Amazon partnership, alongside a recent partnership with Virgin Atlantic, NextUp have now opened their third seed investment round with a view to significant expansion.
NextUp is also currently running Comics' Fund, a bursary of up to £3,000 designed to support performing, writing, educating, touring, promoting, celebrating, supporting, hosting and producing live comedy. Most recently this bursary was awarded to The Care Home Tour - which involves a troupe of clowns, absurdist comedians, prop comedians, and stand-ups with heightened physicality, to entertain those afflicted with dementia.
NextUp can be found at nextupcomedy.com. To subscribe through an Amazon Prime membership visit Amazon channels.
Share this page