Liam Williams series Pls Like
BBC Three to launch Liam Williams YouTube series Pls Like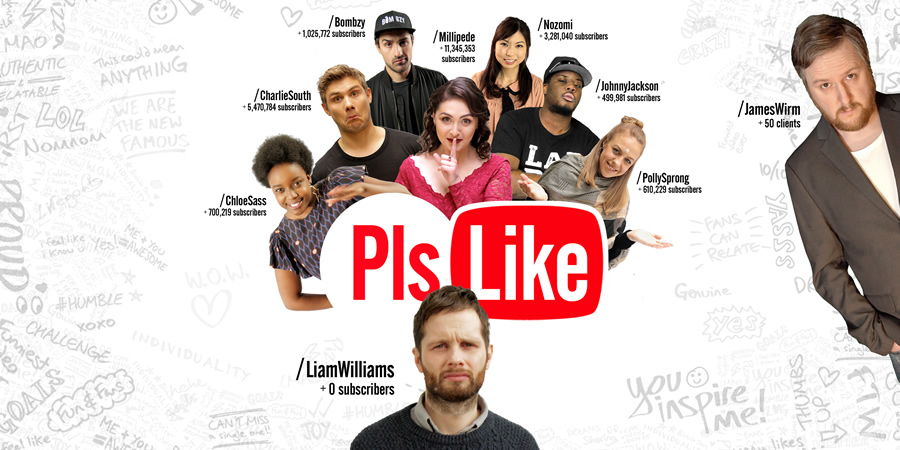 Pls Like, a six-part series starring stand-up Liam Williams as the reluctant winner of a YouTube-based vlogging competition, will launch on BBC Three on Saturday 11th February.
The mockumentary, written by and starring Williams, sees him playing a struggling comedian who becomes the unlikely victor of a competition to find the next megastar vlogger. To secure a £10,000 prize, he must now undertake a series of challenges.
Liam is helped in his challenges by established YouTubers Charlie South (played by Jonathan Pointing) and Millipede (Emma Sidi). Meanwhile James Wirm (Tim Key), a Talent Manager, oversees proceedings.
The six-part series features guest appearances from a number of comic actors who play the YouTube stars that Liam meets during his challenges. Ellie White, Jamie Demetriou and Lolly Adefope are amongst those to have filmed roles in the series.
Liam Williams says: "It's been fun and rewarding getting to work with some of my favourite comedians and a very talented creative team to lampoon a world which I find baffling and envy-inducing in equal measure."
Tim Key adds: "I loved working on Pls Like, Liam's a smart writer and he has made serious amounts of hay in a weird and wonderful world I know nothing about. It was a joy working with him and his glowingly talented acolytes on this sparkling new series."
The show has been produced by Rupert Majendie at Left Bank Pictures, the production company that has previously worked on shows such as Cardinal Burns and School Of Comedy. Black Pond director Tom Kingsley has overseen the shoot.
Alex Moody from BBC Comedy says: "We could not be more excited about launching Pls Like on BBC Three. Liam's brilliantly smart satire about online fame has attracted a hugely talented cast. Together they lampoon a world that is fascinating, hilarious and awful in equal measure."
Pls Like will be available to watch on BBC Three's YouTube channel from Saturday 11th February.
Share this page