Big Field on BBC3
BBC Three to publish new Big Field episodes
Big Field - which uses recycled props - involves actors miming along to old vinyl, cassettes and TV shows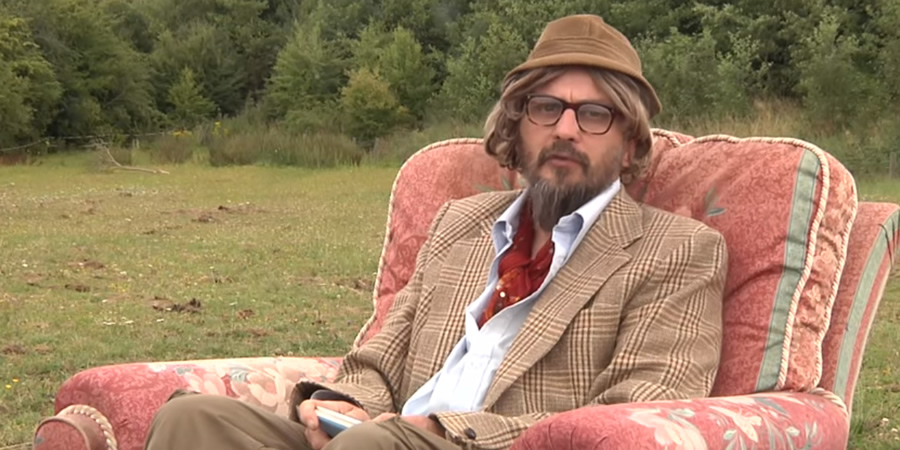 BBC Three is collaborating with the creators of Big Field, a YouTube series that 'recycles' audio and props.
Big Field, which was created by Darren Dutton and Jonny Roberts, has amassed over 20,000 views across the two videos that were published on YouTube last year. Now BBC Three is working with the team to make five episodes for its new online platforms.
The surreal format sees actors miming along to the audio taken from old vinyl records, cassettes and modern television programmes, all whilst on location in a field. The Great British Bake Off, Countdown and dating show Take Me Out are amongst the TV formats given a fresh twist in the original two episodes.
Notably, the props used in the show are all recycled, with the creators having bought the items off eBay. Most of the purchases, including a 3 seater settee and a greetings card stand, cost production less than £1 each.
The show has gained many celebrity fans, with Peter Serafinowicz, Matt Lucas, Robert Popper, Jon Culshaw and Mark Gatiss amongst those who have published praise for Big Field on social media. Bob Mortimer labelled the format "superb, sublime... a Lolcano. Best thing I've seen for years", and Rufus Hound said "I doubt you'll find anything more brain pleasing and laugh making".
The five new episodes, each of which will be 3 minutes long, will feature the original cast of Darren Dutton, Jonny Roberts, Matthew Hurrell, Beverly Pack and Alison Ward alongside experienced comedy actors Shelley Longworth, Alex Lowe, Lucy Montgomery and Tony Way.
Series 2 of Big Field will be launched on BBC Three's website and YouTube channel on Monday 20th June, with a new episode released each day that week.
You can watch the first two episodes here:
Share this page