The Mayoress
Jack Dee and Harry Hill to star in online sitcom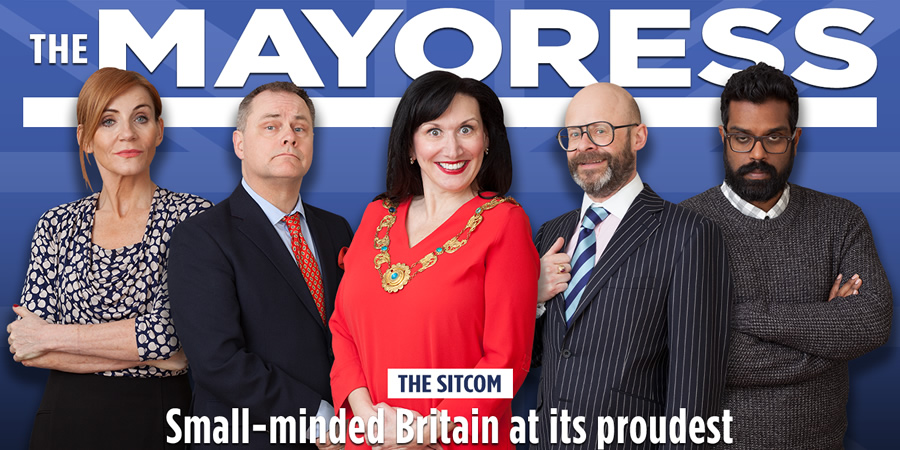 Jack Dee, Harry Hill, Romesh Ranganathan and Michelle Collins are amongst the stars to sign up for The Mayoress, a new online sitcom project.
Created by comedy actress and writer Brenda Gilhooly, the show is based around a town council in the fictional borough of Mansford. The script starts with Susan (played by Gilhooly) being elected as Mayoress, much to the annoyance of rivals Tim (Dee) and Denise (Collins) who think she's far too common.
However, when Susan goes against the advice of Councillor Ravi (Ranganathan) and vows to attend a Citizenship Ceremony run by incompetent registrar Roger (Hill), Tim and Denise think it might be the opportunity they've been looking for to scupper her before she gets into the job properly.
Described as "The Vicar Of Dibley meets The Thick Of It" the show aims to satirise "the insular mentality of middle England, local politics, daft bureaucracy and the deluded nature of small time power".
The Mayoress, which will also feature James Holmes (Miranda) and Ella Kenion (Hardware), was originally developed for television, however having been turned down by the BBC, the team - which now also includes David Schneider as Director and David Quantick as Script Editor - are turning to crowd-funding platform Kickstarter in an aim to raise £75,000 to film a full pilot episode.
Brenda Gilhooly explains: "So much creative stuff is happening online now there's no need to wait for the commission from a traditional broadcaster. And you're never really told why something's been turned down, in fact I don't even remember the name of the person who was supposed to have read it! I thought, 'well I still believe in it, there must be another way'. So I showed the script to Jack Dee and Harry Hill and they really liked it. Then brilliantly Romesh and Michelle came on board and the fabulous director David Schneider offered to direct it and Emmy-Award winning writer David Quantick joined too as a script editor. So as a project it really started to gather momentum, which would never have happened if the script was still sitting on someone's desk. It really is an amazing creative team with outstanding comedy credentials."
Talking about the fundraising aspect, producer Pete Ward explains: "All the cast have agreed to make the show for nothing because they believe in the project so much, so any money raised is simply to cover production costs, in order to give the show the production value it deserves."
If successfully funded, the intention is to publish the first episode online for free, and sell a full series to a traditional broadcaster or streaming service such as Netflix or Amazon Prime.
"It's empowering", says Gilhooly. "Viewing habits are changing and with the social media revolution taking place, we believe we can now make the quality show we want to, funded entirely by the comedy fans who want it. Crowd-funding is a really exciting way to make innovative new comedy.
"Making an online show ourselves is a great new way to create original comedy. And what's brilliant about doing it this way is we can make the show we want without having to deal with all the normal restraints from a broadcaster, without loads of different people telling us what to do, which often stifles the originality or comic flair of a project. We're connecting the comedian to the comedy lover and cutting out the middle man."
Below is the pitch video, which features footage from the taster scenes already filmed:
This story was updated on Tuesday 10th May to add the link to the Kickstarter page.
Share this page