Russell Brand to launch new podcast
Russell Brand to launch new podcast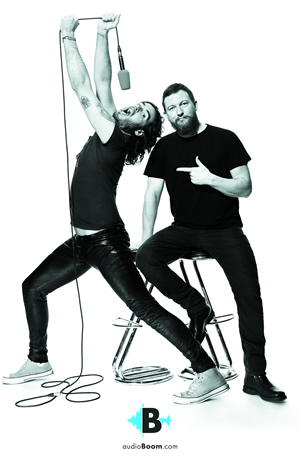 Russell Brand is to launch a new podcast series.
audioBoom, which dubs itself as the 'largest spoken-word audio-sharing platform', has announced the comedian will be launching The Russell Brand Podcast via their website.
The platform confirms: "Brand will be recording twice-weekly comedy podcasts exclusively for audioBoom alongside his radio presenting team of writer Matt Morgan and poet laureate Mr Gee. Two episodes will be released every week including topical content, their world-views and general humour - all in typical Brand fashion."
Russell Brand says: "Me and my sleeper cell of radio mates are happy to get back on the air with audioBoom. Which sounds like terrorism in the earhole. Exciting."
Each episode of The Russell Brand Podcast will be a 45-minute show, which will be available on audioBoom every Wednesday and Sunday. The first episode will be released this Wednesday (24th February), with 24 shows planned in total.
This move into audio for Brand follows on from the comedian and actor having launched The Trews last year. Taking the form of a daily video blog, The Trews sees Brand analysing and commenting on the news, often in a political way. He has now filmed over 250 episodes.
Talking further about their collaboration with the comedian, audioBoom adds: "As well as presenting and producing The Russell Brand Podcast, Brand will be using the audioBoom app to record and publish his thoughts on the fly. Additionally, audioBoom will exclusively host the best of The Trews audio from Brand's popular YouTube channel."
Whilst audioBoom will exclusively host the full podcasts, a 10-minute highlight package will be available on popular podcast platform iTunes. The Russell Brand Podcast will also be made into an hour long show which will be "syndicated to audioBoom broadcast partners in the UK, the US and Australia."
Robert Proctor, CEO of audioBoom, comments: "I am ecstatic that audioBoom has managed to attract one of the world's most talented entertainers onto the platform. This partnership will not only bring unique content to our platform and unique content to our users, but will also make us hugely attractive to the growing on-demand audio listeners around the world. I do not think it is any coincidence that Russell has chosen to release his latest material in an on-demand platform rather than through traditional media."
The Russell Brand Podcast will be available from Wednesday at www.audioBoom.com
Brand is currently calling out for fans to create jingles for his podcast. He explains more in this Audio Clip
Share this page