Channel 4 launch new batch of Comedy Blaps 2013
Channel 4 launch new batch of Comedy Blaps 2013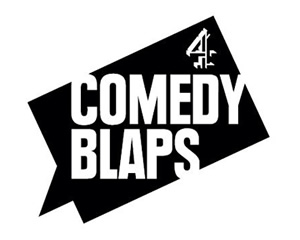 Channel 4 has launched three more online mini-series under their Comedy Blaps brand. The first episodes of The Kronicles of Kirk, Claudia O'Doherty and Jamie Demetriou are all now online to watch.
Each of the three new shows comprise of three episodes, each about five minutes long. The first episode has been released today via Channel4.com, YouTube, Vimeo and as a podcast, with the second and third episodes to be released over the coming weeks.
The new comedies follow what Channel 4 dubs the "roaring success" of the previous two years of Comedy Blaps strand. The pilot initiative was set up to develop new programme ideas and showcase up-and-coming comedy talent, and has so far totalled more than 2.6 million views for videos featuring the likes of Nick Helm and the characters from Viz.
Channel 4 also confirmed today they have commissioned three more Blaps formats. The Alternative Comedy Memorial Society Presents: A Board Meeting and mini-series starring stand-ups Daniel Simonson and Pat Cahill will be available later this summer.
Phil Clarke, Head of Comedy at Channel 4, says: "Comedy Blaps is an opportunity to grow new writers and performers and provides a safe place to try out ideas, innovate and gain vital television experience. The Blaps are seed beds for future pilots, helping nurture the comedy careers of the next generation."
Below are details on the new Comedy Blaps for Summer 2013:
Claudia O'Doherty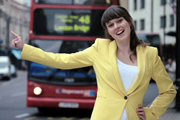 Claudia O'Doherty, who was nominated for the Edinburgh Comedy Award last year, plays one of Australia's most serious and busiest actors (also millennial illusionist), who is visiting the UK to make some viral videos for her family's failing travel agency.
First up, What is England?, where Claudia discovers what England means to her - royalty, winter, apple pie, Scotland. And solitude. In her second outing, What is Jack the Ripper?, Claudia will do something the English have never bothered to do, and reveal the true identity of Jack the Ripper. Claudia concludes her travels with What is Time?. Time was invented in England, so if you're going to travel there on holiday, it's important to know what time is - so watch as Claudia unravels its mystery.
The series has been created by Inbetweeners production team Bwark Productions. Below is Episode 1:
Jamie Demetriou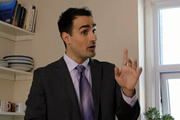 Up-and-coming comedian Jamie Demetriou introduces three tall characters, all of whom are really struggling to be good at one thing - life. In episode one, Stath, we enter the world of lettings agent Stath and follow him as he goes about his day to day - letting flats, catching rats and parking badly. Andy is the focus of Episode 2. An inexperienced lawyer, Andy Chris is asked to represent a nice young lad who's done a stab. He really gives it a go, too. In the final episode, Colin, we observe Colin Hair, an ex-politician who has lost three important things - his job, his wife and the majority of his clothes.
The series has been produced by Roughcut Television.
The Kronicles of Kirk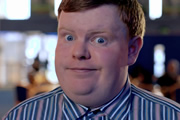 Series starring James Kirk, the stand-up comedian who won the So You Think You're Funny? competition in 2010.
Kirk plays a fictionalised version of himself - a nervous young man who still lives with his mother, he heroically hurls himself into awkward social interactions in a chaotic pursuit of eternal happiness. In How Deep is Your Kirk?, James desperately wants to go on one date without anyone getting hurt. Instead he goes on lots of dates and loads of people get hurt. The second episode We Can Kirk it Out sees a mysterious figure with a great moustache try to take everything that James holds dear. In The Caravan of Kirk, James lies to his mother to get out of a weird family commitment and his confusingly sexy cousin reveals an explosive Kirk secret.
This series has been made by The Comedy Unit in Glasgow.
The Alternative Comedy Memorial Society Presents: A Board Meeting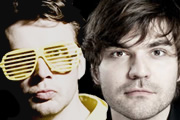 Coming later this year, this series is described as "fast-paced, lunatic comedy". It comes from John-Luke Roberts and Thom Tuck (pictured), the people behind 'The Alternative Comedy Memorial Society' live comedy nights.
The familiar structure of a board-meeting, from apologies to any-other-business, is used to sneak the unfamiliar, nonsensical and downright bizarre onto people's laptops - guerrilla-style. All four episodes, The Ground Floor is on Fire, The Bloody First Floor is on Fire Now Guys!, Well I'll be - the Fire's on the Second Floor (Third if You're American) and Oh, Great. Guess What's Happened to the Third Floor? Yeah., focues on a different meeting, derailed by flashbacks and cutaways, and Cistercian monks, Norse Goddesses, Jeff Goldblum-lookalikes and instructional videos about knots. "A sort of Mad Hatter's Tea Party in an oak-panelled room."
Directed by double BAFTA nominee Chris Shepherd, the series is produced by Iota Films.
Daniel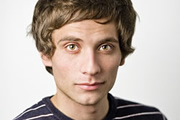 Three shorts that take a look into the mind and world of Daniel Simonsen, the Norwegian stand-up who won the Best Newcomer award at the Edinburgh Festival last year.
The Daniel seen in the series is a man who is free and alive in the security of his bedroom, but a prisoner of shame and shyness in public. The first episode, Small Talk, finds Daniel trying not to kill the vibe at a dinner party with his housemates. The second sees Daniel struggling to make ends meet and having to apply for Benefits. In the last episode, House Meeting, Daniel and his housemates sit down to iron out a recurring issue.
Daniel has been filmed by Peep Show producers Objective Productions.
Still Reeling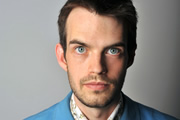 Sitcom series written by up-and-coming comic Pat Cahill alongside established writer Graham Duff (Ideal, Hebburn). It stars Cahill and Peep Show's Matt King.
From the comfort of the online TV studio in his bedroom, Ricky Day (Cahill) dreams of becoming a nationwide angling star with his online show Catch of the Day. Only one man sits in his way: his disabled father, Les (King), who he lives with and looks after. Wheelchair-bound, ex-plasterer Les despairs at watching his berk of a son obsess about fishing and wants him to get a proper job, whilst Ricky despairs at having to deal with the world outside their chalet bungalow. The series is described as "a modern twist on Steptoe & Son."
The series is produced by Simon Nicholls at Lucky Giant.
---
The home of Channel 4's Comedy Blaps is comedyblaps.channel4.com
Share this page