Domino's Pizza launches online football sitcom
Domino's Pizza launches online football sitcom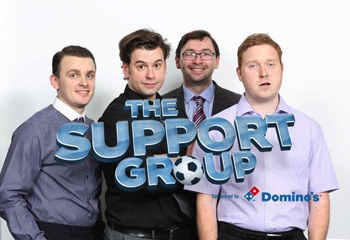 Bwark Productions, the company behind sitcom hits including The Inbetweeners, today launches a sitcom for pizza delivery chain Domino's.
Produced by Bwark in association with digital and branding specialists Zodiak Active, The Support Group will see a group of friends and workmates joking, discussing and teasing each other about the past week's football news.
Bwark say "watch football-obsessed work colleagues Geoff, Spencer, Ronnie and Martin as they tease and taunt each other in response to topical stories from the football world - from plucky Bradford City's falling at the last hurdle in the League Cup to Balotelli ordering a life-size statue of himself."
To run for three months, each of the twelve circa 5 minute episodes will be written in the week of release so as to stay topical, referencing the very latest scores, news and results.
Launching via YouTube and Domino's Pizza UK's Facebook page, the series will also be heavily promoted by The Sun, Yahoo! and fan website Football365.com, according to trade website Broadcast Now. New episodes will be published early each Thursday afternoon.
The show stars Thomas Aldridge as Spencer, Adam Leese as Martin, Sam Pamphilon as Geoff and Lewis Reeves as Ronnie.
Zodiak Active's brand partnership head, Dominic de Terville, says: "The team at Bwark have brought comedy, topicality and passion to football in a completely fresh way and we are delighted to have partnered with a forward-thinking brand like Domino's to bring this exciting series to their target audience of online football and comedy fans."
Here's the first episode, entitled I'm Just Not That Interim.
Share this page