Comedy film project The Fitzroy raises over £70,000 on Kickstarter
Comedy film project The Fitzroy raises over £70,000 on Kickstarter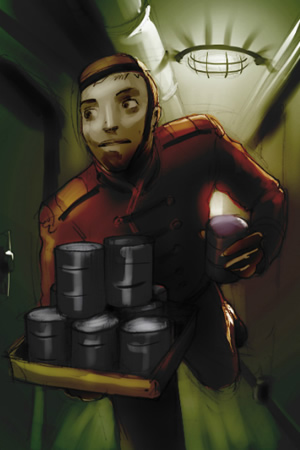 The Fitzroy, a dark comedy feature film set in a post-apocalyptic world, has raised over £70,000 on crowd-funding website Kickstarter.
The project was conceived by writer and director Andrew Harmer, with producers James Heath and Liam Garvo from Dresden Pictures. A budget of £60,000 is required to create the film, and Kickstarter was used as the sole source of funding.
Kickstarter is a website where members of the public can donate money to help get projects off the ground, and in return get tangible rewards when a project is realised. The website launched to UK creators on the 31st of October this year, but has been running in America for a number of years. Past successes include the Pebble smart watch, which raised more than $10 million through the site.
846 people backed The Fitzroy on Kickstarter before the deadline was reached, raising a total of £72,171. This equates to an average donation of approximately £85 per person.
Backers get "the feel-good factor of making dreams come true and supporting independent film", but other incentives include having a cartoon likeness of themselves in the credits, a copy of the film on DVD, and a limited edition poster.
The project is described as follows: "The Fitzroy is an independent, live action, feature film; a black comedy set in a post-apocalyptic 1950s Margate. The world is covered in a poisonous gas and the Fitzroy Hotel (a beached submarine) is the last place for a traditional holiday. The hotel is sent into chaos when one of the guests murders the hotel's owner. It is left to Bernard, The Fitzroy's hapless bellboy (pictured above in a concept drawing), to keep the hotel from falling apart as he struggles to hide the murders from the other guests and the ever-suspicious authorities."
There is plenty of information about The Fitzroy on the project's Kickstarter page
James Heath, talking to British Comedy Guide, says: "We are delighted for our black comedy film to have got funded on Kickstarter. We are truly humbled by the experience and support from our audience and can't wait to get started on production in the New Year."
Below is the pitch video filmed by the team:
And here is 'Choke Mate', a short five minute film made by the production team based on suggestions from Kickstarter funders. It should be noted whilst this short video is more of a drama the full Fitroy will be a comedy.
The Fitzroy is not the first British comedy to successfully reach its funding goal on Kickstarter. Last month audio comedy A Brief History Of Time Travel, which will star Red Dwarf actor Robert Llewellyn, reached its goal of £4,000.
See also: Five things film-makers can learn from Kickstarter
Share this page