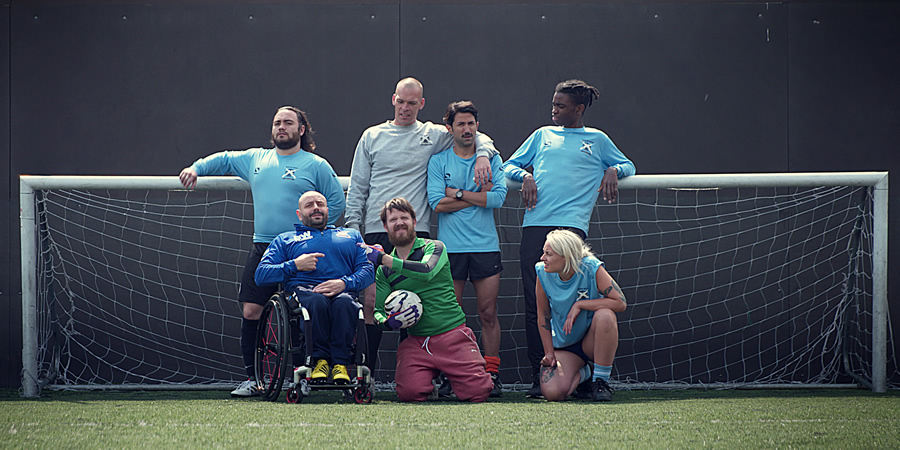 Genre

Sitcom

Published

Platforms

Episodes

1 Pilot

Starring

Andy Dear, Simon Killick, Jamie McDonald, Holly Rose Hawgood, Harry Belcher, Paul Sangam, Jayden JP Denis, Ruth Syratt and Errol Servina

Writer

Directors

Producer
Life On Wheels is a comedy series documenting the life of Barry Wright, a disabled wheelchair user from Harlow, Essex.
Alongside various side-hustles, he manages the local six-a-side power league football team called the Harlow Rifles.
His team members range from a talented female midfielder to an enigmatic skinhead gangster, a highly articulate/educated black teenage 'rude boy', a shy Asian Uber driver and a brash, posturing black cab driver, (who clash all the time) and a goalie who lives in Barry's garden shed, but is a simple and happy soul.
Barry also runs a variety of workshops and classes in the local community centre for the disabled and elderly community.
Life On Wheels is a to be a six-part 30 minute comedy series, aimed at TV. The pilot episode Ruth will be released online on 11th April. Episode 2 - The Semi - is in pre-production.
Production company

Laugh track

None
Broadcast details
First broadcast

Thursday 11th April 2019 on Amazon Prime Video
Website links