Australian comedy star Ryan Shelton has made a Comedy Blaps series for Channel 4. Let's find out more...
Hi Ryan. For those that don't know you yet, could we ask you to introduce yourself.
I've been writing and performing comedy for about 15 years now. I've appeared in and/or written on Australian TV shows like Rove Live, Hamish & Andy's Gap Year, Real Stories, We Can Be Heroes and The Wrong Girl.
But I grew up obsessively watching Monty Python, Fawlty Towers, Mr Bean and The Goodies and I feel like the endorsed silliness of those shows probably influenced on me in some way.
You've now burst on to British screens with How To Life. What can people expect?
I'm fascinated by the gazillions of self-appointed life experts on the internet. It amazes me that these new-school TV presenters have little to no experience or qualifications in their chosen area of 'expertise', yet we still we happily trust them to be our temporary teachers for whatever it is we might need to learn that day.
I don't know how to change a car tyre, but I won't think twice in letting an unemployed 21-year-old in Nebraska show me. Why? Because he made a video and put it on the Internet.
We love how fast-paced your show is, and how it plays with presentation conventions. How long did it take you to devise the tone?
I used to write and perform regular comedy segments on a weekly Australian variety show called Rove and they carried with them a similar tone of misguided self-importance. I often played with presentation and editing conventions in those pieces and what they evolved into probably became the pre-cursor to the tone in How To Life.
What was it like working with Channel 4 to make the episodes?
It was and is a total dream. While I may have grown up on Monty Python and Fawlty Towers as a child, I fell in love with Chris Morris and Armando Iannucci as a young man (a love that has never really faded, by the way). So to be working with a network that gave those geniuses a platform to do what they do plus create some of the greatest shows of all time (Brass Eye, The Armando Iannucci Shows, Black Mirror, Peep Show and Garth Marenghi's Darkplace), well, let's just say I'm pretty stupidly chuffed.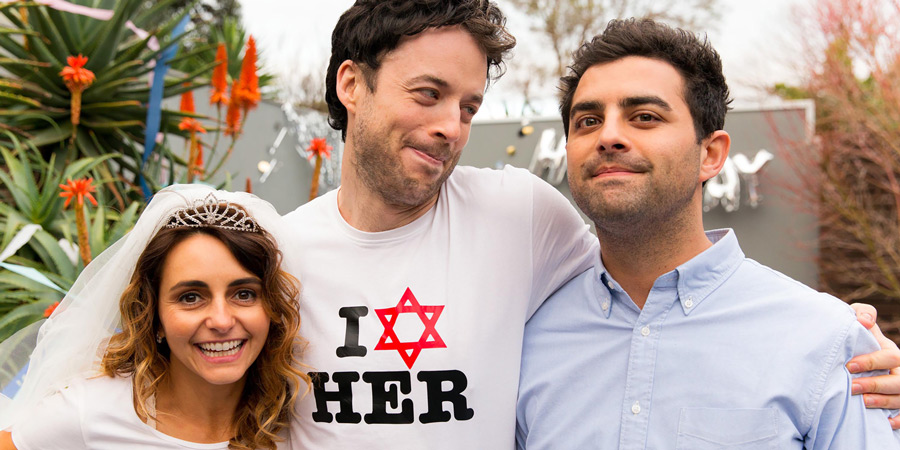 You're clearly an expert on all walks of life now. So, can we ask you about wedding gifts? We're never sure what to get.
The goal is to give the best/most expensive gift. Whatever you purchase, stick a fake price tag (with a fake, over-inflated price) on the front of the packaging and make a purposefully bad attempt to remove it.
If you're giving cash, look into the counterfeit money market. It'll go a long way in cheapening your generosity.
You're welcome.
Thanks! OK, have you got any tips for us on how to get off parking fines?
This is easier than you think. Join Tinder and swipe right on every single person you come across until you're chatting to an influential member of parliament. Ask them out on a date. Tell them you'll meet them at an address of YOUR choosing. This is important because the address will be the location of an expensive brothel - but they don't know this yet...
When the night of the date arrives, wait for them from an unmarked car parked over over the road from the brothel, armed with telephoto camera pointed at the entrance. From this vantage point, you should be able to take photos of your date (the influential member of parliament) arriving outside the brothel and forever more, blackmail them when you get in any trouble with anything.
N.B. You do NOT have to go on the date after taking the photos if they're unattractive.
Cheers Ryan. Presumably, given the chance, you'd be up for making a full series of the show? Any thoughts on what topics you might cover?
Any chance to educate more people and change their life would be wonderful. Given the opportunity, no topic would be off limits. I'd like to explore all aspects of family life and how to best navigate that tricky terrain. Relationships are also challenging so I'd definitely show people how to do them and how to break up with them.
I'd also set out to teach other helpful, life-changing lessons like 'How to Escape a Hostage Situation', 'How to Give a Speech' and of course, what every child wants to learn these days, 'How to Follow Your Dream and Become An Instagram Celebrity'.
Neat. More immediately, what's next for you?
I'm currently working on our new Hamish & Andy TV show here in Australia, which I have co-written, produced and will play an on-screen role in. It'll air down here in the second half of the year and it's really exciting.
I'm also constantly teaching the world how to live their lives, but no doubt that's painfully obvious.
---
Here is Episode 1 of How To Life, offering tips on how to lie: