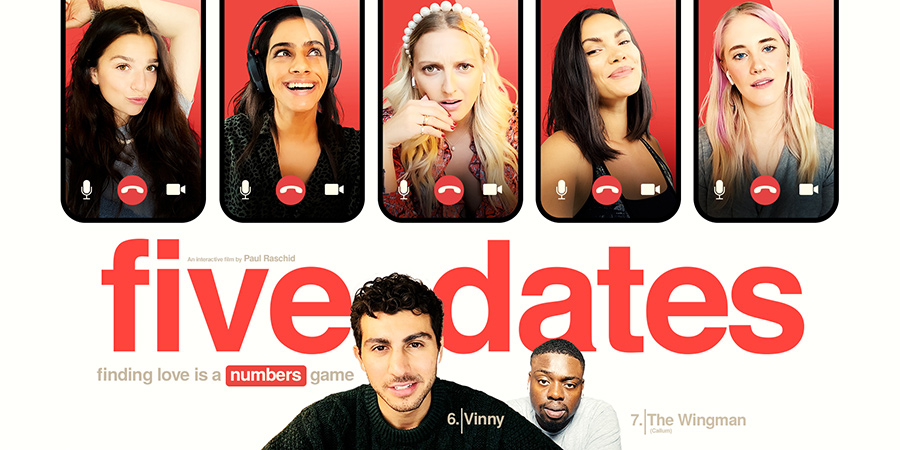 Genre

Comedy Drama

Published

Platform

Episodes

1

Starring

Taheen Modak, Demmy Ladipo, Mandip Gill, Georgia Hirst, Georgia Small, Marisa Abela and Sinéad Harnett

Writer

Director

Producer
Live action, interactive romantic comedy about the unpredictable world of digital dating.
Vinny, a millennial from London, joins a dating app for the first time while living in lockdown during the coronavirus pandemic. With five potential female matches, Vinny explores whether compatibility, chemistry and connection is still possible in a world where physical touch is no longer an option. He must pluck up the courage to video date with wildly different personalities.
The viewer's choices will define Vinny's interactions with each date and their interest in seeing him again. Vinny is faced with digital game dates, awkward scenarios and unexpected truths.
The creators say: "Five Dates is an exploration of the unpredictable modern dating experience. Through his journey, the decisions the viewer makes for him will challenge their own conceptions of attraction and compatibility. Throughout the game, your choices and your interactions will either strengthen or weaken your relationship with your date. The relationship scores are calculated from the start right through to the very end and will affect certain scenarios as well as having consequences in the concluding scenes."
Featuring over 7 hours of filmed footage, the interactive rom-com has 10 different outcomes.
Executive producer Richard Pring from Wales Interactive comments: "During these trying times, we are really excited to be collaborating with Good Gate Media to bring a modern British rom-com to PC and consoles. Building on our extensive experience of interactive movies and video game development, we're proud to be introducing FMV to a brand-new genre! We're once again using our WIST scripting tool, bringing choice-based mechanics alongside our signature relationship-tracking system - this coupled with a diverse cast and top talent in acting, promises to be a unique and exciting experience for all to enjoy."
Five Dates is available worldwide for digital download on Windows & Mac via Steam, PS4, Xbox One and Nintendo Switch.
Production companies

Laugh track

None
Broadcast details
First broadcast

Tuesday 17th November 2020 on Web
Website links