As she explains below, Vix Leyton - the host of riotously fun comedy podcast The Comedy Arcade - ended up becoming a stand-up comedian by accident. She also chats to us about the highlights and lowlights of the job, and reveals who her dream guest would be.
Hi Vix. Tell us about your background. We understand you got into comedy in an interesting way?
The whole thing was an accident really.
I drunkenly signed up for a stand-up skills course with Funny Women as my new year's resolution in 2018, to try to get over a phobia of public speaking and so I could be the woman speaker panellist I wanted to see in the world, in my day job as a PR person.
The course did not cure me, but it did make me see a light at the end of the tunnel, and I loved the idea of trying stand-up properly, as I'm a huge comedy fan.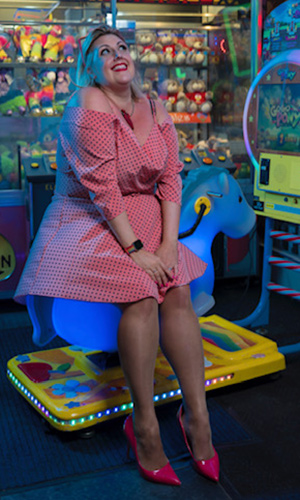 I did the coward's thing of, in my mind, 'asking the universe' (but what was, actually, probably more like 'making it someone else's responsibility') by asking on social if anyone knew how you went about getting in to stand-up comedy.
Initially no one had an answer for me and I was - because I was scared - completely satisfied that I had done all I could on making that happen and could safely pack it into the cupboard with my other ridiculous ideas... when Mark Watson popped up on Twitter and offered me the chance to learn stand-up and get over my phobia live on stage at The Pleasance as part of one of his marathon shows.
I said 'yes', because when one of your favourite comedians invites you to do something on one of the coolest stages in the world you really should say yes! But, up until I got there on the night, I was very unsure I was going to go through with it. The whole thing was terrifying, but exciting, and I finished the 26.2 hours with not only a real taste for it but also with some supportive new comedian friends who were prepared to push me a bit; notably Thom Tuck and the amazing Isabelle Adam, two of the brilliant minds behind ACMS.
Two weeks later, they booked me for my first ever five minutes, where I performed a frankly diabolical set to an impossibly indulgent and kind audience at The Phoenix. I was hooked.
You managed to reach the 100 gig mark just as lockdown kicked in?
I wanted to start my own night a couple of months after I started - I was really keen to try MC'ing - but didn't want to drive anyone else's night into the wall being amateur. Because I do marketing, I was fairly confident I knew how to put on a good event, even if I was the weakest link.
I mentioned this to a promoter at an open mic and we ended up having a bit of an argument; his view was that arrogant new acts starting their own things was damaging the reputation of comedy and that you really shouldn't even consider it until you had done 100 gigs. It wasn't the first time I had heard this, even in my limited experience of the circuit, and I'm a really petty person who hates to be told no, so I decided that night I was going to rack up 100 gigs in a year so I wouldn't have to listen to that ever again.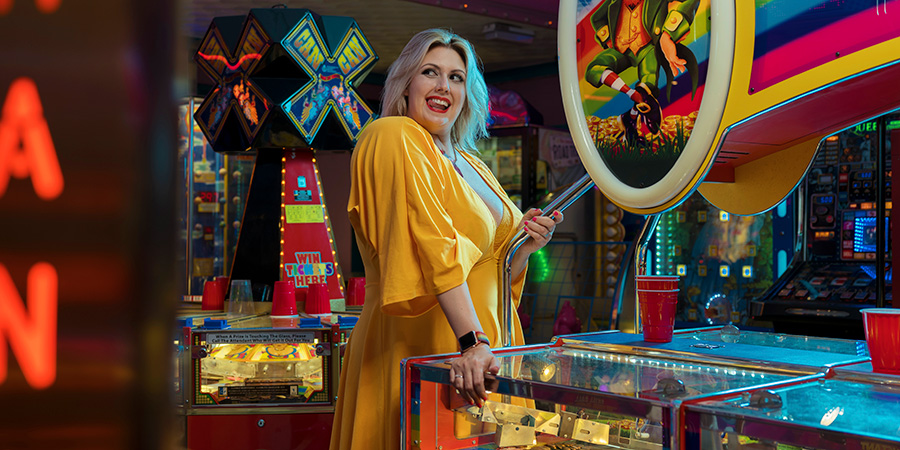 I also completely disregarded his opinion on setting up a night - I started Live at Limehouse that summer. To be fair to the promoter I had the row with, I had underestimated what a pivotal, skilled role a good MC played in making a night run and I was lucky that the people I booked were consistently brilliant so I didn't really get exposed early on, but when you are doing it yourself you notice the people who are doing it well so much more. And seeing masters like Rich Wilson and James Gill MCing really showed me the standard I wanted to work up to.
What were the highlights and lowlights of those first 100 gigs?
The highlight was definitely the hundredth. I did it back at ACMS on 12th March 2020, almost a year to the day of my first one.
I was doing up to 5 gigs a week to get to it, alongside a really full-on full-time job so it was a huge moment for me and I was really lucky that, despite it being an undeniably small step on the road to the comics involved, they still made a proper fuss of it.
I got given a present live on stage and the bill I was on was incredible; Shelf, Sian Docksey and Joz Norris. A week later the world as we knew it got suspended.
Lowlights wise, probably how few women I found on the circuit. The camaraderie between women comedians is incredible and the standard is so high, but it still feels like not enough is being done at any level to fix this. I didn't set out to run only-women bills every night but one particular evening that I did have an all women line up, I got given a lecture by a female audience member who said what I was doing was discrimination. I wasn't even annoyed, just disappointed.
You launched The Comedy Arcade podcast in October. Was that a reaction to not being able to gig live so much?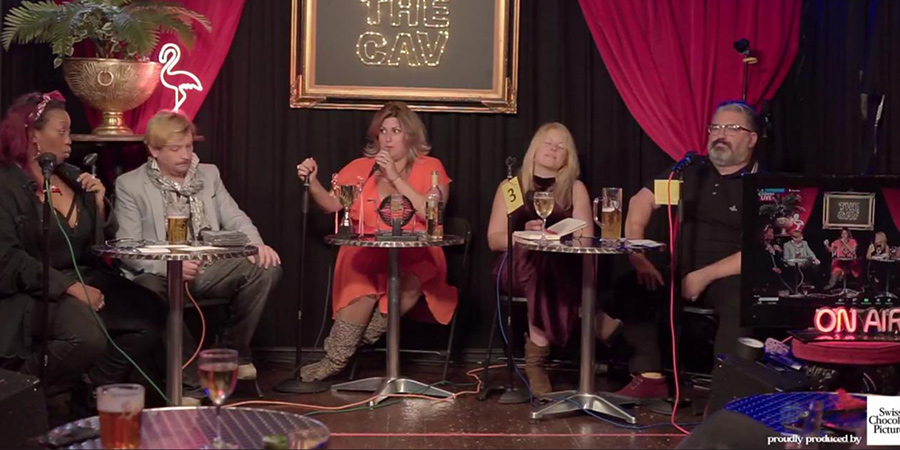 I think there wasn't a person in comedy who didn't think of starting a podcast during lockdown, particularly as the best ones make something that requires a lot of skill look effortless and fun.
Zoom 'gigs', particularly at the start, felt unnatural and gruelling and getting audiences for them was tricky as there was so much on offer. To keep doing something, I came up with Comedy Roulette as a live stream on Twitch and an effort for me to host something that fit what I enjoyed and felt like I was good at... basically chatting and showing off in the pub.
Apart from Mark Olver's brilliant Who Said That?, I didn't see many panel show formats doing the rounds so thought if I did one I might be adding something new to the mix. On one of the episodes, the tech really failed on the picture but the audio track was salvaged, so I offered it up to the regular viewers in place of the actual show - got some great feedback and the seed of the idea was planted.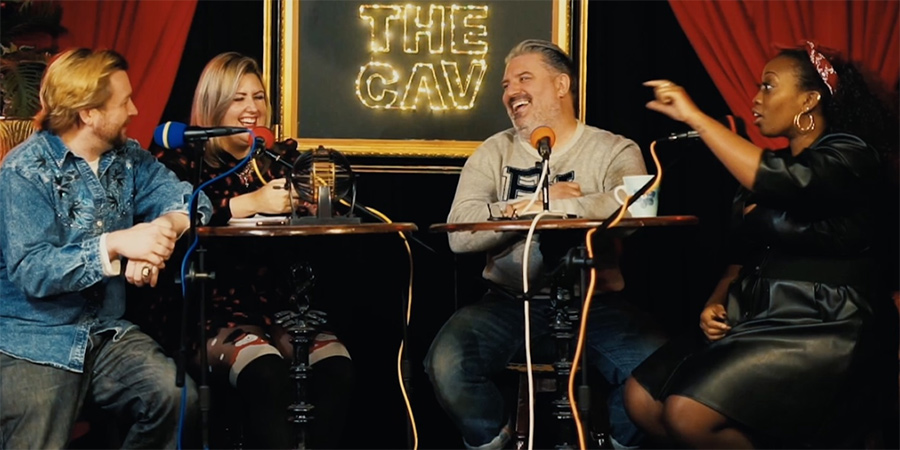 Tell us more about the format...
Three interesting people compete to have the best anecdote from a topic randomly generated from a bingo ball. It's called Comedy Arcade but it covers a lot of ground and I hope it won't just be comedians that come on the show - some of the non-comics have really added a different dimension. It's nice bringing people together with different experiences.
You've had some amazing guests on over the last 15 episodes. What have been your highlights so far?
Everyone has really got into the spirit of it and I have been occasionally astonished by the level of honesty. Rich Wilson and John Robertson were like two naughty boys at the back of the bus, and I completely lost it with Grainne Maguire's story about the first day of lockdown. A lot of the editing is toning down how much I'm laughing. I can't believe I get to do this.
The image we can see on your podcast logo... did you really climb in an arcade machine?
I have a brilliant photographer friend called Jason Alden who introduced me to Studio 1440 when I was looking at taking a show to the Edinburgh Fringe.
When that fell through, I told them about the podcast and they got together to create a whole brand and shoot concept for me, as a lockdown project.
In-between lockdowns we were able to book Fun Harbour in Barry Island for private hire, after hours. We were four hours in when they managed to persuade me to get into the machine. I was convinced it wasn't meant to take a human weight but Jason reassured me that the manager gets in there every night to cash up. This turned out to be a lie, but we managed to get the shots without me going through it and I have to admit they are amazing.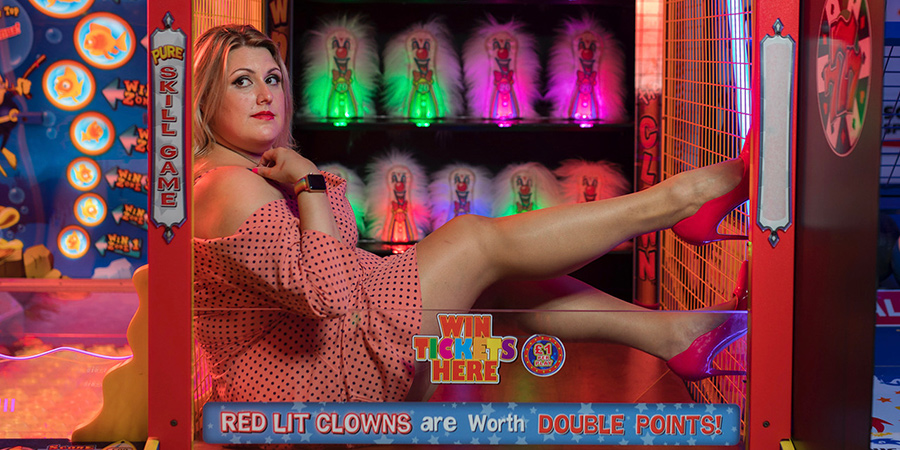 You appear to have adapted well to recording them on Zoom. Presumably you'll keep going whatever occurs across 2021?
100%. Was an absolute joy to record the first 10 live and the dynamic is different but the Zooms have their own appeal too, and they make the budget go much further.
So, what would you dream guest line-up be then?
I have been really lucky as some of the people on my wishlist have already appeared.
Eddie Izzard is probably the biggest influence on my idea of what top flight comedy looks like, but based on the one time I met her, I probably can't be trusted to represent myself well, so might need a few years of practice first.
Daniel Sloss's Netflix specials made me doubt whether it was worth carrying on with comedy as I would never achieve that, same with Hannah Gadsby. They were so good I was constantly recommending them in the kind of intense way you either suspected I wanted a commission or needed a restraining order. And Jen Brister, who did my first ever episode of this when it was the Twitch show.