Enterprice, the sitcom set around delivery service Speedi-Kazz, is back for a second series. We caught up with creator and star Kayode Ewumi to find out more.
For those who may be new to the comedy, Ewumi describes the programme as "a show about two young boys in South East London who set up an errant delivery service. They go on a journey together, encountering people and problems."
BBC Three first introduced the sitcom with a pilot in 2017, before a full series released in 2018. Enterprice was Ewumi's follow-up project from #HoodDocumentary, the web series about a young and upcoming "creative".
He explains: "The idea came after I finished #HoodDocumentary. I wanted to make something else, and had the idea of wanting to make a show about two boys who set up a business. I was talking to my agent about it and then I came across a show called Atlanta... I was like 'I need to try and make something like this'. And now we're here, with another series."
Series 2 of the show moves the plot on from where we left characters Kazim and Jeremiah at the end of Series 1. The BBC teases of the new run: "Reunited after confronting racist gentrifiers, a terrifying 12 year-old and a magic fox, Series 2 finds Kazim and Jeremiah in the red. It's time to start hustling."
It's true - Speedi-Kazz may be growing in popularity, but times are still tough. Kazim's been kicked out of his mum's house and Jeremiah's savings are vanishing by the minute. The five new episodes see the duo making deals with everyone, including dangerous market stall holders, unpredictable music producers and over-friendly CEOs.
However, it's not just a duo any more, as Kayode explains: "There's a new character, who becomes a very interesting person along the way."
That new addition to the team is wily teenager Simi, played by Fatou Sohna, who splits her time between doing drop-offs and revising for her GCSEs. Kayode confirms: "She's a teenager who helps out in some ways, but also brings some trouble."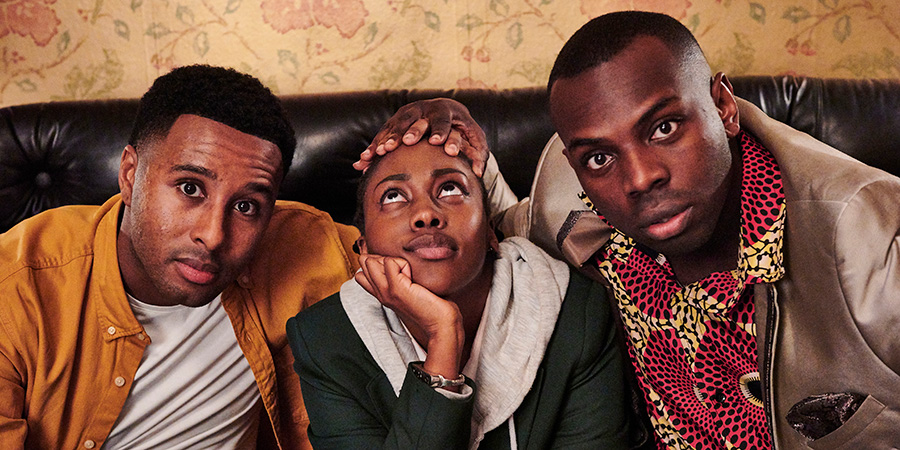 Ewumi first became interested in writing comedy at university and was encouraged by his lecturer to script a play, for which he got a first. He says: "I was always scared to write, because when they write shows like Misfits or whatever, they're amazing shows and my vocabulary is not as good as theirs or whatever, but after #HoodDocumentary I just started to pick it up and started to write for myself."
But creating a TV series takes a long time and can dominate your life. "I think about it a lot. When you're in season and you think about it you end up having to try and have days where you don't think about it, so you can gain more... because, if you're continuing to think about it, you restrict yourself."
The new series has been a year in the making. "I found out I got Series 2 maybe before Christmas [2018], and I started writing in January/February... We shot in September; so that's like six or seven months to write; so, on average, maybe a month a script."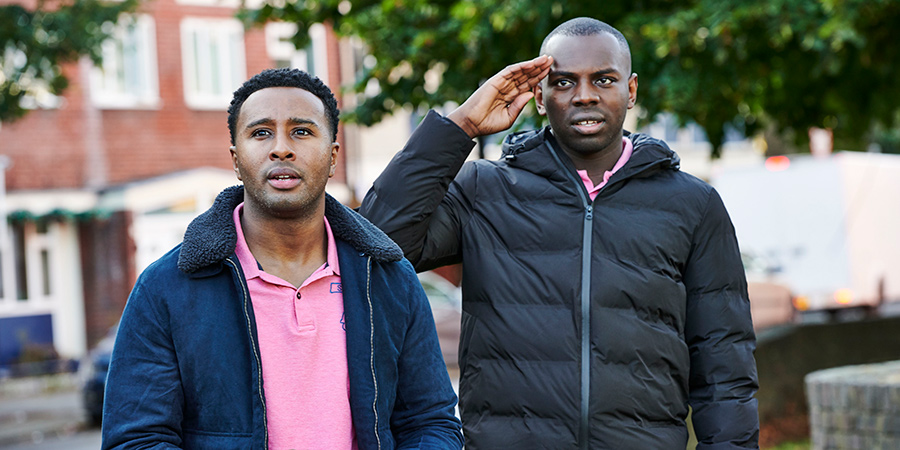 Series 2 reunites Ewumi with co-star Trieve Blackwood-Cambridge, who plays Jeremiah. The two have become good friends. "Yeah, he's a really cool friend on and off the camera. We talk a lot; we message each other and stuff... that's been cool. Trieve and I really get along! Now we just know each other, so when we're doing press or whatever, we know what the other is going to say."
Since #HoodDocumentary and his roles in other shows, including playing Huxley in Action Team and Bits in Stath Lets Flats, he's got used to people recognising him in public. "Yeah, people always recognise me in the street", he confirms. "I don't really mind it, as long as they respect me as a person as I'm not a piece of meat. I'm a people person and I really appreciate people who have appreciated the show... but there are times when you're with your family and stuff, when a bit of peace is nice."
Things are changing though: "People used to scream. Not so much any more... maybe my demographic has changed. It used to be crazy but now it's cool."
However, whilst we may be used to seeing Kayode in front of the camera, he reveals to us he is now more interested in working off-screen, especially writing, and is helping to develop other people's projects at Fudge Park, the production company that also makes Enterprice.
He says: "Right now I'm just trying to do a sci-fi thing. Something along the lines of an Attack The Block, Misfits type thing. I think that'd be cool to write.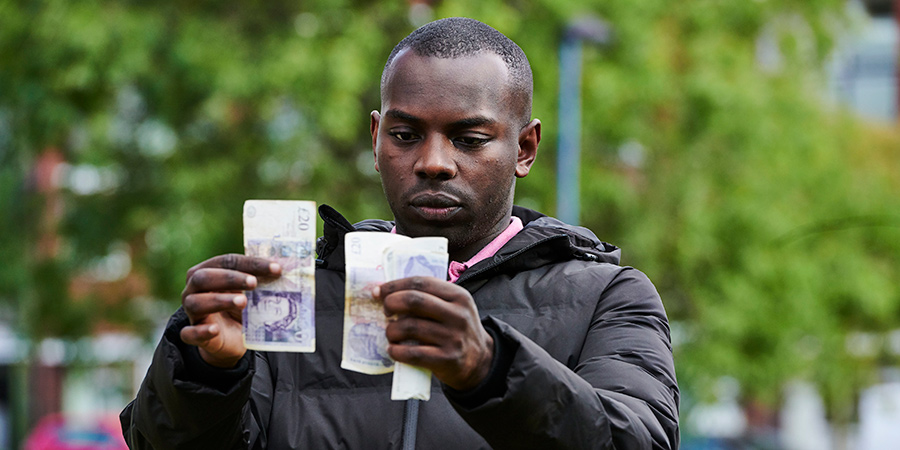 "I'm trying to act less. I prefer to write. I'm trying to work on a thing about two young girls that I'm working with [producer] Phil Gilbert on. It's about two young girls who went to the same primary school and they meet again... two different worlds. I like double-acts, I'm a fan of double-acts. I'm trying to write more funny female stories where they don't have to show their bodies or talk about sex or guys, they can just be funny."
Ewumi is now a development producer at Fudge Park. He explains: "So my job is to find content and try and bring those people in who are up-and-coming writers and bridge the gap, because I feel like we need a few more producers like Phil Gilbert who are willing to tell stories of people of colour.
"I feel like we don't have enough commissioners or producers in the industry who are telling those stories. It doesn't have to be about colour, but people who are of colour, who are writing stories of their experiences of their worlds - let's see more black people on screen
"I feel like those stories have to be told, and if I need to be the one to try and bridge those gaps together in order for those stories to be told, I'm happy to sacrifice acting for that."
He adds: "But also, with acting, I'm feeling like not a lot of scripts coming my way really tantalise me any more. What does come is not really that funny, which is why Stath Lets Flats was really funny and I really wanted to do it. I love Jamie and the gang. I could just crack on and have fun. So when there's fun, I know it's fun, but when it's not, I'd rather go out and write it instead."
So with his development producer hat on, what's he looking for? "I'm looking for stories that are just personal to you, to your family, to your world... I'm really interested in stories - this is not all - but I'm interested in stories that are set in that urban London area, but are not just about the area but about the characters who are in this area. Not just about gangs. It's about other things.
"I'm interested in seeing these stories you can tell that relate to you, are specific to you, relate to your world... I want to see more black protagonists, more black leads... that's what I'm interested in seeing. So many people I know have amazing ideas but they just don't know producers, they don't have a writing agent, so I just want to meet them. I need more Phil Gilberts in my life, more Fudge Parks in my life, more people like that!"
Good plans. And, as they say in the show, 'Keep it Speedi!'