Good afternoon! Here's our weekly update, starting with news of some new shows...
Latest Comedy News
Advert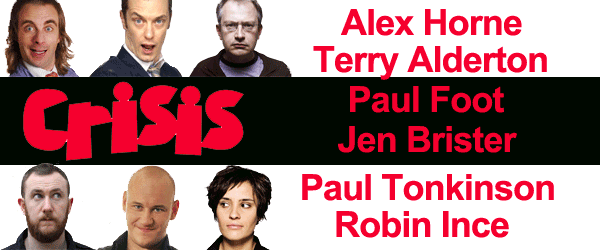 Also of interest...
Here are some links you might be interested in...

- Danny Baker is to write No Strings Attached, the new Muppets-style show coming to BBC One: The Guardian

- Comedy site Such Small Portions is this week releasing its list of the Top 100 most influential people in comedy: Such Small Portions

- BBC sitcom Episodes has inadvertently become a talking point in Israel due to a mistranslated gravestone prop used in the show: The Guardian

- An interview with Russell Kane in which he says he left school without being kissed: The Sun on Sunday

- A profile of James Corden: "Corden used to be insufferable, but he wants us to know he's a changed man": The Sunday Telegraph

- Meanwhile it has been confirmed Corden will play Britain's Got Talent winner Paul Potts in a new film: BBC News

- With news that it's coming back, this blog asks: 'Is The Comic Strip still fit for purpose?' Giggle Beats

- An interview with Sharon Horgan, whom the paper calls 'the queen of darkness': The Independent

- Russell Brand says Graham Norton made his mum cry when the host asked him about his wedding to Katy Perry: The Sun

- Times columnist Caitlin Moran is creating a sitcom pilot for Channel 4 about an overweight 16-year-old looking for a boyfriend: The Guardian

- Duncan Norvelle, a familiar face on British TV in the 1980s, is recovering after a stroke: BBC News

- Ricky Gervais has confirmed he aims to bring The Ricky Gervais Show, An Idiot Abroad and Life's Too Short to an end so he can focus on Channel 4 show Derek: The Radio Times

- Jenny Eclair is to leave the Loose Women panel amid 'tensions': The Mirror

- A book of limericks that Ronnie Barker changed to make funnier is expected to sell for around £1,500 at auction on Thursday: BBC News

- Bill Bailey has told the story of how he was offered a live owl to eat at a Beijing restaurant, and how he saved the bird: The Daily Mail

Get more of this kind of thing every day via Twitter: @UKComedyNews
Features
Tony Hawks interview

Tony Hawks talks about his new film, based on the true story of the bizarre bet he made to beat the entire Moldovan football team at tennis. Read
On Trial: Ben Elton

An article looking at the good things and bad things Ben Elton has done during his career. It's the likes of Blackadder versus Get A Grip. Read
David Baddiel podcast

Podcast in which Richard Herring interviews David Baddiel about topics including travelling with your cleaner, and the consequences of using people's real names in comedy routines. Listen
Bob Slayer breaks neck crowd surfing

Stand-up comic Bob Slayer has broken his neck crowd surfing... in a wheelie bin. Ouch. There's video footage in the article. Read
David Mitchell's Soapbox - Series 4

Series 4 of David Mitchell's Soapbox has now launched. Find out more about the new series and check out the first episode here. Read
TV Highlights
Here is a guide to some of the comedy things that are on TV this week. Due to the Euro 2012 football tournament some of these scheduled shows might start at a later time if matches over-run. Additionally, BBC and ITV schedules for Friday and the weekend are subject to change, according to when the next England game takes place.


Chris Moyles' Comedy Empire
Monday, BBC Three, 10pm

A one-off gala evening of stand-up comedy, hosted by Radio 1's Chris Moyles, to launch BBC Three's London 2012 Festival coverage. A mix of well-known names and up-and-coming comics. Guide
The Ricky Gervais Show
Tuesday, E4, 11:10pm

Karl claims not to have any interest in law and order, but he still has strong opinions on noise pollution, and astounds Ricky and Stephen with his views on shoplifting. Guide
A Short History Of Everything Else
Wednesday, Channel 4, 10pm

This week, Griff Rhys Jones, Marcus Brigstocke and Charlie Baker are joined by Julian Clary and Susan Calman for the panel show which uses archive footage. Guide
Russell Howard's Good News
Thursday, BBC Three, 9pm

More topical laughs from Russell Howard, who mixes up funny footage with his favourite YouTube animals. We can't help but chuckle everytime his 'Yeah' lamb and screaming dog clips appear. Guide
Psychobitches
Thursday, Sky Arts 1, 9pm

A new Sky Arts pilot starring some of Britain's best female actors. Rebecca Front, Catherine Tate, Sharon Horgan and Katy Brand are amongst those showing us a different view on famous figures. Guide
Would I Lie To You?
Thursday/Friday, BBC One, 9:30pm

The episode that was missed off the end of the last series. Jack Whitehall and Armando Iannucci are amongst the guests. The day of broadcast will depend on that tricky football scheduling (see above). Guide
Live At The Electric
Thursday, BBC Three, 9:30pm

The show blending stand-up from Russell Kane with short films, quick-fire sketches and music from some up-and-coming circuit talent continues. Guide
Mock The Week
Thursday, BBC Two, 10pm

More topical laughs. Dara O'Briain, Hugh Dennis, Andy Parsons and Chris Addison are joined by guests Carl Donnelly, Jo Caulfield and Milton Jones to talk about topics like the football. Guide
Dead Boss
Thursday, BBC Three, 10:30pm

The new prison-set comedy continues. This week Helen (Sharon Horgan) is instructed by prison governor Margaret (Jennifer Saunders) to look after their German guest Gertrude Verna. Guide
A League Of Their Own
Friday, Sky1, 9pm

More never-before-seen footage from the hit Sky panel show that's obsessed with sport. Guide
8 Out Of 10 Cats
Friday, Channel 4, 10pm

Jimmy Carr, Jon Richardson and Sean Lock once again try and guess what the nation have been talking about. Should be pretty easy to guess the topics this week. Guide
Episodes
Friday, BBC Two, 10pm

The network insists that Sean and Beverly confront Matt LeBlanc about his recent weight gain. The star does not take the news well. Guide
The Graham Norton Show
Friday, BBC One, 10:35pm

Graham Norton is back with further guests on the big red sofa. At the time of writing, this week's line-up has yet to be confirmed. Guide
Stand Up For The Week
Friday, Channel 4, 10:50pm

Stand Up For The Week approaches the end of its run. No-one ever seems to be talking about it, but if nothing else it's giving the acts taking part some good TV experience. Guide
You Cannot Be Serious!
Saturday, ITV1, 6:45pm

Now is the time Alistair McGowan's sports-based show should come into its own... but will it rise to the occasion? Note that the broadcast time of this episode is subject to change, depending on what football games ITV opt to show. Guide
Starlings
Sunday, Sky1, 8pm

Episode 7 of the comedy drama. Loz and Fergie must overcome a girlfriend-shaped obstacle, and things go from bad to worse for Bell and Reuben. Charlie catches the eye of a talent scout. Guide

Above is just some of the new comedy that can be found on the TV this week. For a complete list of shows, plus radio comedy, see our full schedule.
New DVDs
You Must Be Joking! - The Complete Series

In 1973, a one-off Magpie film looked at London's streets and markets through the eyes of children attending Islington's Anna Scher Children's Theatre. Showing how the children interpreted daily life in their drama classes, the participants in Kids About Town were eventually commissioned for their own series, featuring a then unknown Pauline Quirke, mixing satire and topical sketches. Pre-Order
Hale & Pace - Series 2

Following a one-off Christmas special in 1986, Hale and Pace became household names with this phenomenally successful series for LWT. A rapidly paced, occasionally notorious mix of stand-up and sketches that stayed just the right side of Broadcasting Standards, this is the second series of the infamous sketch show. Pre-Order
Starlings

Granddad has recently moved in, following a rabble rousing incident at the old folks' home. Rather than see him unhappy, his son Terry and wife Jan, decide to put him up in their already crammed family home. Catch up with the entire run of this Sky 1 comedy drama when it's released on DVD early next month. Pre-Order
Astronauts - The Complete Series

Two men, one woman and a dog are cooped up together in darkest space. Occupying a two-room 'sky-lab' on Britain's first manned space mission, they are under constant surveillance as they orbit the Earth - even on their visits to the lavatory. Written by Goodies Graeme Garden and Bill Oddie, this series is based on real NASA documentation and will be out in just a couple of weeks. Pre-Order
Cardinal Burns

Welcome to the world of Cardinal Burns, the cult hit E4 comedy series in which Seb Cardinal and Dustin Demri-Burns unleash a cast of uniquely funny characters. Sketches range from the bizarre to the disturbing, so if your comedy tastes are a little 'alternative', don't miss out. Order

For more, see our full list of new releases and DVDs coming soon.
Comedy Videos
Message Board Posts...
Here are some quotes from our message board...

"Why is it you think Michael McIntyre is so popular? What makes him different to other comedians?" fiwilding asks for your thoughts

"I want the Jehovah's Witness to have his own series. AYE AYE" Elliott Gill on 15 Storeys High

"I was at the recording of next week's programme... The format was flimsy and completely shapeless, and it went on and on. I do not think it was heavily scripted, at least the script got lost amidst all the other witless drivel." Tursiops on A Short History Of Everything Else

"We live close to where Ashway Gap was. We believe this sitcom was filmed there... is this right?" Rachel Fish enquires after The Last Of The Baskets

"And now the establishment own him. Is this what true passionate, sword wielding satirists dream for?" Alfred J Kipper on Armando Iannucci's OBE
Guide Spotlight
Shelfstackers

This sitcom went almost entirely un-noticed when it broadcast as part of BBC Two's teenage-aimed strand 'Switch' during 2010. Whilst it won't ever be argued to have broken any particular new ground, we really rather enjoyed the show. It knew its characters and its target audience well, and unlike oh-so-many before it, didn't patronise or lecture at them with tired stereotypes. Telling the tale of a misfit group of employees in one branch of fictional supermarket chain Grogan's, the series is perhaps most notable for the pairing of Sean Michael Verey as Dan and Dylan Edwards as Fitzy - a comedy chemistry they've replicated excellently in recent BBC Three sitcom Pramface. For us though, Andrew Ashford as somewhat hapless store manager Roy was the highlight. Guide
Thanks for Reading
Have a good week!



The British Comedy Guide


www.comedy.co.uk

Here's some £6 tickets to see top panel show Do The Right Thing in London on Tuesday 26th. The guests include Angelos Epithemiou and Katy Brand. Tickets

If you're performing at the Edinburgh Fringe this year, please upload your press release to our website: Details