Hello! We hope you got some nice time off over the last couple of weekends - and stayed reasonably dry? Anyway, here's some news you may have missed, plus the latest TV listings and features as normal...
Latest Comedy News
Advert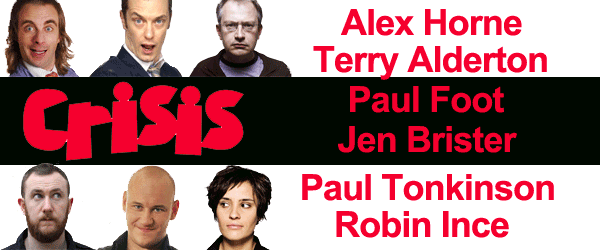 Also of interest...
Here are some other web pages you might be interested in...

- James Corden has said he is 'thrilled beyond words' at being named best leading actor at the Tony Awards in New York: BBC News

- Ken Dodd talks about 60 years in comedy in this interview: The Daily Record

- Stand-up Michael J. Dolan has released his first stand-up album online for free. You can pay him if you like it though: Giggle Beats

- Absolute Radio has signed comedians to provide alternative commentary to the Euro 2012 matches: iMediaMonkey

- Rowan Atkinson is to act in his first play for almost 25 years: BBC News

- The 'best' of Jim Davidson's blog: Shouting At Cows Blog

- Kevin Bridges was heckled so badly during a gig in Arbroath the council are trying to arrange an apology: STV

- Stephen Fry has admitted he has presented whole episodes of QI with such severe depression he 'wanted to die': The Daily Telegraph

Get more of this kind of thing every day via Twitter: @UKComedyNews
Features
Holly Walsh interview

Holly Walsh talks about Dead Boss, the new BBC Three sitcom she has co-written; plus her stand-up plans... Read
Free TV & Radio Tickets

If you live in Manchester or London there's lots of TV and radio recordings you can go to... tickets are free. List
Do The Right Thing

Andy Zaltzman and Marek Larwood are the guests on the latest episode of the panel show podcast. Topics include monkey-eating old ladies and squirrels. Listen
Review: 'Hitchhiker's Guide To The Galaxy - Live!'

Michael Park reviews The Hitchhiker's Guide To The Galaxy Radio Show - Live!, the new countrywide stage tour based on the hit radio sci-fi comedy series. Read
Wil Anderson interview

An interview with super-sharp Australian comic Wil Anderson who was over in the UK to play some gigs. He discusses subjects including topical comedy, trying to crack America, and other things. Read
Billy Kirkwood: Comedy in Scotland

Billy Kirkwood writes about the Scottish comedy scene and the comedy that was available at RockNess festival. Read
Griff Rhys Jones interview

Griff Rhys Jones, who is hosting new Channel 4 panel show A Short History Of Everything Else, talks about the ageing process, his love of box sets, and the joys of filming indoors for a change. Read
Tuesday Podcasts

Make sure you check out our podcast section tomorrow (Tuesday). We'll have the next No Pressure To Be Funny (featuring guests including headline-making Burmese comedian Zarganar), plus another episode of Richard Herring's hit podcast series. Listen
TV Highlights
Here is a guide to some of the things on TV this week...


Cardinal Burns
Tuesday, E4, 10:30pm

Seb Cardinal and Dustin Demri-Burns showcase the final selection of their unique comedy characters, in the last episode of the cult (read: incredibly low ratings) sketch show. Guide
The Ricky Gervais Show
Tuesday, E4, 11pm

Ricky, Stephen and Karl share their definitions of what it means to be an Englishman, and Karl explains why, if he wasn't English, he'd rather be Italian. Guide
A Short History Of Everything Else
Wednesday, Channel 4, 10pm

Griff Rhys Jones makes a welcome return to comedy this week with this brand new panel show. With team captains Marcus Brigstocke and Charlie Baker, the series utilises archive footage to see who remembers the most about the past 30 years - the stuff that wasn't big headline-grabbing news. Guide
God Save The Queens
Thursday, Sky Atlantic, 8pm

Sky Atlantic HD celebrates six decades of flamboyant, beloved and iconic gay performers in this factual series. We don't yet have any idea what this week's episode is going to be about, but the first - on performers in the closet - was very good. It's the third and final episode of the series. Guide
Russell Howard's Good News
Thursday, BBC Three, 9pm

Russell Howard once again offers his distinctive take on what has happened in the world this week, with an energetic and entertaining look at the news stories that have dominated the media and caught his eye. Guide
Live At The Electric
Thursday, BBC Three, 9:30pm

The show blending stand-up from host Russell Kane with sketch groups and stand-ups contributing short films, quick-fire sketches, comic routines and music continues: Guide
Mock The Week
Thursday, BBC Two, 10pm

They're back! Dara, Hugh, Andy and Chris Addison return for a new series of the topical show. Micky Flanagan, Nathan Caton and Greg Davies are the guests this week. Guide
Dead Boss
Thursday, BBC Three, 10:30pm

This brand-new murder mystery sitcom comes to BBC Three with a double bill this week. Starring Sharon Horgan and Jennifer Saunders, and written by Horgan and stand-up Holly Walsh, the series follows optimistic Helen, wrongly convicted for the murder of her boss, but who no one seems inclined to help. Guide
8 Out Of 10 Cats
Friday, Channel 4, 10pm

Jimmy Carr once again oversees the disputes and deliberations on the topical events that set the nation's chins wagging as Jon Richardson and Sean Lock are joined by famous faces from the world of comedy, entertainment and showbiz. Guide
Episodes
Friday, BBC Two, 10pm

To boost flagging ratings, Merc asks Matt to get one of his former Friends cast mates to make a special guest appearance on Pucks!. Not above asking favours of his own, Matt asks Sean and Beverly to write his speech for Merc's upcoming man of the year event. Guide
A League Of Their Own
Friday, Sky1, 10pm

The smash-hit sports panel shows runs into extra time with a special featuring never-before-seen footage. Guide
The Graham Norton Show
Friday, BBC One, 10:35pm

The guests on Graham's sofa this week will include British actress Emily Blunt, currently making waves in Hollywood; plus Russell Brand. Guide
Stand Up For The Week
Friday, Channel 4, 10:50pm

Stand Up For The Week is back to take a humourous and no-holds-barred alternative look at the big stories of the week, including the news, politics, sport and showbiz shenanigans. Guide
You Cannot Be Serious!
Saturday, ITV1, 7pm

Bubbling along with ok-but-not-awesome ratings so far, this new show really is just TV Burp but with sport clips instead of great dramas, quirky documentaries, and dodgy soaps. McGowan doesn't always seem fully at ease in the host's role, but he's settling in. Guide
Starlings
Sunday, Sky1, 8pm

Sky's comedy drama continues. Terry and Jan celebrate their anniversary and, for once, they've got the place to themselves. For Fergie, Lodz and co, though, a disastrous camping trip awaits. Guide

Above is just some of the new comedy that can be found on the TV this week. For a complete list of shows, plus radio comedy, see our full schedule.
New DVDs
The Ricky Gervais Show - Series 2

The second series of the hit animated series featuring the musings of Ricky Gervais, Stephen Merchant and Karl Pilkington. Focusing largely on the weird and wacky world inside Karl's head, even the most ardent Gervais hater should find themselves chuckling along with this series. Pre-Order
Whatever Happened To Pete Blaggit

One man's fridge is another man's portal... Whatever Happened To Pete Blaggit is a surreal comedy drama about one man's journey of self discovery. Not to mention aliens, time travel and doppelgangers! Pre-Order
Spring & Autumn - The Complete Second Series

Not every widowed septuagenarian is lucky enough to have a daughter willing to provide him with a home in his declining years. And not every daughter is unlucky enough to have a father as tetchy and awkward as Tommy Butler... Network present the second series of this gentle 1970s sitcom, starring comedy legend Jimmy Jewel. Pre-Order
Andy Capp - The Complete Series

From the director of Fawlty Towers and starring Likely Lad James Bolam, Thames Television brought the beloved Northern layabout character - originally a Daily Mirror comic strip - to life in this 1990 sitcom. It's not out and out hilarious, but makes for a fascinating watch. Order
Passport To Pimlico - Special Edition

This classic Ealing Studios comedy has been digitally restored in the studios' 110th year. An archaic document found in a bombsite reveals that the London district of Pimlico has for centuries technically been part of France. The local residents embrace their new found continental status, seeing it as a way to avoid the drabness, austerity and rationing of post-war England... Order
Horrible Histories - Series Three

The award-winning Horrible Histories is back and as revolting and rotten as ever! Having just completed its fourth series run on television, and with a fifth due to be filmed over the coming weeks, the show is going from strength to strength with children and parents alike. Catch up 2011's third series with this set. Order

For more, see our full list of new releases and DVDs coming soon.
Comedy Videos
Message Board Posts...
Here are some quotes from our message board...

"2point4 Children, dreadful theme." happychef makes his nomination for most annoying British comedy theme tune

"I definitely hope they introduce a character who differs from Tim, rather than repeating the old formula." Brett Barnett on the future of Not Going Out

"I wanted to enjoy this, but I didn't really rate the impressions that much. Some of them were spot on, but others were just awful." Harridan on Very Important People

"According to Iannucci, filming for the new series is complete. There will be 7 episodes, to be aired this Autumn." Leeward on The Thick Of It - Series 4
Guide Spotlight
Two In Clover

People tend to cite The Good Life as the defining self-sufficiency, back-to-earth sitcom. And there's no doubt that it was a great show - but it wasn't the first. Predating the BBC favourite by 6 years, this Thames sitcom launched way back in 1969, starring comedy legend Sid James and renowned Welsh comic actor Victor Spinetti as two office worker pals who sicken of their dreary, superficial London routine. However, where Tom and Barbara Good merely turned over their back garden to goats 'n greens, Sid and Vic chose to up sticks and buy a whole farm out in the country - despite having no experience of a rural life! Running for 13 episodes over 2 series, Two In Clover is in our opinion funnier than The Good Life, but nowhere near as well known. A real fish-out-of-water treat. Guide
Thanks for Reading
Have a good week, and we do hope you get a little sunshine at some point! Also, best of luck to England in Euro 2012! We predict England 2, France 0!



The British Comedy Guide


www.comedy.co.uk